Horns of the Reach DLC Announced
The next DLC for ESO is coming in August and it's called Horns of the Reach.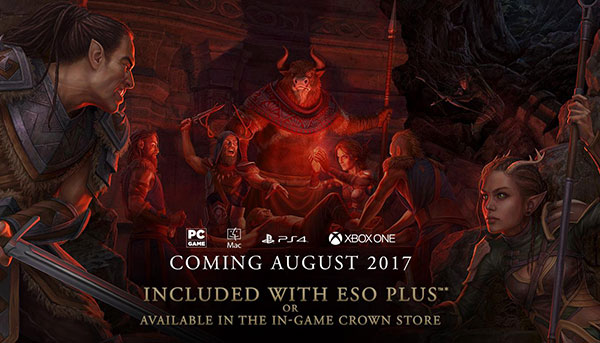 Horns of the Reach is a small dungeon-based DLC which contains the following.
Bloodroot Forge and Falkreath Hold Group Dungeons.
New item sets including two new Monster Masks.
New achievements, boss collectibles, and titles.
Complete all Horns of the Reach achievements to earn exclusive costumes and a new dye.
Falkreath is under siege, and it soon will fall to the Minotaurs and their Reachmen allies. Falkreath Hold, one of the two new dungeons found in the Horns of the Reach DLC game pack, pits you and your team against the hordes of the Dreadhorn Clan in a desperate attempt to save the city.
After completing both Falkreath Hold and Bloodroot Forge on Veteran difficulty, you'll unlock the ability to purchase the Hakkvild's High Hall home with gold. This new Nord-styled manor gives you a perfect view of the town you just saved. If you have not completed the dungeon, you can still purchase it with crowns in the in-game Crown Store.