Justice In ESO
The Justice System was added to ESO with Update 6 (1.6) in March 2015. The Justice System allows players to pickpocket NPCs, steal items in cities, kill many NPCs and become a fugitive from the guards. Taking part in this illegal activity will increase your Bounty which you'll either need to pay in gold to a guard or spend time away from the cities waiting for it to go down.
Pickpocketing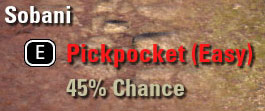 To pickpocket an NPC move up close to them while in stealth (includes Nigthblade Shadow Cloak). When you are facing the NPC you will be notified of the difficulty of pickpocketing this NPC as well as the percentage chance of success that you have.
The success chance fluctuates depending on the NPC's movement and your position. If you are notice by the NPC the success chance will vanish and is replaced with "aware" indicating that the NPC is aware of your presence and you cannot attempt to pickpocket them.

If you are successful at pickpocketing and no other NPC witnesses your crime you are free to continue with your life with your stolen goods. Often the goods that are stolen are random items which are not useful. These items can be sold to a Fence for gold. Fences are located in Outlaw Refuges which are located in most major cities. Occasionally you will steal a useful item which you can keep if you choose by getting a Fence to "launder" the item, for a gold fee of course.
If you are unsuccessful at pickpocketing then the NPC will detect you and you will accrue some Bounty. If a guard is nearby they will normally rush over and ask you to either pay your Bounty, costing gold, or flee in which case they, and other guards, will attack you. If there are no guards nearby the NPC will simply attack you. Killing the NPC will increase you Bounty if you are witnessed. It is possible to kill NPCs from stealth and providing no guards or other NPCs are close you will not accrue any Bounty.
Stealing
Stealing is the same as pickpocketing however instead of directly taking items from people you are taking items from cupboards, drawers, nightstands and cabinets. These containers now display "steal from" when you open them notifying you that items inside are owned. If you steal an item when no NPCs are around you will not accrue Bounty. If you are witnessed, however, you will accrue Bounty.
A good place to steal items from is in people's (NPCs) houses. These houses are often locked and will require a lockpick in order to enter. The locking mechanism is the same as is found on treasure chests which are found all around Tamriel. Again, if you are witnessed breaking and entering you will accrue some Bounty. Sometimes there are NPC inside houses which will be watching in case you attempt to steal from their various containers.
Understanding Bounty
Bounty is accrued when you commit a crime and that crime is witnessed. If you pay your Bounty or are killed by a Guard you will lose all stolen items on you. If you are killed by a guard they will take your outstanding Bounty from your cash on hand and if you do not have enough they will simply take all that you have. They cannot access your Bank however so it wise to store your valuable coin there if you plan on committing crimes.
There are four levels of Bounty which have different repercussions if you are seen by a guard.
Upstanding
You are a fine and upstanding citizen and guards have no reason to accost you.
Disreputable
You will generally be fine and guards will not attack you on sight, however if you walk right up to a guard they will force you to pay your Bounty or flee.
Notorious
Guards will rush over to force you to pay your Bounty or flee. You can still sneak around the Guards if you are careful however the Guards are more likely to rush over to you than if you were Disreputable.
Fugitive
You are now "kill on sight" and Guards will not attempt to force you to pay your Bounty, rather they will try to kill you.
You can see your current Bounty (if you have any) by looking at the bottom right hand corner of your screen. You will see your Bounty represented in gold (how much you will have to pay if you are caught by a guard) as well as on the Bounty Wheel. The Bounty Wheel shows your current Bounty in a white bar which progresses around the more Bounty that you accrue. The Bounty Wheel also displays your Heat which is displayed by a red bar.
In the following example the Bounty of this character is low, only in the Disreputable section. The Heat of this character is high enough however, that guards will attack and kill on sight. This is likely due to the fact that this character was recently witnessed having committed a crime. If this character spent enough time away from the guards then the Heat will die down.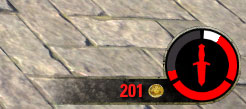 Bounty stays with your character and is accrued by committing crimes.
Heat is accrued by committing crimes as well however Heat diminishes over time quite quickly.
The three sections on the Bounty Wheel represent the three levels of Bounty: Disputable, Notorious and Fugitive. If your Heat is in the third section (Fugitive) then you are kill on sight. Eventually your Heat will diminish and you will be left with your Bounty which may be lower down the scale in the first section (Disreputable).
Clearing Your Bounty
Bounty and Heat diminish over time – all time – both logged in and logged out time.
Heat, the red bar, goes much quicker than Bounty, the white bar.
Bounty takes a while however small Bounties can go reasonably fast. Bounty seems to take longer to go down the higher level that you are so it is hard to determine the exact rate of diminishing.
You can also pay your Bounty off at a Fence in an Outlaw Refuge. If you are NOT a fugative (kill on sight) you can pay a guard your Bounty and be free once again.
If you are killed by a guard they will take any coins on you to pay your Bounty. If you don't have enough coins you will respawn with your Bounty. The guards will never take from your Bank, so this is safe. The guards will never take any non-stolen items either.
The guards will take any stolen items – even those rare motifs – so be careful with that!
You can choose to flee the guards however this is difficult as the guards are very powerful and will pull you towards them, immobilize you, stun you and they hit very hard! It is also very difficult to escape a building as you will not be able to use the door whilst in combat. One popular method is to use an Invisibility Potion and escape however this can go wrong as well. If you are going to be chased by a guard it is better in the open world or in a city.
You can run to an Outlaw Refuge and dive in and this can save you from the guard.
If you have to diminish a large Bounty I suggest staying clear of towns and cities – maybe do a dungeon or go exploring elsewhere. Cyrodiil is a good place as your Bounty does not carry over into Cyrodiil. You can go and do some PVP while waiting for your Bounty to go down.
Check out How To Get Rid Of Your Bounty for even more info!