The Thieves Guild
The Thieves Guild is the third DLC expansion pack for The Elder Scrolls Online which will be released for PC/Mac on March 7, XBox One on March 22, and PlayStation4 on March 23.
The Thieves Guild DLC will cost 2,000 Crowns. A Thieves Guild DLC Collector's Bundle will also be available in the Crown Store for 4,000 Crowns. It includes the Thieves Guild DLC game pack, the Hammerfell Camel mount, the Kindlespit Dragon Frog, and five Crown Experience Scrolls.
What Is The Thieves Guild
The Thieves Guild DLC is the third expansion pack for Elder Scrolls Online. The Thieves Guild DLC will be set in a new zone called Hew's Bane. The capital of Hew's Bane is Abah's Landing which is the home of the Thieves Guild and the setting for many of the new Thieves Guild quests. Abah's Landing is a large city – perhaps the largest yet in ESO.
The new zone will be scaled, similar to previous DLC like Orsinium, meaning that all players will be scaled up to VR16 when they arrive. You can expect quests, the ability to join the famed Thieves Guild, daily repeatable quests involving illicit activity, a new passive Skill Line which will aid your thief activities, a new 12 player Trial and many new item sets to obtain.
Set in a desert peninsula called Hew's Bane, the Thieves Guild DLC game pack brings you to Hammerfell locations never before seen in an Elder Scrolls game. Abah's Landing, the opulent jewel of Hew's Bane, is not only one of the most elaborate cities in ESO, it's also home to the Thieves Guild. Be ever aware of your surroundings while in Abah's Landing—the network of back alleys, narrow catwalks, and secluded alcoves hide more than a few secrets.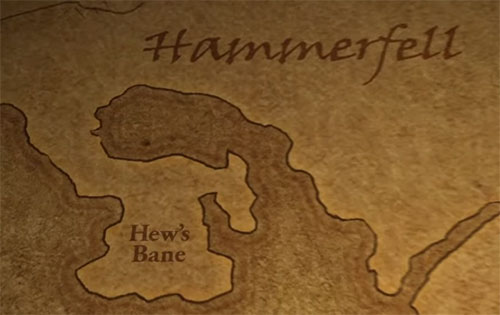 Thieves Guild (Outlaw) Motif
The Thieves Guild style – in the form of the Outlaw Motif – is coming to Tamriel for crafters to be able to make Thieves Guild styled armor and weapons.
We don't know how this new Motif will be obtained but we expect it to arrive in separate Chapters similar to the Glass and Xivkyn Motifs.
There are also several new Motifs coming with the base game Update 9 (not related to the DLC) including Alliance Style Motifs, the Trinimac Motif, the Malacath Style and the Soul Shriven Motif.
Thieves Guild DLC Quests
We expect quite a few new quests to fill the new zone as well as repeatable justice related quests that you can complete for the Guild.
The Thieves Guild of Abah's Landing, an organization of pickpockets, burglars, robbers, and thieves, is being hunted by a mercenary guard force known as the Iron Wheel. This relentless organization will stop at nothing to see the guild brought to justice for a high-stakes heist that went horribly wrong. As their newest recruit, you'll sneak along rooftops, steal from the shadows, and recover lost treasures to help to restore the guild's reputation.
The Guild offers a new Larceny System that includes repeatable activities such as heists, pickpocketing, stealing, and more.
Guild Job Quests
Kari, a precise Nord woman who keeps accounts of the Guild's finances, as well as accounts of information and rumors runs the Guild Job Board. Travel all around Tamriel doing jobs for the Thieves Guild. These include pickpocketing, unlocking safeboxes, gathering items for consignment requests, and more.
So while you will need the Thieves Guild DLC to get these quests – they will take you all around Tamriel and back to familiar zones. Oh an don't worry they will check to see if you have access to Wrothgar before sending you there.
Heist Quests
Find Fa'ren-dar, a tough male Khajiit who works on the far side of the Den, near the sewer drain exit. He runs the Heist Board. Thieves Guild heists require sneaking, avoiding traps, and getting in and out of special instanced heist areas with your prize – earn special bonuses for completing the heists undetected and within the time limit!
These heists are group instances (so you can bring friends) but you can also do them solo. You don't have to fight anything, in fact it is better for you if you don't as being detected adds time to the timer. There are a number of different heists with different tasks but they normally involve breaking into a large complex area filled with traps and enemies and stealing various items.
Re-Acquisitions Quests
Seek out Spencer Rye, a fancy Breton man who runs the Re-Acquisitions Board, which is set up just outside the Thieves Den. These require you to kill group bosses and complete Delves in Hew's Bane. There are two new Delves with group bosses called Bahraha's Gloom and Shark's Teeth Grotto.
Thieves Guild Costumes
In the game files there is reference to Thieves Guild Costume Packs which might be available both in the game and in the Crown Store.
On the ESO Live Special it was mentioned that you will receive a new costume when you first join the Thieves Guild.
These three styles are mentioned.
Blackcap Garb

Pickpocket Wear

Footpad Armor
Delves And World Bosses
The Thieves Guild DLC offers two new Delves and difficult World Bosses to complete. Bahraha's Gloom and Shark's Teeth Grotto are the two Delves. These both have group bosses to kill to gain new rewards and items.
The World Bosses are difficult and might require at least a couple of players to complete.
Thieves Guild Skill Line
The Thieves Guild DLC also comes with an obtainable Skill Line with all new passive skills. There are no active abilities in this Skill Line but there are passives which increase your chances of being a successful thief.
You will keep the Skill Line even if you don't have access to the DLC any more but you will need access to increase your Skill Line Level. The highest Level for the Thieves Guild Skill Line is 12.
| SKILL LINE | SKILL NAME | SKILL IMAGE | ACTIVE/PASSIVE | SKILL DESCRIPTION |
| --- | --- | --- | --- | --- |
| Thieves Guild | Finders Keepers | | Passive | Unlock Thieves Troves. |
| Thieves Guild | Swiftly Forgotten | | Passive | Bounty is decreased by 10/15/20/25 after 3 minutes. Heat is decreased by 8/10/12/14 after 3 seconds. |
| Thieves Guild | Haggling | | Passive | Increases the value of items sold at a Fence by 2/4/6/8%. |
| Thieves Guild | Clemency | | Passive | You can bypass Guard Accost once every 24 hours. |
| Thieves Guild | Timely Escape | | Passive | Thieves can use secret escape routes near Outlaw Refuges. NPCs will help you escape from Guards. |
| Thieves Guild | Veil of Shadows | | Passive | Decreases the detection range of witnessess and Guards by 10% which makes witnessess less likley to see crimes and Guards will break off pursuit earlier. |
A New Trial – Maw of Lorkhaj
It looks like there will be a new Trial added to ESO in the Thieves Guild DLC called the Maw of Lorkhaj.
The name of the new Trial was announced in the First Look post by ZOS in January 2016.
The new Trial will be the first to scale up and down to meet the group leaders level. This means that many levels of players may be able to complete the Maw of Lorkhaj. To compete in the leader boards for this Trial the group must be scaled to VR16 (so the group leader must be VR16) and the Trial must be set to Veteran mode.
Oh, and that's right, this is the first Trial to have both a Normal and a Veteran mode which changes the difficulty of the Trial.
It looks like the new Trial is in the north of Hew's Bane near the mountains at the top of the map. Take a look at these maps of Hew's Bane for more.
Thieves Guild New Item Sets
The Thieves Guild Item Sets page has the information for all the new sets.
There are 4 item sets that grant unique, group-based PVE bonuses available in the Maw of Lorkhaj Trial and as Trial leader board weekly rewards. There will be 1 Heavy, 1 Medium and 2 Light Armor sets. These sets will all grant a 3 items bonus of Minor Slayer which grants 5% bonus damage to all boss enemies! The 5 item bonuses will grant some kind of bonus to your character when you activate a synergy ability.
There are 2 dropped sets available in Hew's Bane, these are also given as rewards to the daily quests for the Thieves Guild.
There are also 3 new crafted sets in Hew's Bane.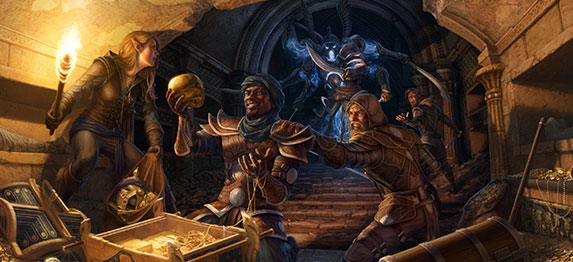 New Criminal Activity
There are a few new activities to have fun with in Hew's Bane once the Thieves Guild is out. It's not clear whether any of these activities will apply outside of Hew's Bane and the DLC.
Tresspassing
Certain locations in Abah's Landing are off-limits where just being seen there is considered a criminal act. These locations are accessible via clearly labelled entrances that make it clear you will be trespassing. While doing so, the on screen justice indicator will notify you of your illicit status.
Criminal Mischief
A bunch of different actions fall under this criminal category like forgery and vandalism. While you are on quests or exploring Hew's Bane these actions will be highlighted in red before performing them to indicate their criminal implications. If you are witnessed performing criminal mischief this will incur bounty, just as with other crimes.
Bounty Pardons
Given the Thieves Guild has certain "connections" they may at times reward their members with documentation which conveniently erases some of your accrued bounty.
The criminal element of Abah's Landing has a tendency to hide their possessions in plain sight. Sharp-eyed adventurers may discover secret stashes that blend in with their surroundings.
New Pets And Mounts
There are a couple of new pets and new mounts coming to the Crown Store. These include the Kindlespit Dragon Frog pet and the long awaited Hemmerfell Camel mount.
Assistants
Another feature coming with the Thieves Guild patch is Assistants. These are like pets, but they perform a function like fencing your stolen items or repairing your gear. The first one to be released is Pirharri the Smuggler. She fences your stolen items for a fee of 35% of the value of the items. She is a reward for completing the Thieves Guild story quest line.
Thieves Guild Introduction Video