Argonian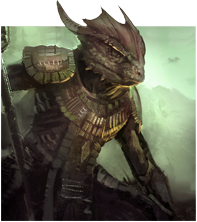 The Argonians are possessed of a cool intellect, and are well-versed in the magical arts, stealth, and the use of blades. They are also guerilla warfare experts, long accustomed to defending their borders from invaders. They often serve as the scouts and skirmishers for the forces of the Pact.
Racial Passives
RESTORATION EXPERTISE
+15% EXP for Restoration Staff
AMPHIBIOUS
+50% Swim Speed
Restore 2/5/8% Max Health, Magicka and Stamina when you drink a potion.
ARGONIAN RESISTANCE
+Poison and Disease Resistance
+3/6/9% Max Health
QUICK TO MEND
+3/6/9% Healing Recieved