Blood Mage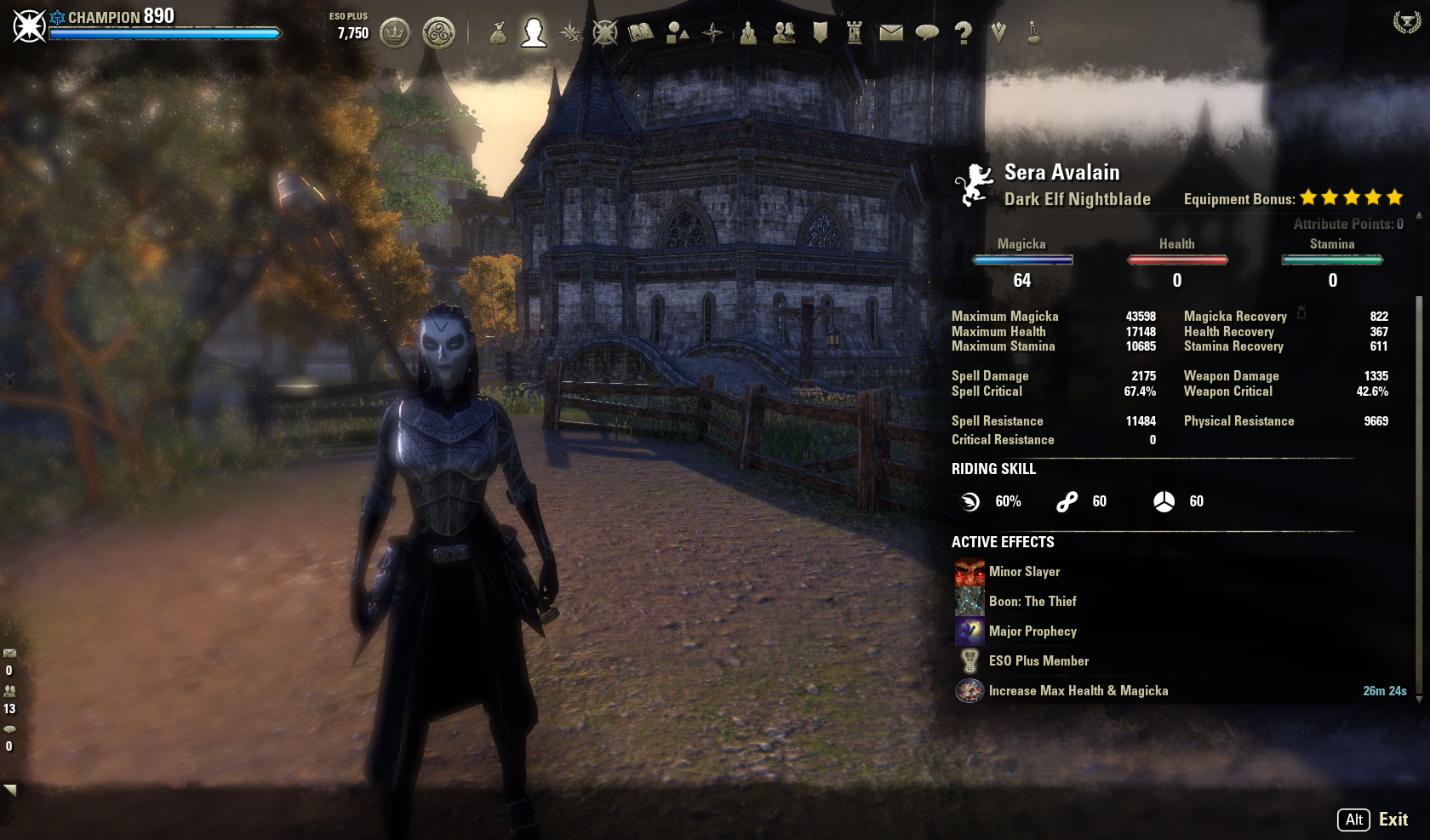 Class: NIGHTBLADE
Race: Dunmer (Dark Elf)
Main Role: Damage
Health, Magicka, Stamina
| | | |
| --- | --- | --- |
| HEALTH | MAGICKA | STAMINA |
| 17624 | 43598 | 10685 |
Skills
Bar 1
Weapon 1: Destruction Staff

Nightblade Skill
Crippling Grasp

Nightblade Skill
Swallow Soul

Destruction Staff Skill
Elemental Blockade

Nightblade Skill
Impale

Mages Guild Skill
Inner Light

Nightblade Skill
Soul Harvest
Bar 2
Weapon 2: Destruction Staff

Nightblade Skill
Merciless Resolve

Nightblade Skill
Sap Essence

Nightblade Skill
Twisting Path

Nightblade Skill
Siphoning Attacks

Mages Guild Skill
Inner Light

Destruction Staff Skill
Elemental Rage
Armor Types
| | | |
| --- | --- | --- |
| Light Armor | Medium Armor | Heavy Armor |
| 5 | 1 | 1 |
Gear and Item Set Info
Gear:
- 5x Burning Spell Weave Armor - All Divines, All Max Magicka Enchant
- 4x Infallible Aether/Moondancer - Arcane Jewelry & Sharpened Lightning Staff, All with Spell Dmg Enchant
- 2x Grothdar/Illambris - 1 Medium, 1 Heavy, Both Max Magicka Enchants, either Divines/Infused
- 1x Maelstrom Inferno Staff - Sharpened
- Moondancer is BiS, but Infallible Aether is a good choice if you don't have Moondancer. Willpower would be the next set to go to if you don't have Infallible Aether or Moondancer.
- Grothdar pulls higher dps than Illambris imo and should be used over Illambris in any case unless you are forced to go range, then Illambris is the way to go.
- Front Bar is the Inferno Staff and Back Bar is the Lightning Staff.
- If you don't have set pieces of either staff, a non set Sharpened staff is still a good placeholder.
- The Attributes posted above are with Blue Max Health and Max Magicka Food Buff.
- 5 light, 1 medium, 1 heavy armor pieces mainly for the Undaunted Passive that grants more resources when wearing more than one armor weight. Plus you can get some of the passives from each armor skill line.
General Info
Consumables:
- Use Blue Max Health and Max Magicka Food.
- Optional: use Essence of Spell Power Pots.
Skill Alternatives:
- You may swap out Inner Light on the back bar for Harness Magicka for fights that have a lot of incoming damage
- You may also swap out Sap Essence for Harness Magicka for high incoming damage fights, single target and for a potion buff playstyle.
Rotation:
Step 1: Merciless Resolve > Siphoning Attacks > Bar Swap
Step 2: Inferno Heavy Attack > Crippling Grasp > Light Attack > Blockade > Light Attack > Swallow Soul > Light Attack > Swallow Soul > Bar Swap
Step 3: Light Attack > Twisting Path > Light Attack > Assassin's Will > Elemental Rage (if available)
Repeat Steps
For Execute Phase, only use Blockade and Impale. Use Soul Harvest if it's available.
- Start with Elemental Rage for Boss fights if you have it up before then.
- Other than for Execute Phase, Soul Harvest is only for ultimate gain and use Elemental Rage instead.
- Why a Lightning Staff?
We have two big damage skills that are AOE for all fights including single target boss fights. Equipping a Lightning Staff along with a Destruction ability slotted, hence Elemental Rage, boosts all AOE damage by 8%. Boosting Sap Essence's damage is also a plus.
Champion Point Tips
The Mage:
- The Apprentice: 100 Elemental Expert, 61 Elfborn
- The Atronach: 1 Staff Expert
- The Ritual: 38 Thaumaturge
The Thief:
- The Tower: 100 Magician
- The Lover: 90 Arcanist
- The Shadow: 10 Tumbling
The Warrior:
- The Lady: 86 Hardy, 87 Elemental Defender
- The Lord: 20 Quick Recovery
Build Rating