CrippleMan`s Magicka Dps Build 2.0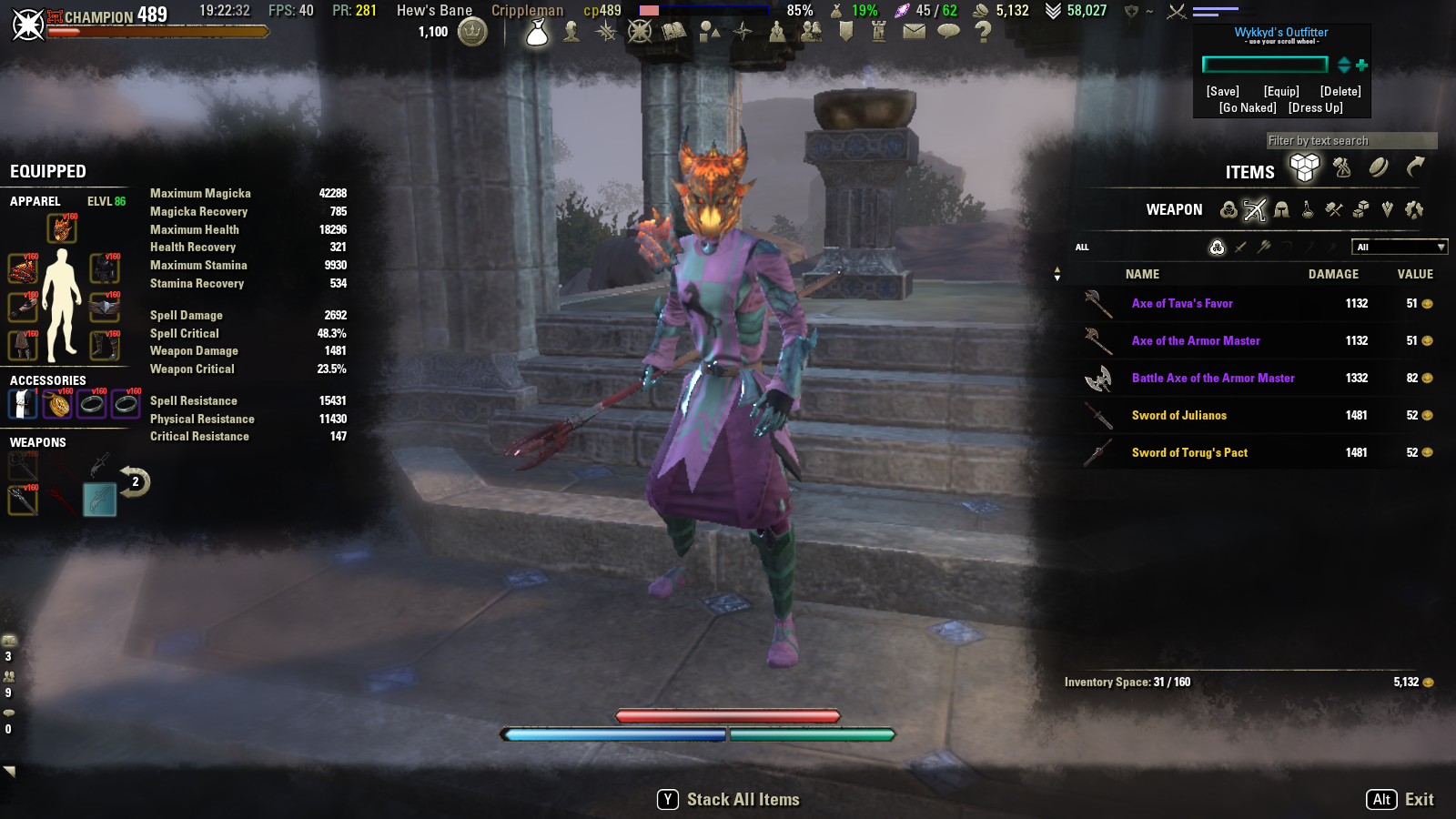 Class: DRAGONKNIGHT
Race:

Altmer (High Elf)
Main Role: Damage
Health, Magicka, Stamina
| | | |
| --- | --- | --- |
| HEALTH | MAGICKA | STAMINA |
| - | -64 | - |
Skills
Bar 1
Weapon 1: Destruction Staff

Dragonknight Skill
Green Dragon Blood

Dragonknight Skill
Eruption

Dragonknight Skill
Molten Armaments

Destruction Staff Skill
Force Pulse

Destruction Staff Skill
Elemental Ring

Assault Skill
War Horn
Bar 2
Weapon 2: Dual Wield

Mages Guild Skill
Inner Light

Dragonknight Skill
Molten Whip

Mages Guild Skill
Spell Symmetry

Dragonknight Skill
Burning Embers

Dragonknight Skill
Engulfing Flames

Mages Guild Skill
Meteor
Armor Types
| | | |
| --- | --- | --- |
| Light Armor | Medium Armor | Heavy Armor |
| 5 | 1 | 1 |
Gear and Item Set Info
5 light 1 medium 1 heavy
Infused on helm, chest, and pants
Divine on Shoulders, gloves, belt, boots
Absorb magicka on destro (unless using VMA staff)
Increased power on 1 sword and second destro
Unresistable damage on other sword (not essential)
Spell power on all jewelery
5 Julianos
3 willpower (magicka)
2 Skoria
2 Torags (DW only)
Random Nirnhined Inferno staff OR
Ideally VMA Destro Staff if you have the DLC (I do not)
*Stats shown in Screen shot are from the DW bar exept with a destro staff equipt (aka not getting magicka from my healer mode) w/o VMA staff and with infused on the shoulders (still don't have them in divine)
General Info
Basic rotation is to pop your molten armourment before the fight starts, cast eruption and ele ring while moving jnto melee range, fire breath, burning embers, then lava whip and weave until its time to reapply your dots. Then for the rest of the fight do your best to keep all of your dots up continually and lava whip/weave in between dot recasts.
Random advice for this build
Force Pulse is my go to utility slot, meaning if i need to run something else for a specific fight this is the first move i pull off the bar, unless i expect to be forced to dps from ranged
Make sure to weave enough on your second bar to keep the spell damage proc up.
Make sure to spell sym your magicka back between fight as this build has very little regen
Make sure your healer notices this and heals you before the pull
Make sure to keep your Molton Armourments up as losing that spell damage buff will cause an imediate loss in dps
*I switch to destro/destro if i can't get enough magicka from my healer (aka not running ele drain/spirit siphon/orbs)
Champion Point Tips
Will update soon...
Build Rating