Enchanter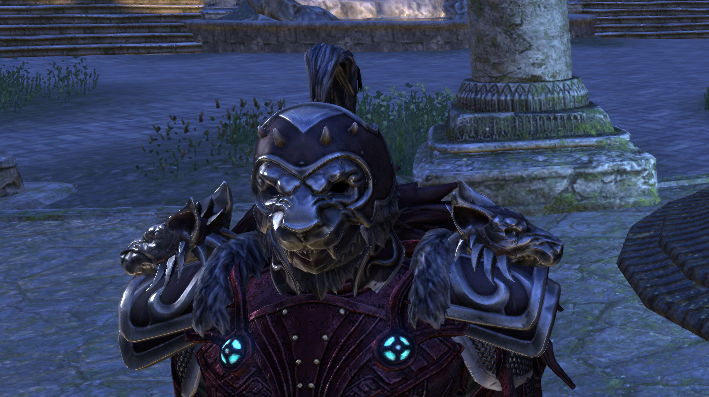 Class: SORCERER
Race: Imperial
Main Role: Tank
Health, Magicka, Stamina
| | | |
| --- | --- | --- |
| HEALTH | MAGICKA | STAMINA |
| 46000-52000 | ~22000 | ~22000 |
Skills
Bar 1
Weapon 1: One Handed And Shield

One Hand And Shield Skill
Defensive Stance

One Hand And Shield Skill
Pierce Armor

One Hand And Shield Skill
Heroic Slash

Sorcerer Skill
Bound Aegis

Sorcerer Skill
Summon Unstable Clannfear

Assault Skill
Aggressive Horn
Bar 2
Weapon 2: Destruction Staff

Sorcerer Skill
Dark Deal

Fighters Guild Skill
Silver Leash

Mages Guild Skill
Balance

Destruction Staff Skill
Elemental Blockade

Sorcerer Skill
Summon Unstable Clannfear

Sorcerer Skill
Greater Storm Atronach
Armor Types
| | | |
| --- | --- | --- |
| Light Armor | Medium Armor | Heavy Armor |
| 1 | 1 | 5 |
Gear and Item Set Info
Monster Set - Default is Vysoka, as it's just more of what this build is going for. Using it can take practice, just remember to bash right before either large AoE's, or heavy attacks you want to take head on. (Also, use Bound Aegis for those too!) Other good calls would be Lord Warden, if you want a different kind of mitigation and the group feels safe being near you, and Tremorscale and Behemoth are both great options if your teams dps is leaning towards Stamina and Magicka, respectively, and if you feel confident despite losing the mitigation.

Torug's is an exceptional tanking set, with it's 2,3, and 4 item bonus being wonderful for tanking, and with the 5 item bonus giving a ton more power to your Crushing and Weaking enchants that will be on your front and back bar, respectively. Also, make sure your weapons are also infused to get the most out of it! It's even a Crafted set, making it very easy to aquire.

Bani is the bread and butter of this build, and also your swap set if you want to a skill weapon later on. What it does is simple, give you a significant more amount of healing, reducing all the the damage the enemy you taunt does, and has an easy to maintain 100% uptime on most bosses that don't just around. If this set it too hard to aquire, it'd recommend Fortified Brass. While does much less for you, it will totally be good enough until you farm Bani.

Remember, you can use light best Torug's Pact for the undaunted bonus, letting you use a heavy MS helmet and get more resistances.
General Info
This build specializes in two things. The first being extremely durable with great sustain, with Dark Deal and Balance giving near unlimited sustain and the often under utlized Bound Aegis getting you to over 80% of block mitigation if you play your cards right. Secondly, Minor Maim, Major Maim, and reducing the Bosses weapon damage by a combined total of 1080! This makes nearly all bosses much less threatning, not just for you, but for many of the AoE's that we know your DPS and Healers will manage to get hit by. It also abuses Torug's Pact with crusher and infused, giving you over 10,000 Armor Tear. This build really does a wonderful job of reducing the healers stress in many fights, while still providing the team with much needed debuffs.

You need to single out threats with this build, since Bani's only hits one enemy, and you cannot apply crusher to multiple things.Taunt the largest threats first, and leash in the rest near them.

Bound Aegis can be awkward to use, but remember you can block while using it. It's likely your flex spot, since the Minor Resolve is often given by the healers through blessing of protection, and it's only really use is as a preemptive buff you a very large amount of incoming damage over a short durarion, since spamming it can be costly. Still, it lets you block many, many attacks that you would otherwise normally have to dodge, even more so if the Boss has Major and Minor Maim. Just remember to not drop block using it, and remember to do the same with Balance. If you feel like you aren't getting enough use out of it, Hardened Ward makes a fine, if boring replacement.

Make absolute sure you always have Minor Heroism from Heroic Strike, and that the boss has both maims! This build relies on those damage reductions.
Build Rating