Leeching Shadow (PVE TANK)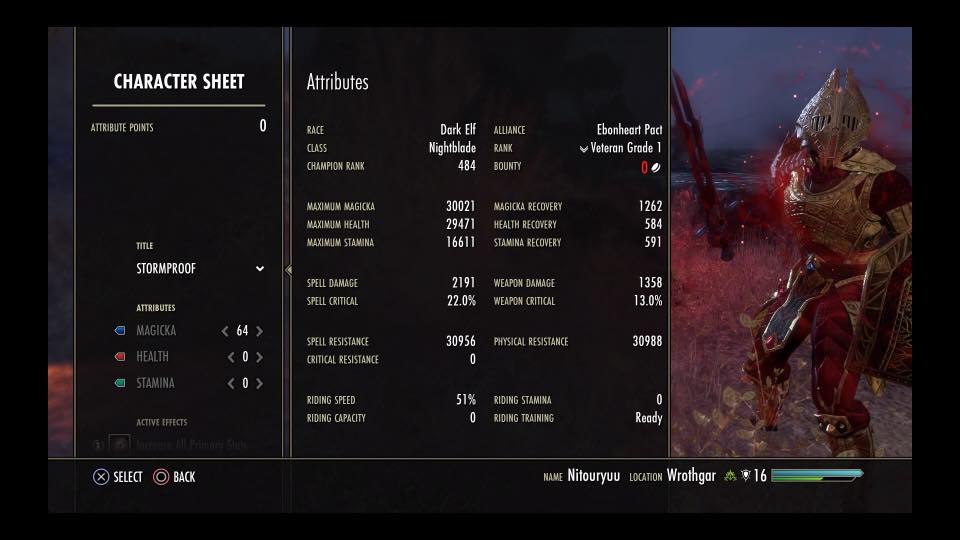 Class: NIGHTBLADE
Race:

Dunmer (Dark Elf)
Main Role: Tank
Health, Magicka, Stamina
| | | |
| --- | --- | --- |
| HEALTH | MAGICKA | STAMINA |
| -29,500 | -30,000 | -15,000 |
Skills
Bar 1
Weapon 1: One Handed And Shield

One Hand And Shield Skill
Absorb Magic

One Hand And Shield Skill
Pierce Armor

Nightblade Skill
Sap Essence

Nightblade Skill
Swallow Soul

Nightblade Skill
Refreshing Path

Nightblade Skill
Veil of Blades
Bar 2
Weapon 2: One Handed And Shield

Nightblade Skill
Reaper's Mark

Nightblade Skill
Dark Shades

Nightblade Skill
Mirage

Undaunted Skill
Inner Fire

Nightblade Skill
Siphoning Attacks

Nightblade Skill
Soul Tether
Armor Types
| | | |
| --- | --- | --- |
| Light Armor | Medium Armor | Heavy Armor |
| 1 | 1 | 5 |
Gear and Item Set Info
64 points into magicka, all armour enchanted for health
Head - Engine Guardian (Heavy infused)
Shoulders - Engine Guardian (Medium divines)
Chest - Kagrenacs Hope (Heavy infused)
Legs - Kagrenacs Hope (Heavy infused)
Waist - Kagrenacs Hope (Light divines)
Feet - Mark of The Pariah (Heavy divines)
Hands - Mark of The Pariah (Heavy divines)
Necklace/rings - Mark of The Pariah (healthy with spell damage enchants)
Mundus Stone - The Atronach
General Info
I've recently rerolled my magicka NB DPS into a tank to make it a bit more interesting as I've completed all PVE content except MOL. And it turns out it's really effective in solo content and 4 man dungeons. Ive not taken it into trials yet, but I might in the future with a few changes. This was mainly built for 4 man dungeons and solo play.
Imperial would probably be the best race for this build as the health boost is huge but Dunmer is great also.
Pros - amazing sustain, great DPS for a tank, extra healing, can sustain without a healer
Cons - no mob grouping capabilities and limited crowd control
The build relies on keeping a few buffs up. These are:
Mirage - 20% dodge chance, minor resistance buffs
Refreshing path/dark shades - one of the shadow passive gives major resistance buffs for 15 seconds, so refreshing path and dark shades should be recast alternating them every 15 seconds. Dark shades should be cast on priority targets pre combat, then refreshing path 15 seconds later, then dark shades 15 seconds after that etc etc.
Siphoning attacks - this is the key to this build and the reason why resource management is so amazing. This should have a 100% up time and coupled with EG you should never run out of resources
Reapers Mark - keep this on the boss during boss fights for a resistance debuff. Pre combat I like to cast this on an enemy you know will be burnt down quickly as it provides you with a huge heal and a massive damage buff for
The play style of the build is pretty simple. Cast mirage, siphoning attacks and dark shades on the priority targets pre engagement. Draw agro on priorities using inner fire and/or pierce armour, reapers Mark on a trash mob and run into the middle. Start light weaving sap essence with block cancelling in AOE situations with swallow soul weaved in for the extra healing. Cast refreshing path to rebuff and then repeat. Soul tether can be used in trash situation for a big heal and CC, veil is great in boss fights for the damage mitigation and damage.
When EG procs stamina, you can block spam abilities without worrying about weaving for stam regen. When it procs health you can drop block to regen stam faster.
In "oh shit" situations when you're below 50% health, the pariah 5 piece bonus will have you at resistance cap. This means you don't have to worry about rebuffing and you can focus on sap essence to self heal. Despite being slightly below resistance cap initially, once at approximately 80% health you'll be at cap when buffed. Mark of The Pariah gives you up to 10k resistance depending on your missing health.
Alternatives - if you're finding EG an overkill for resources and you're managing resources fine without it, you can swap it for:
2 piece blood spawn - outrageous ultimate gain coupled with NB passives and a resistance buff
2 piece scourge harvester - extra heals
1 piece kena and 1 scoria/Malubeth/nerieneth - extra spell damage and Max health (this is what I am working towards)
For now I am sticking with EG. As a magicka tank, you cast a lot of abilities as opposed to perma blocking. This mean EG procs really really often. One benefit of this tank is it allows the healer to focus more on DPS as you are really self sustained. This in turn means a lot of fights are burnt down extra quick, so EG could be an over kill. In this case, I'd add a heavy kena helm and a medium monster shoulder with a 1 piece health bonus. This would move you up to 30.5k health and about 2400 spell damage buffed. This is something I will experiment with but as I've been soloing content, EG has been really beneficial.
Champion Point Tips
The Mage: 95 into elemental expert, 60 into blessed, 1 into elf born, 1 into thaumaturge, the rest into spell erosion
The Warrior: 70 into block expertise, 5 into spell shield, 10 into quick recovery, the rest split between hardy and ele defender
Thief: 90 into magician, 1 into tumbling and the rest into arcanist
Build Rating