Meridia's Shadow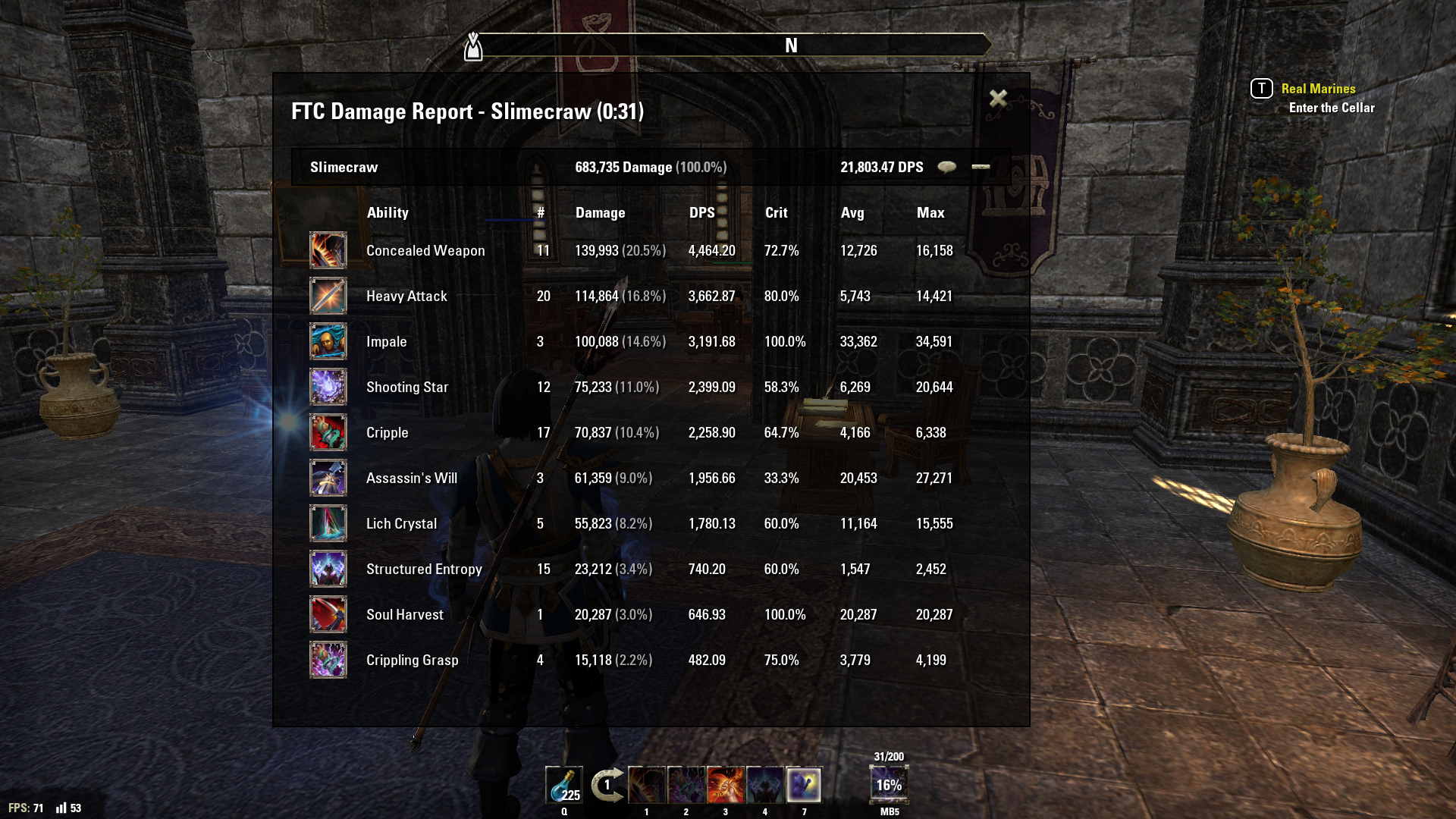 Class: NIGHTBLADE
Race:

Dunmer (Dark Elf)
Main Role: Damage
Health, Magicka, Stamina
| | | |
| --- | --- | --- |
| HEALTH | MAGICKA | STAMINA |
| -17-19k at vr16 | -36-42k at vr16 | -8-10k at vr16 |
Skills
Bar 1
Weapon 1: Destruction Staff

Nightblade Skill
Concealed Weapon

Nightblade Skill
Crippling Grasp

Nightblade Skill
Merciless Resolve

Mages Guild Skill
Scalding Rune

Mages Guild Skill
Inner Light

Fighters Guild Skill
Dawnbreaker of Smiting
Bar 2
Weapon 2: Two Handed

Nightblade Skill
Reaper's Mark

Fighters Guild Skill
Rearming Trap

Nightblade Skill
Sap Essence

Nightblade Skill
Impale

Mages Guild Skill
Inner Light

Nightblade Skill
Soul Harvest
Armor Types
| | | |
| --- | --- | --- |
| Light Armor | Medium Armor | Heavy Armor |
| 5 | 1 | 1 |
Gear and Item Set Info
There are several combinations one can pick for this build, depending on CP and amount of dropluck/money they may vary... Returning Veteran setup: (gear used for the screenshot) Accs: 2x Cyrodiil's Light Rings, Spell Damage enchant 1x Random v16 Necklace, Arcane trait, with Spell Damage enchant Armour: 4x Martial Knowledge 2x Nerien'eth 1x Torug's Pact Weapons: (Same for all gear setups) 1x Torug's Pact Nirnhoned Inferno Staff (preferably v16, but lower ones work, too) 1x Torug's Pact Nirnhoned Greatsword (preferably v16, but lower ones work, too) Enchants: Prismatic works great for the new content, but apply only to v16 weapons. Else Fire/Poison/Disease Fresh v16 Gear: Substitute the Accs with Willpower Accs, at least two should have the Arcane trait. All with Spell Damage Enchants. True v16 gear Accs: 3x Willpower, all Spell Damage Armour: a) Shadow Munds Stone version 1x Molag Kena 5x Scathing Mage 1x Torug's Pact b) Thief Mundus Stone version 1x Molag Kena 5x Overwhelming Surge 1x Torug's Pact c) Ranged version (Funnel Health instead of Concealed Weapon) 2x Molag Kena 4x Martial Knowledge or Overwhelming Surge 1x Torug's Pact d) Starter Ranged version 1x Molag Kena 5x Martial Knowledge 1x Torug's Pact Depending on your Healer (does he use Siphon Spirit or not) and your amount of Champion Points, sustain might be difficult. Should you have difficulties, you can wear 6 or even 7 pieces of light armour. Also, if sustain is a major problem, Ranged or Starter Ranged are advised set combinations that make use of the extraordinarily cheap Funnel Health Skill as dps spam.. A lot really depends on how well you execute your rotation... far more than equipment, really. 2H vs DW It is undisputed that DW gives more Spell Damage than a 2H sword. So why use one? The Passives work different, really. while the DW passive increases the Spelldamage, the 2H Passive does increase the damage per se. This is evident in the tooltipp, which shows higher numbers with a 2H than with DW (if Twin Blade and Blunt as well as Heavy Weapons are learned, of course). This damage increase can also be tested in selective parses on mobs. However, DW will outperform a 2H in those cases when you have a lower Magicka Pool. I have 41k, so 2H wins by a large margin for me. The increase should start somewhere around 36k Magicka... but I might be wrong here. Still, with this build you should have enough Mag to benefit from a 2H more than from DW. And we do not need that additional set-slot.
General Info
Meridia's Shadow is a build designed to inflict a world of pain upon especially Undead and Daedric enemies, which most of the new content is all about (and all the casters in PvP are Vamp's, as well). Let us divide the game in AoE and ST (singletarget) encounters. In AoE we make use of Soul Harvest as an enormous Passive increase of Ultimate regeneration, and the Dawnbreaker of Smiting as our spammable skill. Well, not quite, but really close... since the D.o.Smiting deals more damage than the other morph and also has a CC component in it AND is buffed by our Thaumatuge heavy CP build, we gain a lot of benefit from casting it. Far more than Shooting Star even, since it covers a bigger area and the DoT stays on the mobs instead of on the ground. Also, it costs 50% less. So, out goal is to deliver as many well placed Dawnbreakers as possible. Depending on the groups dps I can usually cast 2-3 Dawnbreakers per mobgroup, and still walk away with an (at least almost) filled Ultimate bar for the start of the next encounter. In the time where we do not slam Meridia's holy Sword of Badassery on the head of Big MB's minions, we benefit from our class features. Sap Essence is our spam AoE Skill - great range, great damage, also heals people for a ton. This thing gets Buffed by Merciless Resolve, Spell Damage potions/itself, and a well placed Reaper's Mark. That's right, +25% damage right here! Place Reaper's Mark pre fight on a weak enemy (Zombie/Caster/Bloodfiend etc.), start dealing damage, and as soon as the poor fella dies, you profit - by going berserk. You can also use this in Bossfights with adds to boost your damage additionally. Scalding Rune right before a Reaper's Mark target dies, then a Dawnbreaker for insane damage numbers. And we can boost that even more... which is why the rearming Trap is here. So, AoE rotation is as follows: Pre combat: Buff with Merciless Resolve, Debuff a weakling with Reaper's Mark, Place a Rearming Trap, throw a Scalding Rune (optional: Drink a potion) In combat: Cast Dawnbreaker (if available, and if several mobs are affected), switch weaponbars, spam Sap Essence. No need to reapply Rearming Trap or Scalding Rune - you might reapply Reaper's Mark though if you want. Enemies should be dead before Merciless Resolve runs out. If not, just finish the job without it... there should not be much left, so you can Impale-spam 1-3 mobs. In ST situations life gets a little bit more complex. But not much. Merciless Resolve should always be applied, the proc cast, and the reapplied. Assassin's Will (the proc) hits for a ton of damage, after all. In the meantime you keep Crippling Grasp up and medium weave with Concealed Weapon (or Funnel Health, if cost reduce/healer/regen are bad). Aplly Dawnbreaker when possible. Should the Boss get close to 24%, reapply Merciless Resolve once more (even if there is no proc), switch bars, place a Rearming Trap, cast Soul Harvest if possible (+20% against this enemy for a few seconds, reapply if possible) and simply spam Impale without weaving. Additional notes: ~ The sets should cover any difficulties regarding sustain, but if you feel that your dps is not enough to kill mobs in AoE situations faster than you run out of Magicka, you can substitute either Reaper's Mark or Rearming Trap with Siphoning Attacks. This should keep you going for quite a while... just do not forget to renew it. ~ This build does not have (Structured) Entropy included, so you rely on potions to get the Spellpower buff, or you can be a cheapskate and activate it via Sap Essence. Your call. Mage's Guild Empower buff can be provided with the Scalding Rune, which also serves as a Buff to AoE damage, Magicka, and Magicka regen. ~ In dungeons with non-daedric mobs and bosses you should of course switch the Dawnbreaker out for Meteor (whatever morph you have, really)
Champion Point Tips
You need three things from the CP trees: 1) 12% more Spellcrit from the Apprentice(27x Elfborn, 1x Blessed, 1x Elemental Expert, 1x The Spell penetration thingy) 2) Ritual: Thaumaturge. Haul all your points in here before you get 30 Mage points, then respec to get the 12% crit passive from the Apprentice and start putting points here again. 100 is max, and that is what you want to reach! After this, you can start buffing Elfborna again. 3) Tower: Magicka cost reduction. Get it. Optional: Synergiser Passive from the Lover with 30 points into the Magicka regen. Not any point more until you have maxed out cost reduction.
Build Rating