Nightcrawler (Budget PVE Stam DD)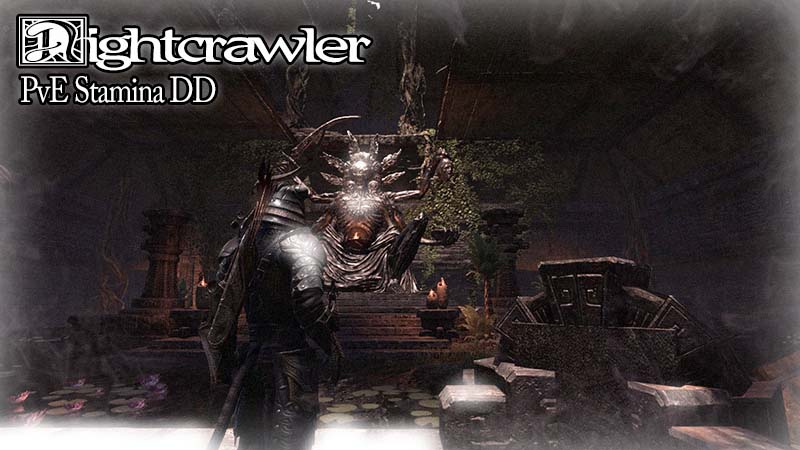 Class: NIGHTBLADE
Race: Khajiit
Main Role: Damage
Health, Magicka, Stamina
| | | |
| --- | --- | --- |
| HEALTH | MAGICKA | STAMINA |
| 18000-20000 | 8000-10000 | 32000-38000 |
Skills
Bar 1
Weapon 1: Dual Wield

Fighters Guild Skill
Rearming Trap

Dual Wield Skill
Blood Craze

Dual Wield Skill
Rapid Strikes

Nightblade Skill
Killer's Blade

Dual Wield Skill
Steel Tornado

Fighters Guild Skill
Flawless Dawnbreaker
Bar 2
Weapon 2: Bow

Assault Skill
Razor Caltrops

Bow Skill
Endless Hail

Bow Skill
Poison Injection

Nightblade Skill
Siphoning Attacks

Nightblade Skill
Relentless Focus

Mages Guild Skill
Ice Comet
Armor Types
| | | |
| --- | --- | --- |
| Light Armor | Medium Armor | Heavy Armor |
| 1 | 5 | 1 |
Gear and Item Set Info
5x  Night Mother´s Gaze Medium (crafted) Divines
(2 items) Adds 688 Weapon Critical
(3 items) Adds 129 Weapon Damage
(4 items) Adds 688 Weapon Critical
(5 items) Critical attacks also reduce the target's Physical Resistance by 2580 for 6 seconds.
2x Dagger of the Morag Tong (pvp rewards) Sharpened or Precise
2 items) Adds 129 Weapon Damage
(3 items) Adds 967 Max Stamina
(4 items) Adds 129 Weapon Damage
(5 items) Your attacks cause targets to take 15% more damage from Poisons for 5 seconds.
1x Random cp160 Bow Sharpened or Precise
( Master Bow (VetDSA) or Maelström (VetMaelstrom) would obviously be BiS)
Master Bow
Weapon Damage against targets effected by your Poison Arrow and morphs is increased by 300. While the bow is equipped Max Stamina is increased by 900
2x Spawn of Mephala´s Guise 1xLight 1xHeavy (Undaunted Pledges,Fungal Grotto) Divines or Infused
1 items) Adds 1064 Max Health
(2 items) Fully charged heavy attacks have a 100% chance to create a web for 10 seconds. Web deals 1130 Poison Damage every 1.0 second and reduces Movement Speed by 50%.
3x Ring of Agility ( Imperial City Vaults/Guildtrader) Robust or Healthy
(2 items) Adds 1451 Max Stamina
(3 items) Adds 193 Weapon Damage
General Info
Why Nightmother´s Gaze?
As of patch 2.0.x armor penetration is superior to raw weapon damage
Dungeon Bosses have around 18k Armor
with NMG you are not only lowering the armor of the boss for your own attacks but for the whole Group.
With this setup you can easily bring the boss down to the lowest mitigation cap and buff the damage of all stamina chars in your Group.
Unbuffed Stats
Champion Point Tips
Build Rating