The Bound Summoner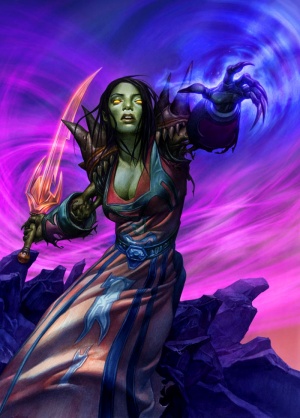 Class: SORCERER
Race: Breton
Main Role: Tank
Health, Magicka, Stamina
| | | |
| --- | --- | --- |
| HEALTH | MAGICKA | STAMINA |
| 30,000 | 20,000 | 15,000 |
Skills
Bar 1
Weapon 1: One Handed And Shield

One Hand And Shield Skill
Ransack

Sorcerer Skill
Boundless Storm

Undaunted Skill
Inner Rage

Sorcerer Skill
Summon Unstable Clannfear

Sorcerer Skill
Summon Twilight Matriarch

Sorcerer Skill
Absorption Field
Bar 2
Weapon 2: Destruction Staff

Sorcerer Skill
Empowered Ward

Sorcerer Skill
Bound Aegis

Sorcerer Skill
Dark Conversion

Sorcerer Skill
Summon Unstable Clannfear

Sorcerer Skill
Summon Twilight Matriarch

Sorcerer Skill
Greater Storm Atronach
Armor Types
| | | |
| --- | --- | --- |
| Light Armor | Medium Armor | Heavy Armor |
| 1 | 1 | 5 |
Gear and Item Set Info
Maw of the infernal monster set
General Info
This is a beefy tank build meant for vet dungeons, for fans of dark magic and deadric summoning. Bar one is your golden ticket for tanking, as ransack and inner rage allow you to taunt boss, lowering his physical resistance and increasing yours. Boundless storm also helps build resistance and does some damage. Clannfear and Matriarch make great assist healers and are on both bars to prevent re-summoning. Their also very good for keeping agro on mobs while you keep boss distracted. Although youll mostly be using storm atronach, Ive added Absorption feild for group healing but the silence effect may give your group a quick moment to straighten things out in a hairy situation. Bar two is for more resistance and also gives you and your pets sheilds to help ensure the longevity of your pets lifespan. Empowerd ward works on deadroth as well. I keep defending trait on lighting staff to go with boundless storm. The reason I have it alone with no skills is because deadroth's summon chance are from plain light and heavy attacks. When it comesto pets tanking and doing damage of their own the more pets the better. Dark conversion helps restore magic pool and health at a low cost of stamina. Since tank pretty much sits still you wount have to worry about stamina draining fast for this build, over all dark conversion makes a great safty net. If you insist on doing more damage however, or are in solo play I would suggest deadric pray. This will increase Twilight Matriarch and Clannfear's damage by 55% and Storm atronach by 40% It does give damage boost to deadroth but im not sure how much.This build is simple you stay protected with bound armor, and lighting form with sheild. Sit back, keep agro while your army of demonic minions will help your group rip shit up.
Champion Point Tips
Mage mundus stone boon
The Lord: Heavy armor focus, Bastion, and Expert defender
The Apprentice: Elf born, Elemental expert, and Spell erosion
The Tower: Magician and Arcanist
Place the rest as you see fit.
Build Rating