The Trigger Happy Mage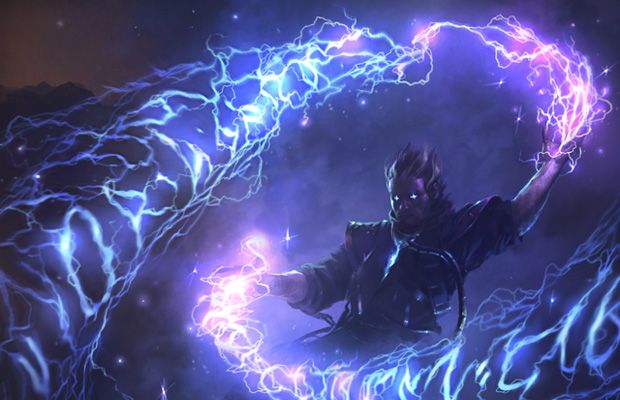 Class: SORCERER
Race:

Altmer (High Elf)
Main Role: Damage
Health, Magicka, Stamina
| | | |
| --- | --- | --- |
| HEALTH | MAGICKA | STAMINA |
| 0-10% | 10-90% | 0% |
Skills
Bar 1
Weapon 1: Destruction Staff

Mages Guild Skill
Inner Light

Sorcerer Skill
Summon Unstable Clannfear

Sorcerer Skill
Bound Aegis

Destruction Staff Skill
Weakness to Elements

Sorcerer Skill
Dark Conversion

Sorcerer Skill
Absorption Field
Bar 2
Weapon 2: Destruction Staff

Mages Guild Skill
Inner Light

Sorcerer Skill
Summon Unstable Clannfear

Sorcerer Skill
Bound Aegis

Destruction Staff Skill
Force Pulse

Sorcerer Skill
Mages Wrath

Sorcerer Skill
Energy Overload
Armor Types
| | | |
| --- | --- | --- |
| Light Armor | Medium Armor | Heavy Armor |
| 7 | 0 | 0 |
Gear and Item Set Info
Light armor for the passives, and any enchantments that increase your max health or regeneration.
General Info
I built this character for my dad who couldn't aim if his life depended on it. Seriously. Every single lightning splash was placed several meters away from the target, every single time he casted it. But gosh darn it, he wanted to be a destruction mage, so I worked on this build. No aiming, no planning, no tactical maneuvering. Just using one destruction staff for setting up the battlefield, and the other for dealing damage, plus the ultimate for extra abilities.
Please note that the Overcharge ability lends a third ability bar, to which I suggest the following skills:
1) Twilight Matriarch
2) Unstable Clannfear
3) Crystal Blast
4) Bound Aegis
5) Daedric Prey
The use of this build is simple: start with Ability Bar 1, and summon Inner Light, Bound Aegis, and Unstable Clannfear. Mark each enemy with weakness to elements, then switch to Ability Bar 2. Spam Force Shock until the enemy gets below 20% health, then smash Mage's Wrath until they explode. If your health gets too low at any time, switch back to Ability Bar 1, and use Dark Conversion until you are at full health. Whenever the ultimate is charged on Bar 2, activate Overcharge, summon your Twilight Matriarch, mark an enemy with Daedric Prey, and smash Crastal Blast like there's no tomorrow. Whenever the ultimate is charged on Bar 1, activate Absorption Field on adds.
And voila! You're a destruction mage.
Pros of this build:
1) Simplicity. Inner light, Clannfear, and Bound Aegis are assigned to both main ability bars, and Clannfear and Bound Aegis are assigned to Ability Bar 3. This means that when you switch weapons, no active spells are lost, and you only have to resummon Inner Light when you exit Overcharge.
2) The Clannfear. Seriously. This is a must for light armor mages. This little daedra will tank beautifully, so you virtually take no damage.
3) Weakness to Elements. Decreases your target's spell resistance by a tremendous amount, making Force Pulse and Mage's Wrath even more powerful.
4) Inner Light. Increases your spell crit by 20%, and also increases your max magicka.
5) Crystal Blast. Has an amazing damage + additional damage to nearby enemies.
6) Mage's Wrath. Does a massive explosion when target is below 20%, dealing additional damage to nearby enemies.
7) Twilight Matriarch. Heals you at low health.
8) Daedric Prey. Increases the damage of your daedra (both clannfear and twilight) by 55%, and does additional damage to nearby enemies.
9) Bound Aegis. Adds additional physical and spell resistance.
9) High Max Magicka = Increased damage
10) Dark Conversion. Great self heal and magicka replenishing which uses stamina.
Cons of this build:
1) Because of your low health, you are extremely squishy, which means you need your Clannfear and Dark Conversion to avoid dropping every five seconds. Furthermore, Dark Conversion is your only self-heal, so you'll probably need a couple of health potions and food on hand to keep your health up.
2) Since many of the abilities are assigned to every bar, you really only have two slots in each bar open for different actives. So if you're looking for a build with a lot of options, this isn't it.
3) Sophistication? I'm not really sure how to describe it, but this isn't a build with flair or complexity. You won't be a master wizard tossing out every spectacular spell available, ensnaring adds and summoning devastating AoEs. You'll pretty much be spamming two abilities the whole time. But hey, it deals massive damage and is super easy to use, so you know... if it works, it works.
4) This hasn't even been tested in PvP, but works well in PvE and dungeons.
Possible Alternatives:
1) If you're dying to much, swap out Weakness to Elements with Lightning Form (morph on Thundering Prensence). This will give you a physical resistance boost, plus damage to anyone nearby. You can also trade Inner Light with Conjured Ward for a 3000+ damage shield for you and your Clannfear.
2) If you choose to invest more attributes in health, you can swap out Dark Conversion with some sort of DOT, like Destructive Clench/Reach, Unstable Wall of Elements/Elemental Blockade, Structured Entropy, Sanguine/Overflowing Altar, Shadow Silk, ect.
3) Since your max magicka is so high, you can also swap a few pieces of light armor with heavy, to increase your armor level and decrease your "squishiness."
Champion Point Tips
Anything that helps your health.
Build Rating