Valkyria (Vet Maelstrom Build Patch: Elsweyr)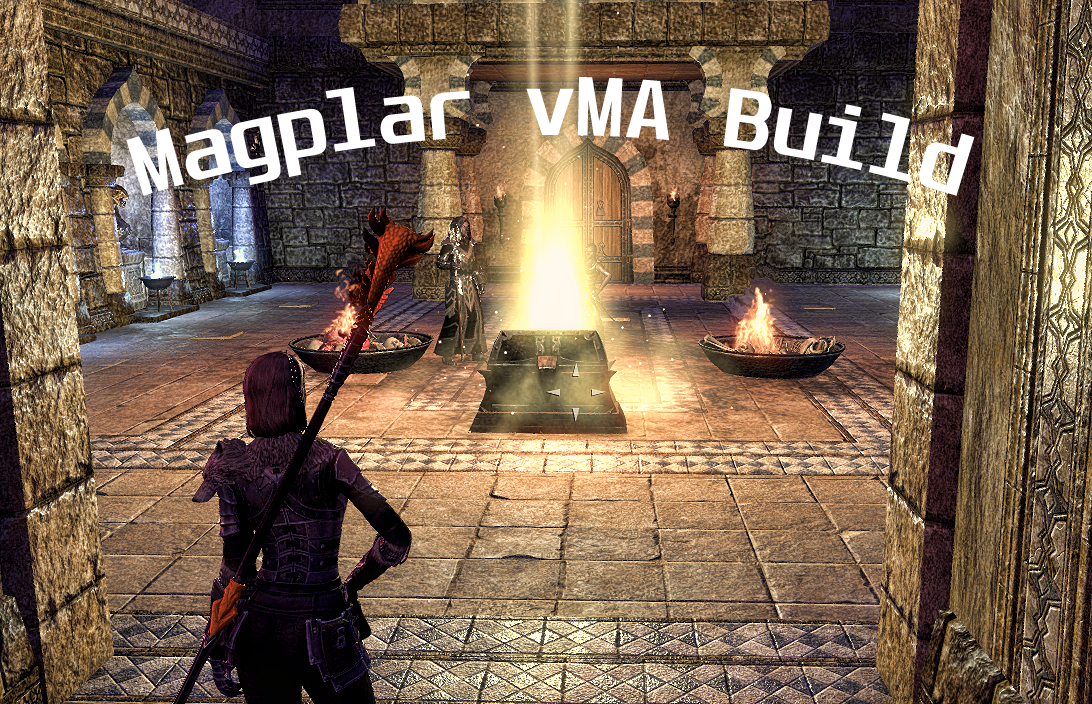 Class: TEMPLAR
Race: Breton
Main Role: Damage
Health, Magicka, Stamina
| | | |
| --- | --- | --- |
| HEALTH | MAGICKA | STAMINA |
| 16.696 | 36.630 (64 points) | 10.027 |
Skills
Bar 1
Weapon 1: Destruction Staff

Templar Skill
Blazing Spear

Templar Skill
Puncturing Sweep

Destruction Staff Skill
Crushing Shock

Light Armor Skill
Harness Magicka

Mages Guild Skill
Inner Light

Destruction Staff Skill
Elemental Rage
Bar 2
Weapon 2: Destruction Staff

Destruction Staff Skill
Elemental Blockade

Templar Skill
Channeled Focus

Templar Skill
Ritual of Retribution

Templar Skill
Honor The Dead

Psijic Order Skill
Channeled Acceleration

Templar Skill
Empowering Sweep
Armor Types
| | | |
| --- | --- | --- |
| Light Armor | Medium Armor | Heavy Armor |
| 5 | 1 | 1 |
Gear and Item Set Info
Mother's sorrow (Deshaan)
Chest - Divines - Magicka Enchant
Belt - Divines - Magicka Enchant
Shoes - Divines - Magicka Enchant
Inferno Staff - Infused - Fire Enchant (Front bar)
Lightning Staff - Infused - Absorb Magicka Enchant (Backbar)
False God (Elsweyr trial)
Legs - Divines - Magicka Enchant
Gloves - Divines - Magicka Enchant
Necklace - Arcane - Spell damage Enchant
Ring - Arcane - Spell damage Enchant
Ring - Arcane - Spell damage Enchant
Monster set: Valkyn Skoria - Divines - Magicka enchant (Medium/Heavy)
Notes:
I use false god (non-perfected), because it's wonderfull in vma. The fifth piece bonus reduces your magicka skill's cost by 8% and you get magicka resources back and a sprint boost every time you kill an enemy.
If you have enough transmute stones, you can change the traits on your jewelery to bloodthirsty and change mundus to the ritual for the extra magicka recovery.
I use lighting on backbar, for the extra aoe damage. You'll spend more time fighting ads then bosses anyway. So the damage boost is welcome!
If you die too quickly, try switching out the magicka enchant on one of your big pieces (chest/legs/head) to tri-stat.
One big piece on infused with tri-stat works also
General Info
Food/Drink: Witchmother's potent brew
Mundus: Apprentice (Increased spell damage)
Potions: Essence of spell critical (health + magicka + spell crit) and at the argonian and last stage you might need tri-stat pots to get stamina back.
Rotation:
Need to be up most of the time:
Channeled Acceleration < Rune < Ritual < Blockade < Spear
In case of melee, use sweeps, when in range go for crushing shock and heavy attacks on backbar
When possible, try to keep up your shield.

Notes:
In case you are gonna use this set up for veteran dlc, you might have to do the following changes on your skill set up:

Swap Honor the dead with Harness magicka (from your front bar)
And Radiant Oppression on the previous slot of Harness magicka (4th skill front bar)
Depending on the fight (if you go more in melee than range), swap crushing shock with solar barrage
Champion Point Tips
CP 810
Red:
The Lord
The Lady
Thick Skinned: 48
Hardy: 49
Elemental Defender: 49
The Steed
Ironclad: 63
Spell shield 51
Blue
The Ritual
The Atronach
Master-at-Arms: 48
Staff Expert: 6
The Apprentice
Elemental Expert: 56
Spell Erosion: 28
Elfborn: 56
Blessed: 20
Green
The Shadow
Shadow ward: 11
Tumbling: 52
The Lover
Arcanist: 100
Healthy: 8
Tenacity: 43
The Tower
Build Rating