Orsinium Details
Orsinium is here on the PTS already!
The new DLC will be available on November 2 for PC/Mac and November 17/18 for XBox and PS4!
The Orsinium page will be updated with details of the DLC as they come out.
The official patch notes are over here too.
Orsinium will be like the Imperial City in that the DLC will come in the Crown Store – this time for 3,000 Crowns. If you are subscribed to ESO Plus you will be able to access the DLC for free while you remain subscribed. Orsinium is the majestic ancestral home of the Orcs located deep within the mountains of Wrothgar and the new DLC boasts 20 hours of new storyline content.
The base game patch that will arrive at the same time is available to all players and includes long awaited features such as gamepad support for PC, subtitles, LFG system improvements, and more!
Orsinium, the once-great capital city of the Orcs, has long lain abandoned and in ruin. King Kurog, reigning monarch of the Orcs, has sent invitations far and wide to enterprising adventurers. Join him in rebuilding the city and returning it to its former glory. Your efforts and actions while in Orsinium and the mountains of Wrothgar have a direct impact on the reconstruction effort—the city will visibly transform.

The largest ESOTU DLC game pack to date, Orsinium takes you to the mountains of Wrothgar, and to the Orc capital itself, to unravel plots and counter-plots, and encounter all-new enemies and allies. Whether you choose to strike out and explore this vast new zone on your own, play through the quests, face the challenges of the Maelstrom Arena, or team up with friends to take on the new public dungeons and world bosses, there's something here for everyone.
You can take a look at the official site post over here.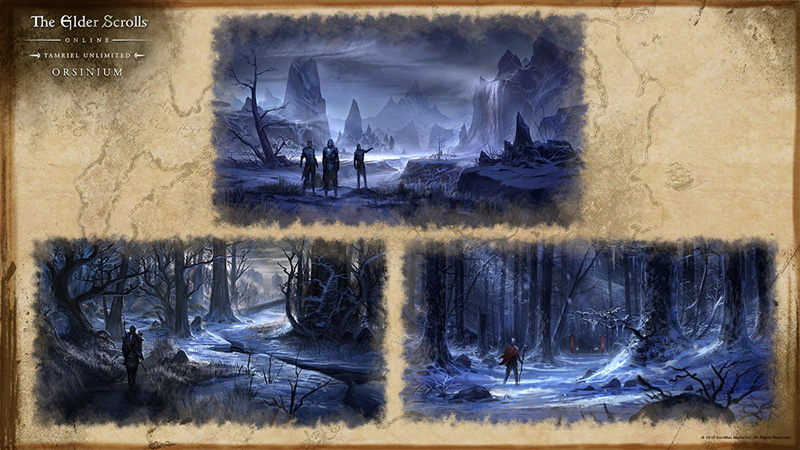 Orsinium Trailer
Orsinium Bear Mounts / Pets