Redguard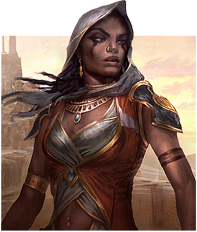 The Redguards of Hammerfell are talented and athletic warriors, born to battle. A desert people, their ancestors migrated to Tamriel from the lost continent of Yokuda. Their culture is based on preserving ancient traditions and defying their harsh environment. They prize honor and dignity above all else, combining a deep reverence for the divine with a suspicion of all things magical. Their capital is the merchant port of Sentinel, but their roots are deep in the sands of the Alik'r Desert. In their youth, Redguards endure a rite of passage in the desolate wastes of Alik'r as a test of endurance and discipline. Only the strongest survive.
Racial Passives
SHIELD AFFINITY
+15% EXP for 1 Hand and Shield
VIGOR
+3/6/9% Stamina Recovery
CONDITIONING
+4/7/10% Max Stamina
ADRENALIN RUSH
Restore some Stamina when damaging an enemy with a melee attack. This can occur once every 3 seconds.