Spank-Tank: PvE Stam Tank/DPS, 2H w/ 1HS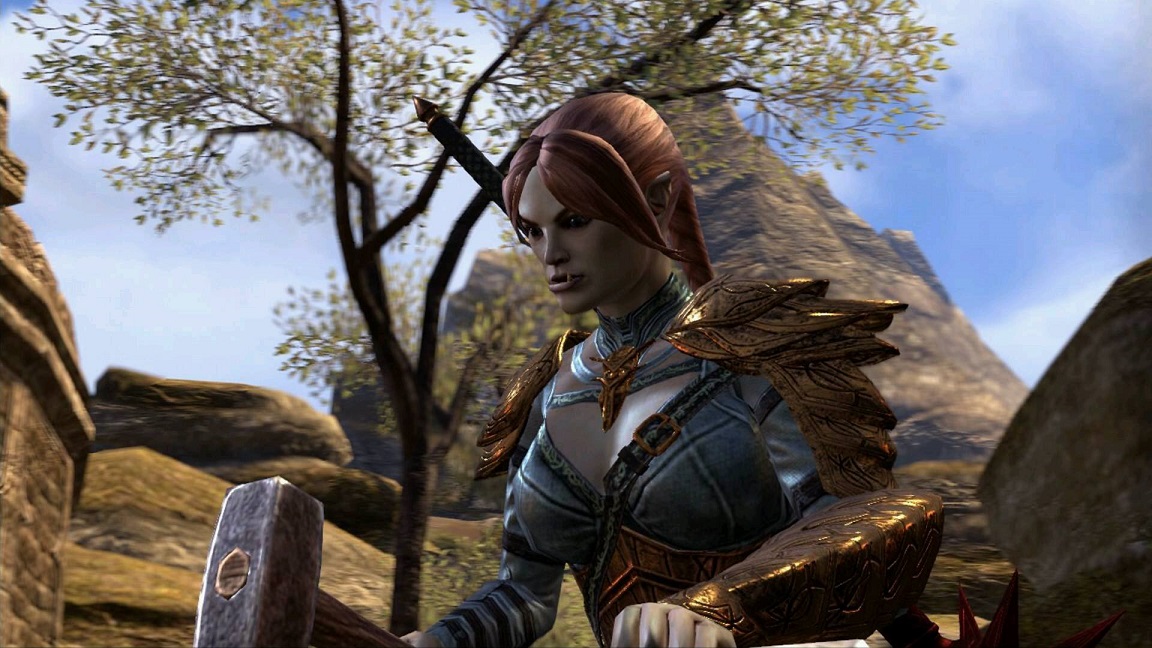 Class: DRAGONKNIGHT
Race: Orc
Main Role: Damage
Health, Magicka, Stamina
| | | |
| --- | --- | --- |
| HEALTH | MAGICKA | STAMINA |
| 0 points | 0 points | 64 points |
Skills
Bar 1
Weapon 1: Two Handed
Undaunted Skill
Inner Beast

Dragonknight Skill
Green Dragon Blood

Two Handed Skill
Rally

Two Handed Skill
Reverse Slice

Two Handed Skill
Wrecking Blow

Fighters Guild Skill
Flawless Dawnbreaker
Bar 2
Weapon 2: One Handed And Shield

Dragonknight Skill
Igneous Shield

Dragonknight Skill
Hardened Armor

One Hand And Shield Skill
Absorb Magic

One Hand And Shield Skill
Heroic Slash

One Hand And Shield Skill
Pierce Armor

One Hand And Shield Skill
Shield Discipline
Armor Types
| | | |
| --- | --- | --- |
| Light Armor | Medium Armor | Heavy Armor |
| 0 | 0 | 7 |
Gear and Item Set Info
All heavy armor, all infused, all max health enchants EXCEPT for jewelry.
Mundus Stone = The Lord
Two Handed front bar gear for DPS and crowd control:
Head - Vangaurds Challenge OR Order of Diagna
Shoulder - Vangaurds Challenge OR Order of Diagna
Body - Plauge Doctor
Hands - Plauge Doctor
Waist - Vangaurds Challenge OR Order of Diagna
Legs - Plauge Doctor
Feet - Plauge Doctor
Necklace - Hawk's Eye
Ring - Hawk's Eye
Ring - Hawk's Eye
Main Hand 1 - Plauge Doctor's Maul, Infused w/ Crusher enchant
One hand and Shield back bar gear for tanking:
Head - Vangaurds Challenge OR Order of Diagna
Shoulder - Vangaurds Challenge OR Order of Diagna
Body - Plauge Doctor
Hands - Plauge Doctor
Waist - Vangaurds Challenge OR Order of Diagna
Legs - Plauge Doctor
Feet - Plauge Doctor
Necklace - Hawk's Eye
Ring - Hawk's Eye
Ring - Hawk's Eye
Main Hand 1 - Plauge Doctor's Mace, Infused w/ Crusher enchant
Shield 1 - Vangaurds Challenge OR Hawk's Eye
General Info
I have tried MANY different tank guides and just couldn't find one that wasn't frustrating to play.
I think it all comes down to resource management and being able to block, dodge roll, break free, and keeping your taunt and debuff going on as many priority enemies as possible while still being able to do some decent damage. Running out of ANY resource is no fun when tanking, so with that in mind I built a stam-tank and the set up is easy.
With what I use now before buffs I have:
35k Health
25k Stamina
10k Magicka
After food buff I'm at:
40k Health
30k Stamina
15k Magicka
Resistances are near around 25k before buffing, and near or over 30k after.
Plauge Doctor's with Vangaurds Challenge OR Order of Diagna sets are where you get your health.
Hawk's Eye Jewelry provides the stamina.
Orc passives work better for this specific build, but as usual Argonians, Nords, Regaurds, and Imperials work well also.
Front Bar DPS
Just 2 magicka skills here: Rally for weapon buff and heal over time, Green dragon blood for sealf heal and increased healing over time. Inner beast to taunt ranged enemies, Reverse Slice for killing groups of trash mobs and Wreaking Blow for single target damage. Weave heavy attacks with both skills and your Two Handed passive skills will always be doing damage to nearby enemies. Flawless Dawnbreaker + Fighter's Guild passives for an extra 8% weapon damage and a cheap damage dealing ultimate that will give back resources when used due to your Earthen Heart Passives.
Back bar Tank
Again, just two magicka skills you need here: Hardened Armor and Igneous Shield, which both are easy to maintain at 10-15k and are plenty enough to keep you alive when combined with the stamina skill Absorb Magic. This leaves you with a ton of stamina to block, break free, dodge roll, keep up your taunt and enemy debuff, attack, AND chase down enemies if necessary. We are no using a skill to root enemies here but you will be able to remain very mobile and use your Pierce Armor & Heroic Slash almost indefinitely so they will always be focused on you. Shield Discipline is another cheap ultimate that will give back resources when used due to your Earthen Heart Passives and give you 6 seconds of free blocking to build back stamina with heavy attacks or use One Hand and Shield skill AT NO COST!
Champion Point Tips
Prioritize stamina regen with Mooncalf and Tenacity.
Master at Arms and Piercing will buff all your attacks.
Heavy Armor focus, Thick Skinned, Elemental Defender, and Hardy for buffs.
The rest of your points are recommended for shield buffs, cost reductive abilities, and resource regeneration.
Build Rating