Blademaster Reborn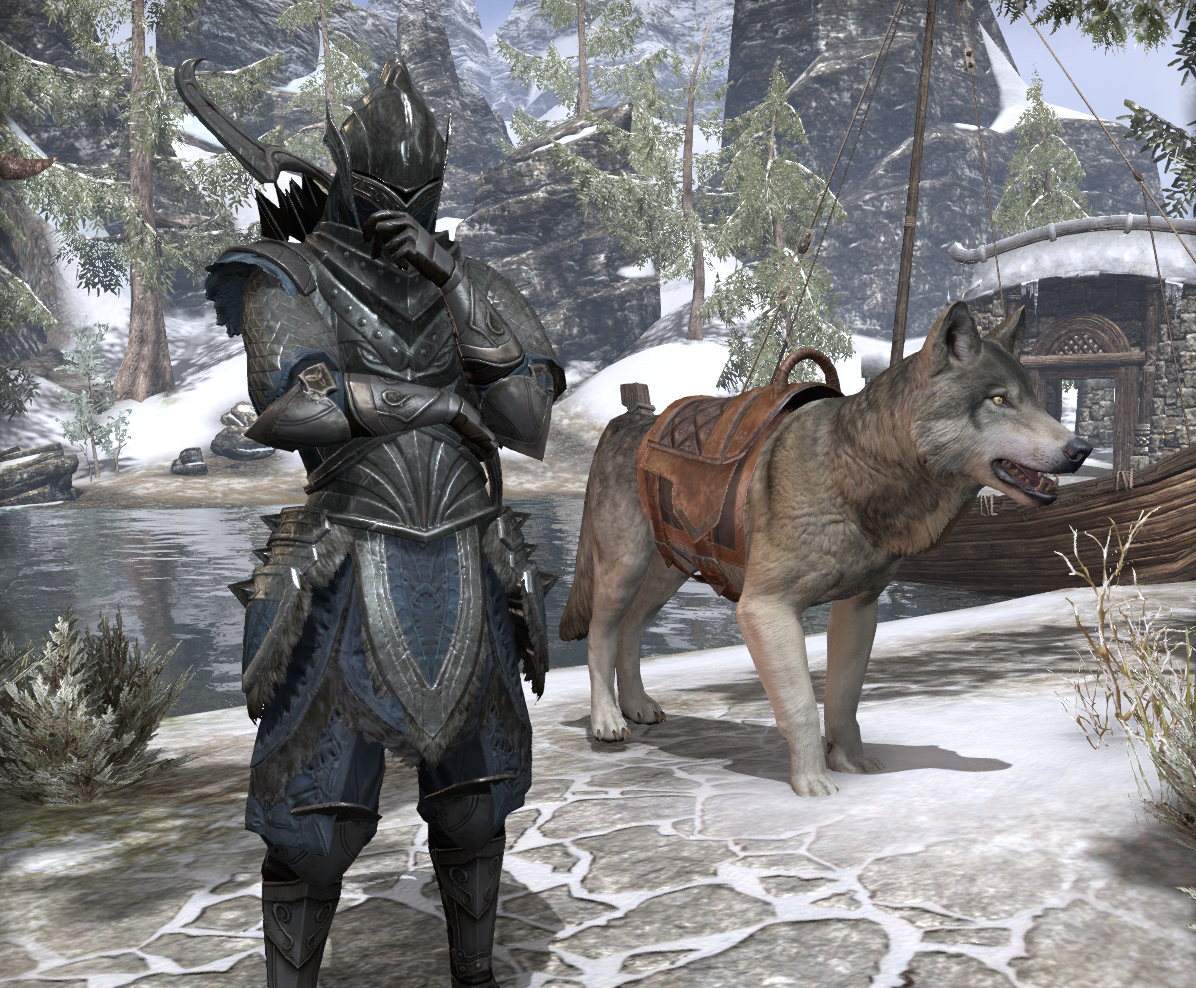 Class: DRAGONKNIGHT
Race: Nord
Main Role: Damage
Health, Magicka, Stamina
| | | |
| --- | --- | --- |
| HEALTH | MAGICKA | STAMINA |
| 18,000 - 20,000 | 10,000 | 35,000 - 39,000 |
Skills
Bar 1
Weapon 1: Two Handed

Two Handed Skill
Reverse Slice

Dragonknight Skill
Venomous Claw

Fighters Guild Skill
Rearming Trap

Dragonknight Skill
Noxious Breath

Two Handed Skill
Carve

Fighters Guild Skill
Flawless Dawnbreaker
Bar 2
Weapon 2: Bow

Bow Skill
Poison Injection

Dragonknight Skill
Flames of Oblivion

Bow Skill
Endless Hail

Assault Skill
Razor Caltrops

Dragonknight Skill
Molten Armaments

Dragonknight Skill
Standard of Might
Armor Types
| | | |
| --- | --- | --- |
| Light Armor | Medium Armor | Heavy Armor |
| 1 | 5 | 1 |
Gear and Item Set Info
~Updated for the Summerset release~
Main sets: 5 Hunding's or Mechanical Acuity as the main set.
Secondary sets: Unfathomable Darkness, Spriggan's Thorns, Briarheart's Thorns, Two-Fanged Snake, Shadow of the Red Mountain
Monster sets: Kra'gh, Spawn of Mephala, Valkyn Skoria, Velidreth, Selene's, Sellestrix
Nirnhoned or Infused battleaxe with disease enchantment has the most damage output for this setup.
As for the bow, sharpened or nirnhoned with an alchemical poison. (Ravage health and creeping ravage health)
General Info
Strengths: High damage output, excellent sustain
Weaknesses: Aside from using ultimates, there isn't any self healing. This can be fixed by switching Carve to Rally or Caltrops or Resolving Vigor.
Champion Point Tips
Warrior: 43 Hardy, 44 Elemental Defender, 43 Thick Skinned, 30 Spell Shield, 31 Ironhide, 38 Medium Armor Focus, 11 Quick Recovery
Mage: 72 Thaumaturge, 56 Mighty, 61 Precise Strikes, 10 Piercing, 31 Master-at-arms, 9 Physical weapons expert
Thief: 100 Tenacity, 35 Mooncalf, 30 Warlord, 31 Tumbling, 44 Shadow Ward
Build Rating