Blood Matron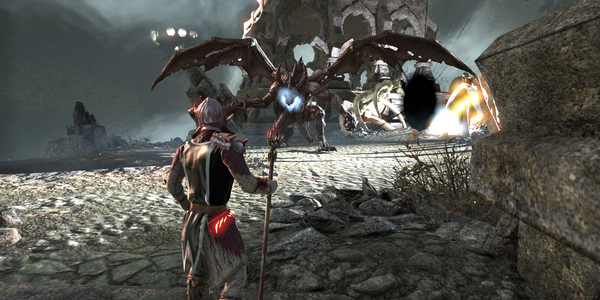 Class: NIGHTBLADE
Race: Breton
Main Role: Healer
Health, Magicka, Stamina
| | | |
| --- | --- | --- |
| HEALTH | MAGICKA | STAMINA |
| 22000 | 35000 | 12000 |
Skills
Bar 1
Weapon 1: Restoration Staff

Restoration Staff Skill
Blessing of Restoration

Restoration Staff Skill
Illustrious Healing

Restoration Staff Skill
Healing Ward

Mages Guild Skill
Inner Light

Nightblade Skill
Funnel Health

Restoration Staff Skill
Life Giver
Bar 2
Weapon 2: Restoration Staff

Nightblade Skill
Siphoning Attacks

Restoration Staff Skill
Rapid Regeneration

Nightblade Skill
Refreshing Path

Restoration Staff Skill
Siphon Spirit

Mages Guild Skill
Inner Light

Support Skill
Replenishing Barrier
Armor Types
| | | |
| --- | --- | --- |
| Light Armor | Medium Armor | Heavy Armor |
| 5 | 0 | 2 |
Gear and Item Set Info
You are gonna want to run five peice Prayer Shawl. I recomend that these five peices be boots, pants, gloves, chest, and belt. The monster set you are gonna want to run is Chokethorn, and the two peices should be heavy.
for the jewlery, you're goona want to run all three Lamia's Song jewlery. Your staffs are going to need to be both Lamia's Song resto staffs.
General Info
This build was made to live up to the breath of life spaming teplars that don't have to try to be able to heal the entire team. This build is made to be able to be on the same branch of healing as templars are. Altho you will need to work harder to keep people alive, it is also extremly awarding, and satisfying. The reason for that is because as a not highly known class to be a healer, and doing very well at it, makes you feel as if you don't always need to follow the normal way everyone expects you to do a certain thing, or in this case healing. Now to be succecful with this set up you will need be able to have a good sense on when you need to reset the timers on all of the HOTS(healing over time spells). In case of intense emergency, and when I say that I mean one player in your group is having a lot of trouble staying alive. You should use a healing ward on that player, use a few burst heals such as Blessing of Resteration, and then resume your HOTS. In a major case of "Oh Shit we're gonna die", you should use barrier, and then a few busrst heals then resume with your HOTS. Your barrier should give you enough time to get al of your group members back up to full health in a short amout of time. Now the front bar ulti Life giver, you can use at your own convince. It is a very good way of keeping people healed, and alive if you are out of resources.
Champion Point Tips
I am not cp 600 so I am giving you cp tips that max out at about 320. Under the thief, you will find the tower. I highly recomend 100 points into magincian, mainly because it will highly reduce the cost of you spells. Under the Warrior, you will find the lord. I recomend that you put 100 points into Bastion, because it will increase the intensity of your damage absorbing effects or your wards. Under the Mage, you will the Apprentince. I highly recomend 100 points into Blessed. With your remaining points you can do as you wish. If you do not know what to do with extra points, consider the following. Elfborn in the Apprentice, Elemental defender in the Lady, and Arcanist in the Lover.
Build Rating