DANGER High Voltage! (Vet PvE DPS)
Class: SORCERER
Race: Altmer (High Elf)
Main Role: Damage
Health, Magicka, Stamina
| | | |
| --- | --- | --- |
| HEALTH | MAGICKA | STAMINA |
| 20,000 | 38,000 | 15,000 |
Skills
Bar 1
Weapon 1: Destruction Staff
Sorcerer Skill
Endless Fury

Sorcerer Skill
Streak

Sorcerer Skill
Lightning Flood

Mages Guild Skill
Inner Light

Destruction Staff Skill
Elemental Blockade

Destruction Staff Skill
Elemental Rage
Bar 2
Weapon 2: Destruction Staff

Sorcerer Skill
Hardened Ward
Sorcerer Skill
Crystal Fragments

Sorcerer Skill
Dark Conversion

Sorcerer Skill
Boundless Storm

Sorcerer Skill
Power Surge

Sorcerer Skill
Power Overload
Armor Types
| | | |
| --- | --- | --- |
| Light Armor | Medium Armor | Heavy Armor |
| 5 | 0 | 2 |
Gear and Item Set Info
3 piece Jewelry, 1 piece body, 1 Lightning Staff (Front Bar)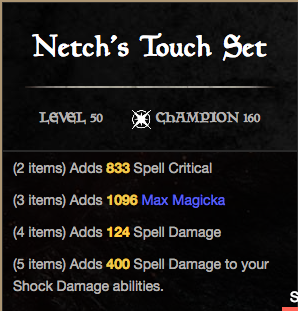 4 Piece Body, 1 Weapon of any kind as long as it's part of this set. (Back Bar)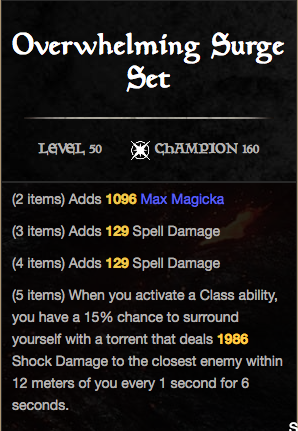 2 Piece Monster Set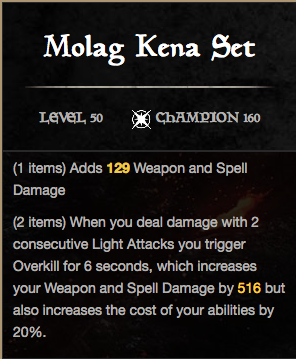 Food: Increase all max stats
Boon: The Mage
General Info
True vet dungeon dps build.
5 chance proc for Overwhelming Surge and Crystal Frag on back bar, "easy money." (Exp-player skills required with timing, combos and weapon swap. The enemy you tag with Endless Fury is who you want to hit with a Frag.)
Malog Kena matched with Power Overload makes a DANGEROUS combo!
Power Overload bar: Endless Fury, Turn Undead, Bound Aegis, Hardened Ward, Dark Conversion.
I shouldn't be sharing this build... it's that good.
Champion Point Tips
Elemental Expert: 100 points
Spell Erosion: 50 points
Elfborn: 50 points
Tumbling: 75 points
Arcanist: 75 points
Tenacity: 75 points
Bastion: 50 points
Quick Recovery: 50 points
Light Armor Focus: 75 points
Spell Shield: 50 points
All other points distribute at will.
Build Rating