Draco-Naught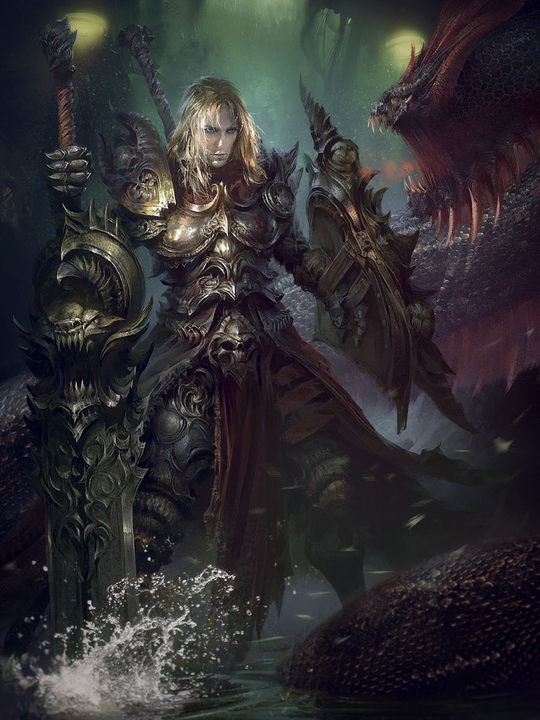 Class: DRAGONKNIGHT
Race: Nord
Main Role: Tank
Health, Magicka, Stamina
| | | |
| --- | --- | --- |
| HEALTH | MAGICKA | STAMINA |
| 30-35 | 4-10 | 21-25 |
Skills
Bar 1
Weapon 1: One Handed And Shield

Assault Skill
Echoing Vigor

One Hand And Shield Skill
Ransack

Dragonknight Skill
Coagulating Blood

Dragonknight Skill
Hardened Armor

Dragonknight Skill
Reflective Plate

Support Skill
Reviving Barrier
Bar 2
Weapon 2: Two Handed

Assault Skill
Echoing Vigor

Two Handed Skill
Wrecking Blow

Dragonknight Skill
Coagulating Blood

Two Handed Skill
Executioner

Dragonknight Skill
Hardened Armor

Two Handed Skill
Onslaught
Armor Types
| | | |
| --- | --- | --- |
| Light Armor | Medium Armor | Heavy Armor |
| 0 | 0 | 7 |
Gear and Item Set Info
I find this build is very much PVE orientated, with my buffs active i tend to reach 28-30k spell resistence, and 30-31k Physical resistance. I find its great for tanking when you have a Full Set of Knight's Errant Running for those Constant sword and board heals, and i paired it with 5 piece Alessia's Bulwark for the reduced damage from enemies. ((but any of the defensive heavy armor sets work i have found. ive run histbark, draugr, whitestrake, shellbug, but i find these two really suit my personal style)).
for enchantments on my armor ((all of it blue) and Jewlery I lean towards health. and I aim for health gain on my sword and board weapon. my great weapon is running a Legendary Weakening Enchantment.
General Info
this build is very much a Stand your ground combat style. its not for kiting, or the "Mock" tanks that run around in circles, the whole point of this tank is to run up, and ransack the major threats ((note: as many as you feel comofrtable with handleing, i find i can handle the boss, and the larger hit point adds by myself until my DPS has cleaned up the adds)), and than stand there like a Giant Brick house while getting hit in the face.
this seems to be an issue i find with Tanks in ESO alot, you either end up with someone who "Thinks" their a Tank, and than succumbs to mass damage, or they Kite, and run in circles so the AoE dps fails, this isnt a build like that, this is more of a King of the Castle, where your a Rally Point, stationary point, as long as you move very little, unless you need to pick up some large adds, your playing the build right.
the Only Non ability attack you should be making, is Power Attack, the Stamina regain is a must.
Potions, id say i run alot of stamina potions to keep my guard and vigor running. i have enough magicka to activate hardened armor and coagulating blood every 8 Power Attacks/ 16 Uses of Ransack.
FOOD: currently for food, im using "Braised Rabbit with Spring vegetables" for Max Helth and Max Stamina, the two real musts for the build. you can run health and Magicka i find, but you should have enough magicka to run what you need to just from your raw attributes.
Strengths. The Build is a Litteral Brick S#&T-house, you can stand there all day and Normal Mode version 1, bosses will have a time even bringing you to 50% health. this Build is a Primary Tank, Constant AoE heal fountain. ive run Veteran Vaults of Madness, and didnt drop beneath 50% health even when i lost focus and screwed up my timing of things.
Weakness. the Primary ability bar doesnt deal alot of damage, and you lose much needed resistances when you swich to the two handed weapon bar, but if you keep hardened armor up, and coagulating blood, and keep spamming vigor you shouldnt see to much of an issue.
Champion Point Tips
The Lord: 75pts Hvy Armor Focus.
The Lady: 25+ in Hardy
The Tower: 16+ Warlord
The Lover: 28 tenacity, 28 Healthy, 28 Mooncalf
The Atronach: 75 Melee Weapon Exptert
The 25+ the Ritual
Build Rating