Imperial Ordnance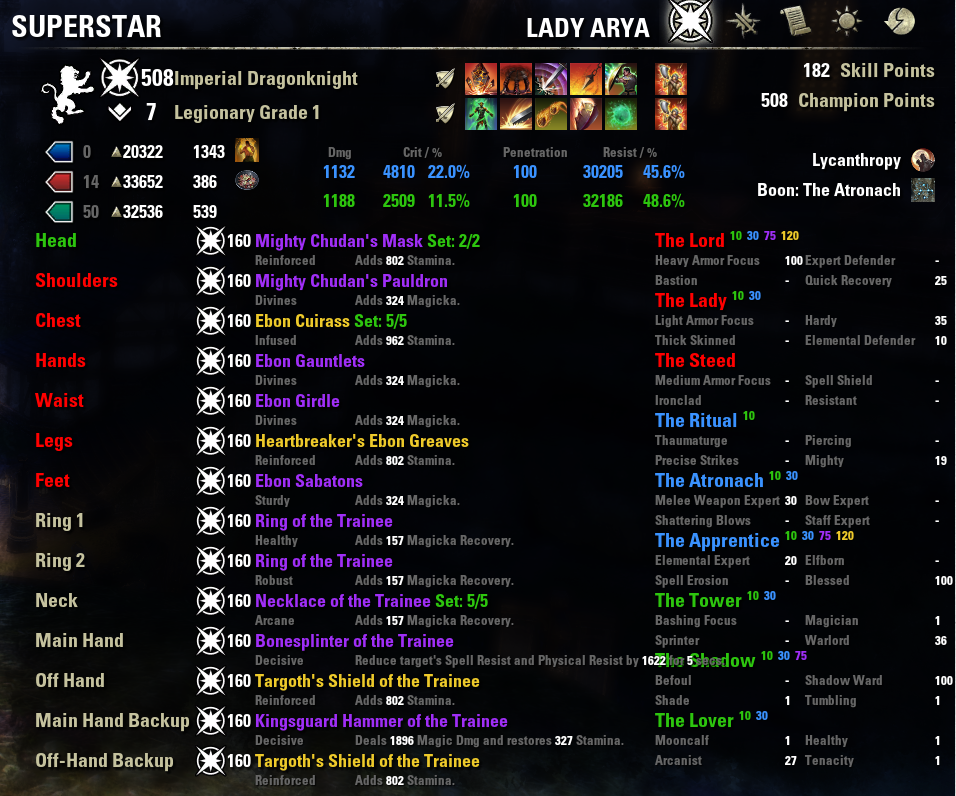 Class: DRAGONKNIGHT
Race: Imperial
Main Role: Tank
Health, Magicka, Stamina
| | | |
| --- | --- | --- |
| HEALTH | MAGICKA | STAMINA |
| 33k | 20k | 33k |
Skills
Bar 1
Weapon 1: One Handed And Shield

Dragonknight Skill
Igneous Shield

One Hand And Shield Skill
Heroic Slash

One Hand And Shield Skill
Pierce Armor

Assault Skill
Resolving Vigor

One Hand And Shield Skill
Absorb Magic

Assault Skill
Aggressive Horn
Bar 2
Weapon 2: One Handed And Shield

Dragonknight Skill
Igneous Shield

Dragonknight Skill
Choking Talons

One Hand And Shield Skill
Pierce Armor

Dragonknight Skill
Unrelenting Grip

One Hand And Shield Skill
Absorb Magic

Assault Skill
Aggressive Horn
Armor Types
| | | |
| --- | --- | --- |
| Light Armor | Medium Armor | Heavy Armor |
| 1 | 1 | 5 |
Gear and Item Set Info
Items

| Bodypart | Type | Set | Trait | Enchantment |
| --- | --- | --- | --- | --- |
| Weapon 1 | 1h / Shield | Armor of the Trainee | Defending or decisive / Reinforced | Truly Superb Glyph of crushing |
| Weapon 2 | 1h / Shield | Armor of the Trainee | Defending or decisive / Reinforced | Health or Stamina absorption |
| Head | Medium | Mighty Chudan Set | Infused | Maximum Stamina |
| Shoulder | Light | Mighty Chudan Set | Divines / Sturdy | Maximum Magicka |
| Chest | Heavy | Ebon Armory | Infused | Maximum Stamina |
| Hand | Heavy | Ebon Armory | Divines / Sturdy | Maximum Magicka |
| Waist | Heavy | Ebon Armory | Divines / Sturdy | Maximum Magicka |
| Legs | Heavy | Ebon Armory | Infused | Maximum Stamina |
| Feet | Heavy | Ebon Armory | Divines / Sturdy | Maximum Magicka |
| Ring 1 | - | Armor of the Trainee | Healthy | Magicka Recovery |
| Ring 2 | - | Armor of the Trainee | Robust | Magicka Recovery |
| Neck | - | Armor of the Trainee | Arcane | Magicka Recovery |
Why Ebon Armory?
The main reason for this set is the 5 item bonus. It gives your healers and damage dealers 1118 extra health so they can get more points into magicka or stamina. They reach the minimum for vTrails of 17k health easily that way.
But it got additional benefits for me as well! I get myself extra 3k health and 4% additional healing which counts also for my own healing spells.
Why Armor of the Trainee?
Armor of the Trainee is a pretty balanced starter set which you can use easily as a tank to make yourself a pretty balanced ressource base. This set gives me in total 3,5k health, stamina and magicka by the set bonus. That way I already got 6.5k extra health by my set boni in total which allows me to put additional ressources on the accessiore traits and the armor enchantment.
Why Mighty Chudan as Monster Set?
Mighty Chudan is only experimental for now. In my first Action Bar (Singletarget Boss Skills) I was forced to keep a skill for Major Ward and Major Resolve. When I use Mighty Chudan this skill can be dropped out and be replaced by another more usefull skill like a support skill.
Replacement for Mighty Chudan: Blood Spawn
Pretty much tank use this set and its boni need to be considered. But I personally don't like it pretty much because the 6% proc chance are a way too low. If you have a boss with many hit effects it's fine but otherwise the set is wasted.
What do you get in all from these sets?
With these sets you have a pretty high ressource pool which you can use to cast support skills. I aiimed for a high amount of stamina to have a high pool for blocking. Thats what you basically do.
Attribute Points
50x Stamina
14x Health
THE LORD PRAISES THESE RESSOURCES FOR TANKYNESS!
General Info
ATTENTION: Action Bar 1 is for Bosses, Action Bar 2 for Trash mobs.
Used Actionbars

| Purpose / Bar | Slot 1 | Slot 2 | Slot 3 | Slot 4 | Slot 5 | Ultimate |
| --- | --- | --- | --- | --- | --- | --- |
| Bosses / Bar 1 | Igneous Shield / Bone Shield | Heroic Slash | Pierce Armor | Resolving Vigor / Mystic Orb | Absorb Magic | Aggressive Horn |
| Trashmobs / Bar 1 | Igneous Shield | Choking Talons | Pierce Armor | Unrelenting Grip | Absorb Magic | Spell Wall |
| Support, Trashmobs / Bar 2 | Resolving Vigor | Heroic Shlash | Inner Beast | Shielded Assault | Mystic Orb | Aggressive Horn |
Play Style
Usually you follow the tactics that are nessessary to finish the dungeons (e.g. Spotting bigger mobs, holding the mobs together, supporting the group with the given skills)
Important is that you hold you block up specially in bossfights. You have the minimum life for vTrails which means: No Block and you are dead.
Combat Strategy
Dependent on which Boss you play against you use different skill bars. Be aware that you may need to swap skills so it fits the dungeon and the needs of your group.
Make sure you always have enough ressources to begin with. That means you don't want to use the potion when you are already out of stamina. You want to use it when you have 75% of your stamina so you can use it again when you are at 0%. same goes for Synergies that restore ressources. Important: If you have Undaunted level 9 make sure to activate all synergies that you can because you restore 4% of you ressource pool if you do.
Be aware that you never have your max ressources because if you have you do too less. If you have max magicka you can use Orbs to restore the magicka pool of the group our use the igneous shield to share Minor Brutality, restore 5% stamina, getting the healing bonus for yourself and giving the group a 3-6k hp shield. Some will say shield is shield but I say 5k are 5 fucking k.
If you have stamina "80% < " feeld free to cast some vigor to support your healers. Spot more stuff and so on. But try to safe at least 30% of the stamina to make sure you always can block!
Potion use
I usually only use standard magicka or standard stamina potions.
Feel free to give me some advice here I am no alcemist and don't know what is possible. I never needed to.
Food requirements
Usually I take Food to increase Max Health, Max Magicka and Max Stamina. It supports the meaning of the build at best.
Strenths
+ High self sustain / survivability
+ Great group survivability and support
+ Great ressource pool
+ Always Major Armor buffs -> extra skill slot
Weaknesses
- Stamina stealing / Stamina intense fights
- no damage by itself
Possible Skill alternatives
This entry will be editied later.
Champion Point Tips
This allocation was documented when I was Champion 508.
Warrior - The Steed 0
Warrior - The Lady 45
Hardy 35 (Will be skilled further)
Elemental Defender 10
Warrior - The Lord 125
Heavy Armor Focus 100
Quick Recovery 25
Thief - The Tower
Warlord 36 (will be skilled further)
Magician 1
Thief - The Lover
Arcanist 27
Mooncalf 1
Healthy 1
Tenacity 1
Thief - The Shadow
Shadow Ward 100
Shade 1
Tumbling 1
Mage - The Apprentice
Blessed 100
Elemental Expert 20
Mage - The Atronach
Melee Weapon Expert
Mage - The Ritual
Mighty 19 (will be skilled further)
Build Rating