Earthbreaker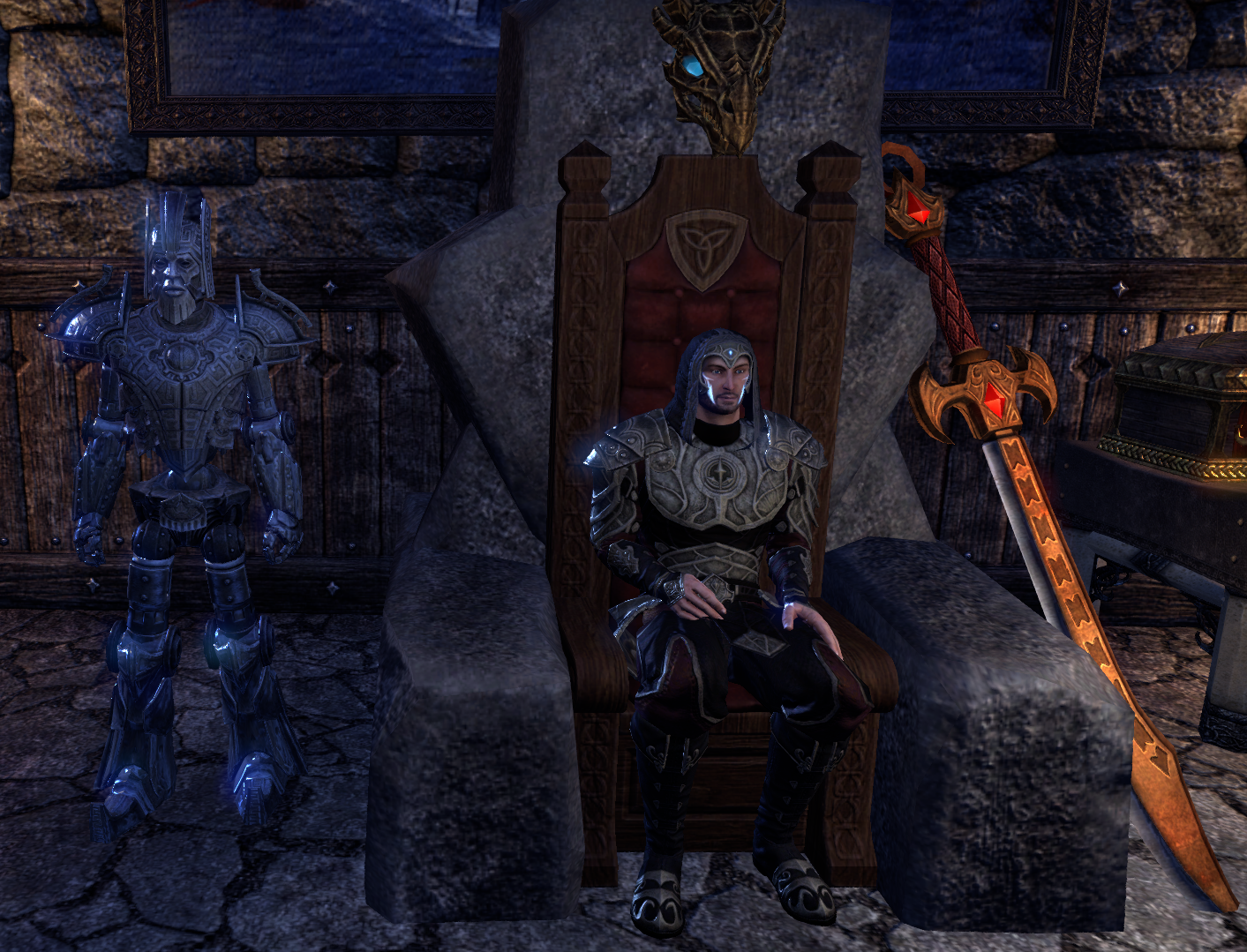 Class: DRAGONKNIGHT
Race: Nord
Main Role: Damage
Health, Magicka, Stamina
| | | |
| --- | --- | --- |
| HEALTH | MAGICKA | STAMINA |
| 19,000-20,000 | 10,000 | 34,000-38,000 |
Skills
Bar 1
Weapon 1: Dual Wield

Dual Wield Skill
Rending Slashes

Dragonknight Skill
Venomous Claw

Fighters Guild Skill
Rearming Trap

Dragonknight Skill
Noxious Breath

Dual Wield Skill
Deadly Cloak

Fighters Guild Skill
Flawless Dawnbreaker
Bar 2
Weapon 2: Bow

Bow Skill
Poison Injection

Dragonknight Skill
Flames of Oblivion

Bow Skill
Endless Hail

Assault Skill
Razor Caltrops

Dragonknight Skill
Molten Armaments

Dragonknight Skill
Standard of Might
Armor Types
| | | |
| --- | --- | --- |
| Light Armor | Medium Armor | Heavy Armor |
| 1 | 5 | 1 |
Gear and Item Set Info
For this build, I decided to go a bit off the meta:

5 piece Relequen, 5 piece Pillar of Nirn, 2 piece Selene or Stormfist with a master or maelstrom bow. Both pull the same dps roughly.
Relequen is best utilized when it is on 100% of the time, so no weapons, ever, unless you have both dual wield and bow. Otherwise the uptime for relequen will be dramatically lower, resulting in a drop in potential dps. A set like Pillar of Nirn however is a proc set that adds a bleed over time, so having it as just the front bar works.
The weapons I'm using are Infused Axe and Infused Dagger for dual wield, or an Infused Battleaxe with Absorb Stamina and Weapon damage enchantments, and an infused Master/Maelstrom bow with a poison enchant.
General Info
Overall, my builds are played the same way throughout with static rotations and regular food (Blue duo-stat Health + Stamina)
This one in particular is very up close and personal, as you can't hit your enemy with selene's otherwise.
For potions, the basic Weapon Damage/Crit + Stamina potions are the best. There are other potions out there that could work, though they won't give as much benefit.

Now, I'll probably do something I haven't done here before: Rotation. Other people will say different things, but I will give you what I have used that gets me to where I need to be.

Buff using Molten Armaments and Flames of Oblivion, Set out your rearming trap to give yourself a bonus right off the bat, Light attack > Endless Hail, Light attack > Razor Caltrops, Light attack > Poison Injection, Light attack > Standard of Might, Light attack > Potion/swap, Light attack > Rending Slashes, Light attack > Venomous Claw, Light attack > Noxious Breath, Heavy attack > Deadly Cloak, Heavy attack > swap.
*Keep rearming trap up as much as possible, I find that reapplying every time you switch to your front bar in between light attacks gives the best bonus. Also keep Molten armaments and flames of oblivion up if you can. As for ultimate usage, Standard of might is the best choice to use in long fights since it gives you a damage bonus, reduces damage taken, and gives you a lot of resources back. If you don't have a way to regain resources through a healer (Orbs/Shards), Dawnbreaker works just as well for a lower cost ultimate.
Alternative Secondary sets (In place of Pillar of Nirn): Unfathomable Darkness, Briarheart's Thorns, Hunding's Rage, Mechanical Acuity, Berserking Warrior (I personally don't reccommend unless you can gold everything out and retrait jewelry), Defiler, Leviathan
Alternative Monster helmets: Spawn of Mephala, Kra'gh, Valkyn Skoria, Velidreth (I don't reccommend this one), Stormfist
Main set alternatives: Vicious Ophidian, Hunding's Rage (With a combination of one of the alternative secondary sets)
Champion Point Tips
For a CP 780 setup
Mage:
Ritual: 56 Thaumaturge, 49 Mighty, 51 Precise Strikes, 21 Piercing
The Atronach: 56 Master-At-Arms, 27 Physical Weapons Expert
The Apprentice: (N/A)

Warrior:
The Lord: 32 Quick Recovery
The Lady: 44 Thick Skinned, 43 Hardy, 43 Elemental Defender
The Steed: 29 Medium Armor Focus, 29 Spell Shield, 40 Ironclad
Thief:
The Tower: 27 Sprinter, 28 Warlord
The Shadow: 37 Shadow Ward, 44 Tumbling
The Lover: 75 Tenacity, 49 Mooncalf
Build Rating