Eclectic Overland Treasure Hunter (Wrathstone)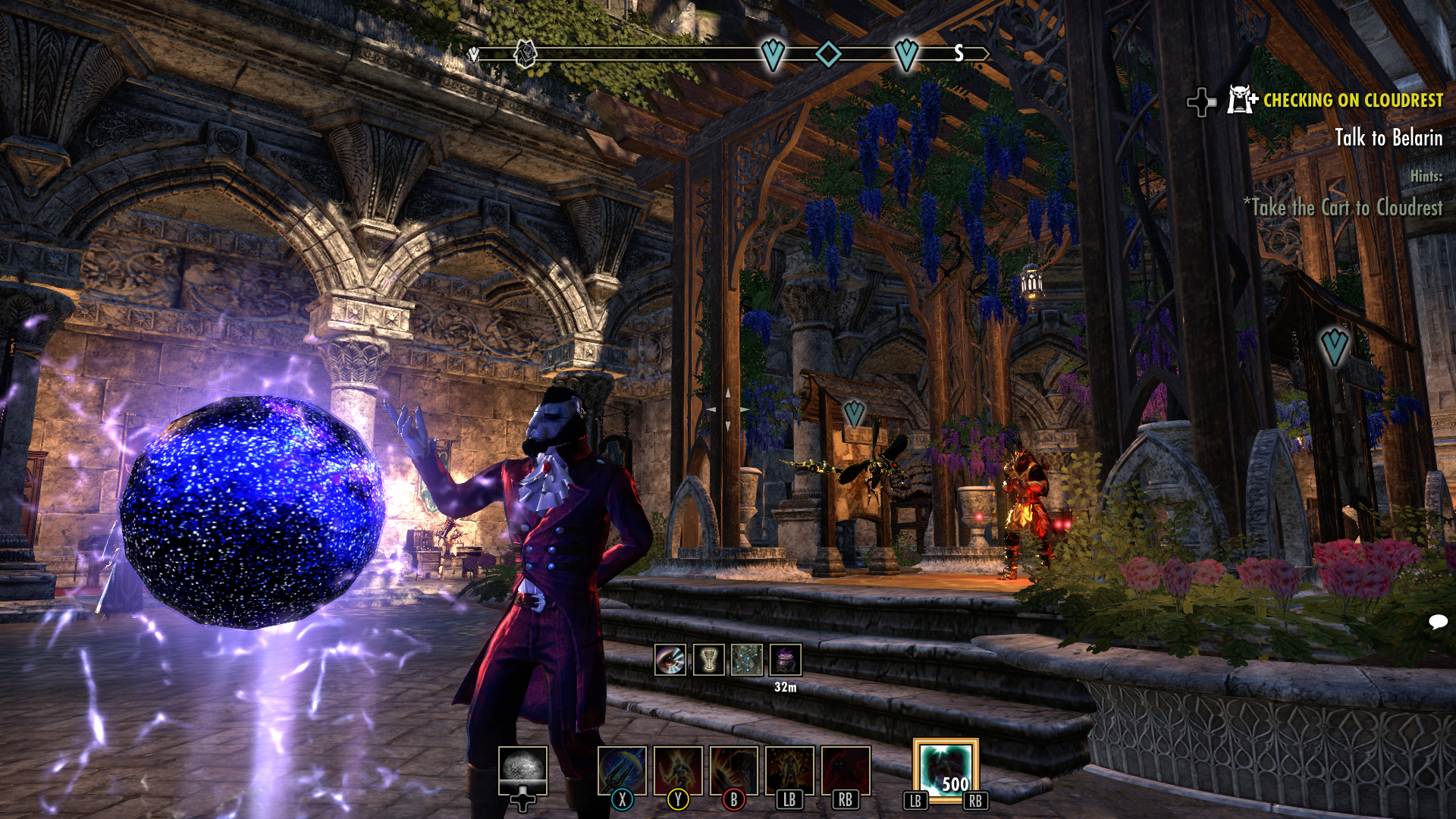 Class: NIGHTBLADE
Race: Khajiit
Main Role: Damage
Health, Magicka, Stamina
| | | |
| --- | --- | --- |
| HEALTH | MAGICKA | STAMINA |
| 20pts | 22pts | 22pts |
Skills
Bar 1
Weapon 1: Destruction Staff

Destruction Staff Skill
Crushing Shock

Nightblade Skill
Reaper's Mark

Nightblade Skill
Concealed Weapon

Nightblade Skill
Refreshing Path

Nightblade Skill
Shadowy Disguise

Nightblade Skill
Soul Tether
Bar 2
Weapon 2: Two Handed

Two Handed Skill
Dizzying Swing

Nightblade Skill
Ambush
Mages Guild Skill
Degeneration

Nightblade Skill
Shadow Image

Nightblade Skill
Merciless Resolve

Nightblade Skill
Soul Harvest
Armor Types
| | | |
| --- | --- | --- |
| Light Armor | Medium Armor | Heavy Armor |
| 5 | 1 | 1 |
Gear and Item Set Info
Mad Tinkerer
(2 items) Adds 833 Spell Critical
(3 items) Adds 833 Spell Critical
(4 items) Adds 129 Spell Damage
(5 items) When you deal damage, you have a 10% chance to summon a Verminous Fabricant that charges the nearest enemy, dealing 9,999 Shock Damage to all enemies in its path, knocking them into the air, and stunning them for 2 seconds. This effect can occur once every 10 seconds.
Shacklebreaker
(2 items) Adds 129 Weapon Damage
(3 items) Adds 129 Spell Damage
(4 items) Adds 129 Magicka Recovery and Stamina Recovery
(5 items) Adds 2000 Maximum Magicka and Maximum Stamina.
Maw of the Infernal
(1 items) Adds 1206 Max Health
(2 items) When you deal damage with a Light or Heavy Attack, you have a 10% chance to summon a fire breathing Daedroth for 15seconds. The Daedra's basic attacks deals 4257 Flame Damage. This effect can occur once every 15 seconds.
ENCHANTS AND TRAITS
Lightning Staff: Double DOT poison - Sharpened
Legendary Greatsword: Increase weapon/spell damage enchantment - Nirnhoned
Jewelry: Spell Damage Enchantments
Boon: The Steed
Provisions: Witchmother's Potent Brew: Max Health, Max Magicka, Magicka Recovery
Potions: Essesnce of Immobility: Unstoppable - Major Prophecy - Restore Magicka
Vampire: (Passives) Undead, Supernatural Recovery, Dark Stalker
Dark Brotherhood: Blade of Woe
General Info
Hailing from Khenarthis Roost our eclectic overland treasure hunter ventures off into the wilds of Tamriel to uncover its secrets, finding rare resources he applies as a master craftsman and in search of the infamous shards of crystal that have fallen from the sky. A master assassin and conjurer skilled in teleportation, invisibility and summoning, he can jump from one place to another during a fight, unleash a verminous fabricant, summon a fire breathing Daedroth and then vanish into thin air. As a vampire he feeds on living energy, absorbing their soul providing him rejuvinating health. On his mission to find the legendary skyshards he may pay a visit to your town and leave without a trace, only noticing that things have changed around you as his quest becomes fulfilled.
It's a pretty fun build with some crazy combos with the skill set up. Combo weaving light attack with Crushing Shock (great against the numerous casting NPCs in the game) or Concealed Weapon if upclose and Merciless Resolve procs... its fun while bouncing around with your Shadow Image as well. So many options. Execute combos of Ambush with Assassin's Will or Soul Harvest to work some amazingly killer moves.
Using unique healing techniques, aside from potions... there are; Refreshing Path (also a speed buff), Reaper's Mark gives a huge heal on a kill, Degeneration and Soul Tether (try to save this ult for if you get mobbed). Fight mobility is an intregal part of this build; you have two way teleportation, high speed movement, unhindered invisibility and assassination skills. It definetly takes getting used to apart from your typical builds. It is on the harder side to play skill wise, but if you get the hang of it, a lot more fun. Can't even explain all the possible combos (such as an Ambush on a duo, stunning the first enemy and following up with a Dizzying Swing on the second) because the list is too long. Ambush and Dizzying Swing are there for teleport and CC, not so much damage.
This build has deceitfully high DPS. On the character sheet, base Spell Damage = 2695... all damage buffs only proc in combat. We get Major Sorcery that brings it to just over 3k Spell Damage, but add the greatsword weapon enchantment bonus along with the buffs from both Minor Berserk and Major Berserk which add to that a 33% increase on all damage. If you use it right, we're talkin' well over 4k Spell Damage! Not to mention it has great sustain and style. When engaging enemies, you have the ability to avoid hard hitting enemies, confuse them and burst them down in a super cool 'necro-nightcrawler' fashion.
Theoretically this build should do pretty well in PvP. I only need to aquire more skill points since I sacrificed most of my skill passives for crafting skills, hence why this is an overland build for now (to complete Cadwell's and find skyshards). Should be even better after the Wrathstone update and after getting all the new skill points from hunting skyshards. Crossing my fingers that with the racial changes set to happen, that this Nightblade Khajiit build will be a balanced hybrid primed for a fun experience!
The video below is just an example of a few of the many combos with this build. It was made when the build was new so was still learning how to use it.
Build Rating