God of Dragons 2.0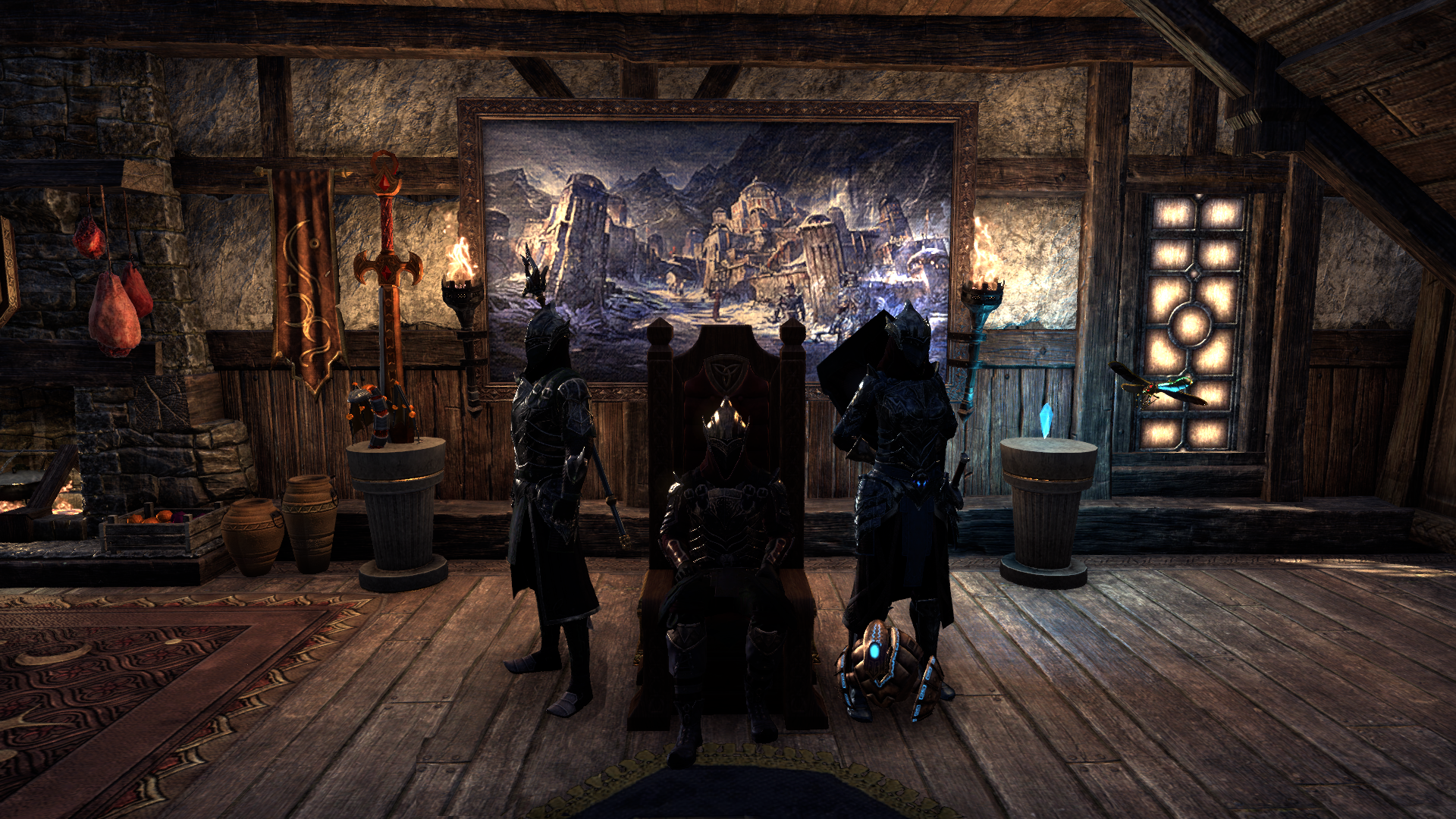 Class: DRAGONKNIGHT
Race: Nord
Main Role: Tank
Health, Magicka, Stamina
| | | |
| --- | --- | --- |
| HEALTH | MAGICKA | STAMINA |
| ~30,000+ | 10,000 | ~30,000+ |
Skills
Bar 1
Weapon 1: One Handed And Shield

One Hand And Shield Skill
Pierce Armor

One Hand And Shield Skill
Absorb Magic

Undaunted Skill
Bone Surge

Psijic Order Skill
Deep Thoughts

Fighters Guild Skill
Silver Leash

One Hand And Shield Skill
Spell Wall
Bar 2
Weapon 2: Two Handed
Undaunted Skill
Inner Beast

Two Handed Skill
Carve

Dragonknight Skill
Hardened Armor

Assault Skill
Resolving Vigor

Dragonknight Skill
Igneous Shield

Assault Skill
Aggressive Horn
Armor Types
| | | |
| --- | --- | --- |
| Light Armor | Medium Armor | Heavy Armor |
| 1 | 1 | 5 |
Gear and Item Set Info
As far as any tank setup goes, there are many sets to use in pve content;
Roar of Alkosh (Maw of Lorkhaj, jewelry + s/b)
Torug's Pact (Craftable)
Ebon Armory (Crypt of Hearts)
Leeching Plate (Imperial City Prison)
Defending Warrior (Aetherian Archive)
Which ever sets you use is up to you, but I reccommend using Torug's Pact or Roar of Alkosh as one of your main sets to apply debuffs to maximize your group's performance along with enchantments and skills.
With Torug's Pact especially, having an infused Crusher enchant (Reduce target resistances by X) can benefit dps tremendously.
Health enchantments on armor, Crusher enchant on mainhand weapon and weakening enchant (Reduce target weapon damage by x) on back slotted weapon. If using dual wield, Weakening + Absorb Stamina while using either Quick Cloak or Blood Craze will work decently in place of Carve.
General Info
This build has been worked on for several months and has gotten me through content reliably without issues, to the point where potion spamming, or even potion usage, isn't something I have to do often since the skills work together to keep you alive and keep your health and resources, aside from magicka which isn't used as much as other builds, up as much as possible.
I'd reccommend using Max Health/Max Stamina foods instead of tri-bonus foods since you'll be mostly using stamina and can get it back easily with heavy attacks or using ultimates.
As for Attribute distribution, I'd go into all stamina since it's easier to balance out health/stamina than putting points into all three or splitting between two.
The mundus I'd recommend are Lord, Lady, Steed, Tower or Ritual
Champion Point Tips
Point distribution in order from left to right.
Warrior:
40 Iron Clad, 34 Spell Shield, 43 Hardy, 43 Ele Defender, 44 Thick Skinned, 32 Quick Recovery, 34 Heavy Armor Focus
Mage:
75 Blessed, 51 Master-at-arms, 27 Physical Weapons Expert, 56 Mighty, 61 Precise Strikes.
Thief:
28 Warlord, 27 Sprinter, 56 Healthy, 75 Tenacity, 40 Tumbling, 44 Shadow Ward
Build Rating