Holy Heals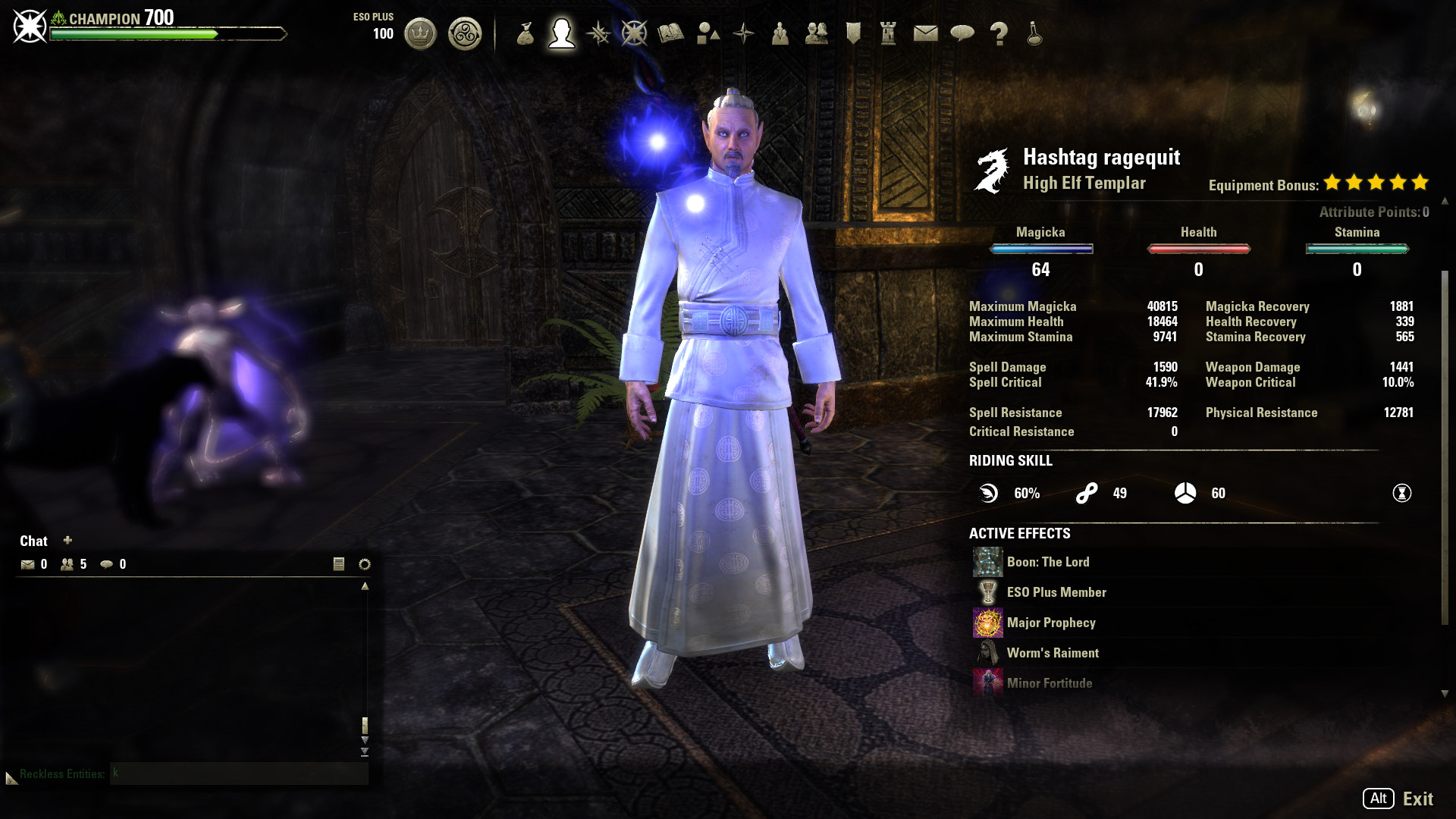 Class: TEMPLAR
Race: Altmer (High Elf)
Main Role: Healer
Health, Magicka, Stamina
| | | |
| --- | --- | --- |
| HEALTH | MAGICKA | STAMINA |
| 18464 | 41502 | 9741 |
Skills
Bar 1
Weapon 1: Restoration Staff

Restoration Staff Skill
Healing Springs

Restoration Staff Skill
Combat Prayer

Templar Skill
Breath of Life

Templar Skill
Ritual of Retribution

Mages Guild Skill
Inner Light

Mages Guild Skill
Ice Comet
Bar 2
Weapon 2: Restoration Staff

Restoration Staff Skill
Siphon Spirit

Fighters Guild Skill
Turn Undead

Templar Skill
Breath of Life

Templar Skill
Luminous Shards

Mages Guild Skill
Inner Light

Templar Skill
Solar Prison
Armor Types
| | | |
| --- | --- | --- |
| Light Armor | Medium Armor | Heavy Armor |
| 7 | 0 | 0 |
Gear and Item Set Info
5: SPELL POWER CURE
5: WORM'S RAINMENT
2: MASTER RESTORATION STAVES
7: MAX MAGICA ENCHANTS FOR ARMOR
3: MAGICA RECOVERY ENCHANST FOR NECK AND RINGS
2: ABORB MAGICA ENCHANTS FOR STAVES
ALL ARMOR DIVINES
LORD MUNDUS STONE
General Info
THIS IS A HIGH OUTPUT BUILD USED FOR HEALING DUNGEONS ALL THE WAY THROUGH VET TRIALS. THIS IS NOT A SOLO BUILD!
USE MAX MAGICA AND MAX HEALTH FOOD FOR THIS.
USE ESSENCE OF SPELLPOWER POTIONS.
FOR THIS BUILD TO BE MOST EFFECTIVE THE GROUP SHOULD STAND AS CLOSE TOGETHER AS POSSIBLE. EVERYONE BUT THE TANK SHOULD TRY TO STAND INSIDE THE CIRCLE FOR TURN UNDEAD WHENEVER POSIBLE.
OPEN ORDER: TURN UNDEAD, SIPHON SPIRIT, RITUAL OF RETRIBUTION, COMBAT PRAYER.
FROM THERE: USE HEALING SPRING AS MAIN HEAL, BREATH OF LIFE AS EMERGENCY HEAL
MAINTAIN: TURN UDNDEAD, SIPHON SPIRIT, RITUALOF RETRIBUTION ABDCOMBAT PRAYER BUFF AS MUST AS YOU CAN.
Champion Point Tips
THE APPRENTICE: 100 BLESSED, 100 ELFBORN
THE ATONACH: 10 STAFF EXPERT
STEED: 100 SPELL SHIELD
THE LADY: 100 LIGHT ARMOR FOCUS
THE LORD: 10 QUICK RECOVERY
THE LOVER: 100 ARCANIST, 100 TENACITY
THE SHADOW: 10 SHADOW WARD
Build Rating