PvE Magblade Leeching Tank (see notes for boss skill/weapon changes)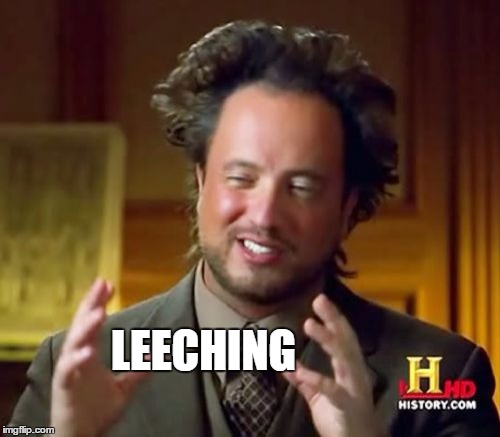 Class: NIGHTBLADE
Race: Altmer (High Elf)
Main Role: Tank
Health, Magicka, Stamina
| | | |
| --- | --- | --- |
| HEALTH | MAGICKA | STAMINA |
| 28k | 26k | 11k |
Skills
Bar 1
Weapon 1: Two Handed

Nightblade Skill
Concealed Weapon

Nightblade Skill
Dark Cloak

Nightblade Skill
Impale

Assault Skill
Proximity Detonation

Nightblade Skill
Sap Essence

Mages Guild Skill
Shooting Star
Bar 2
Weapon 2: One Handed And Shield

Nightblade Skill
Refreshing Path

Nightblade Skill
Mirage

One Hand And Shield Skill
Pierce Armor

Nightblade Skill
Siphoning Attacks

Vampire Skill
Invigorating Drain

Soul Magic Skill
Soul Assault
Armor Types
| | | |
| --- | --- | --- |
| Light Armor | Medium Armor | Heavy Armor |
| 0 | 0 | 7 |
Gear and Item Set Info
Armor
Build revolves around the leeching set from the Imperial City Prison:
(2 items) Adds 1064 Max Health
(3 items) Adds 4% Healing Taken
(4 items) Adds 4% Healing Taken
(5 items) When you take damage, you have a 8% chance to summon a cloud of leeching poison under the attack that deals 1204 Poison Damage in a 4 meter radius every 1 second for 5 seconds and heals you for 100% of the damage caused.
Monster Helm: Iceheart for Dmg shield and Aoe Dmg
Mix of Divines, Renforced, and infused as fits your playstyle.
Weapons/Items
I then use one Endurance jewlry Item and 2 Willpower
Endurance 1 Handed Weapon with Defending (bonus to spell/phys resistance) + Endurance Shiled with Sturdy or Reinforced (Reduce block cost or more armor)
2H Willpower with Defending
General Info
This build has comfortably gotten me through all vet dungeons. I realize there are some tweaks needed to optimize it for Vet Trials. likely running a Black Rose/Leeching 5-5-2 on s/s bar or perhaps Resilient Yokeda/Leeching. Fun build to play. Puts off a decent amount of dps on bosses and trash while still tanking extremely well. I went 7 Heavy for added bonuses to hp, resistance, constitution etc. in the heavy armor passive line. Dunmer to counteract Vampire Fire Debuff with Dunmer Racial Falme Resistance, i dont even notice it. Vamp not necessary. If not vamp use annulment or swallow soul and feel free to roll a race with more tank relative stats. Mage mundus stone, can be swapped for something more defensive minded.
Transitions very well into my tanky magicka dps build which will be uploaded shortly. Basically change out leeching for Julianos, put on Valkyn Skoria, use resto/2h or resto/dw and change skills to dps focused.
Boss Setup:
For bosses I change my Skills and will sometimes swap in a resto staff for my Bar 1 if we need some extra healing/surviability. This may move to an Ice Staff with next patch to take advantage of Frost Staff Blocking using Magicka pool. I will also sometimes throw on the Lord Wardens Monster helm set for added group survivability.
Bar 1 Changes keeping 2h:
Ability 4: Proximity Det ---> Shadow Image (applies minor maim to target)
Ability 5: Drain Essence ---> Merciless Resolve (works well with Siphoning attacks for some extra boss damage)
Bar 1 Changes using Resto:
Ability 4: Proximity Det ---> Shadow Image (applies minor maim to target)
Ability 5: Drain Essence ---> Healing ward of Blessing of Restoration (depending on if my healer need help healing everyone else, or if they need help healing me)
Bar 2 Changes:
Ultimate: Soul Shred ---> Bolstering Darkness (extra survivability, usefull protecting group memebers trying to rez)
I will also sometimes find a way to work Harness Magicka into this build instead of siphoning attacks. Do this when u need extar dmg mitigation and you think u can manage stam resources throguh heavy attacks. can also be placed in other slots as well to keep siphoning attacks in the build. Will also work Swallow soul into this build.
Champion Point Tips
Pretty self explanatory in my opinion. Get these to a comfortable level, take a look at diminishing returns data. The rest use as you see fit.
Thief = Magicician, Arcanist, Tenacity, Shadow Ward
Mage = Thaumaterge, Elemental Expert, Elfborn, Spell Erosion
The Warrior = Spell Shield, Hardy, Thick Skinned, Elemental Defender, Quick Recovery
Build Rating