Soul Eater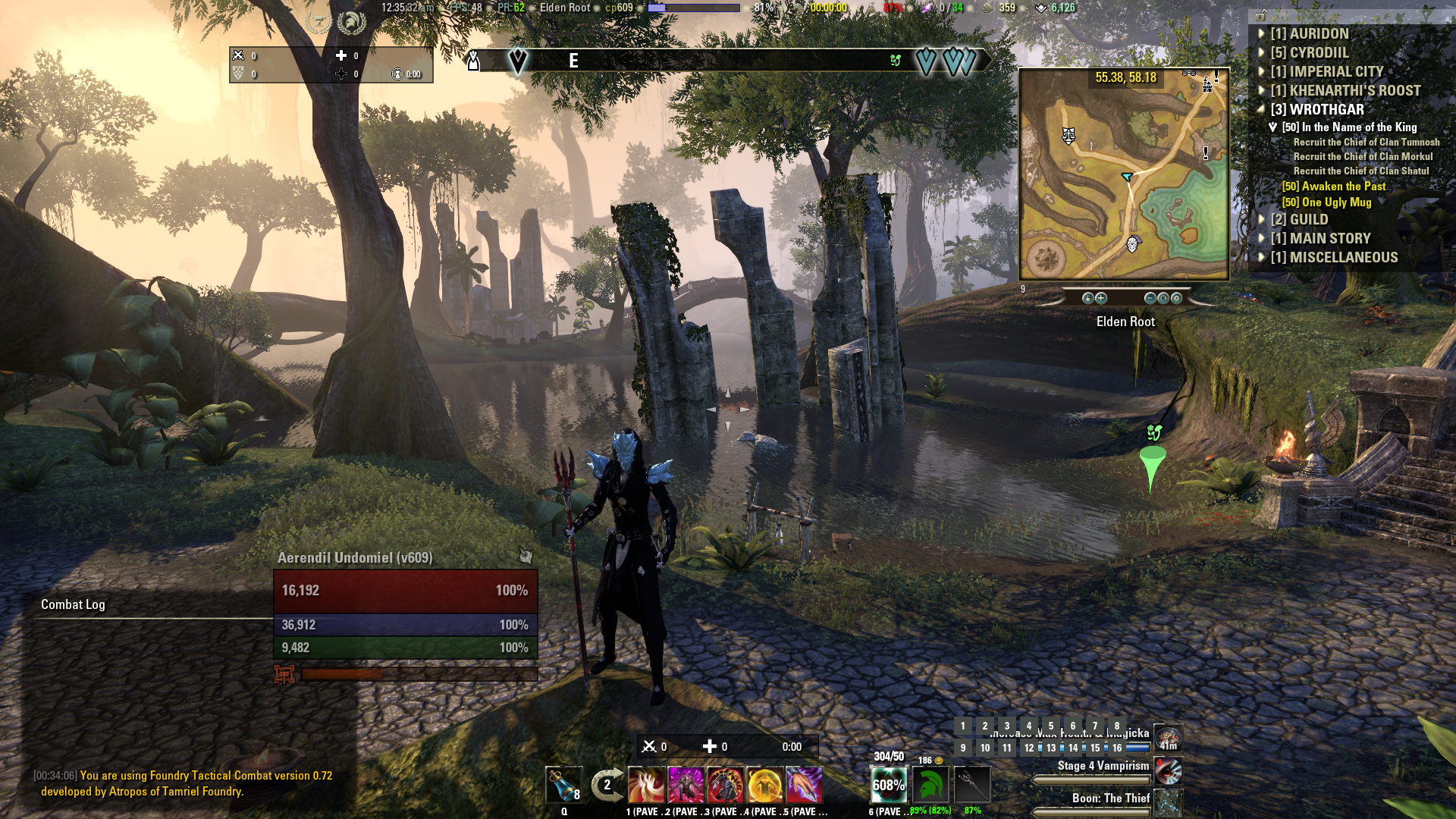 Class: NIGHTBLADE
Race: Breton
Main Role: Damage
Health, Magicka, Stamina
| | | |
| --- | --- | --- |
| HEALTH | MAGICKA | STAMINA |
| 12000-18000 | Around 40K | 10000-15000 |
Skills
Bar 1
Weapon 1: Destruction Staff

Nightblade Skill
Swallow Soul

Nightblade Skill
Crippling Grasp

Nightblade Skill
Impale

Nightblade Skill
Merciless Resolve

Mages Guild Skill
Inner Light

Destruction Staff Skill
Eye of the Storm
Bar 2
Weapon 2: Restoration Staff

Nightblade Skill
Sap Essence

Nightblade Skill
Mass Hysteria

Nightblade Skill
Double Take

Restoration Staff Skill
Healing Ward

Nightblade Skill
Siphoning Attacks

Soul Magic Skill
Soul Assault
Armor Types
| | | |
| --- | --- | --- |
| Light Armor | Medium Armor | Heavy Armor |
| 5 | 1 | 1 |
Gear and Item Set Info
This is the set-up that works best for me, of course you can use other sets if you find those more appropriate for the build. I'm just giving an example, but other options are surely viable.
Gear sets:
5x Kagrenac's Hope or 5x Spinner's Garment (gear) can go with 5 Lich as well.
2x Iceheart or 2x Infernal Guardian
3x Willpower or 4x Lich (jewelry + staves)
Skill alternatives:
Ulti: Eye of the Storm -> Incapacitating Strike // Soul Assault -> Soul Tether or Devouring Swarm.
Siphoning Attacks can be replaced by Prolonged Suffering (Agony).
General Info
This is purely a PvP build designed for small-scale PvP. I wanted to make a non-bombing magicka nightblade PvP build, since you still see those a lot and people get tired from them.
I play as a Vampire for the extra 10% Magicka/Stamina recovery. This build has nice damage, sustain and if you get used to it, the survivability isn't too bad either. I use 5 pieces Light Armor, just because everyone is running Heavy Armor now and are tanky AF, because: "Hey tankiness is the way to go!!" #ZOSlogics.
So I wanted to show you that a Light Armor build still works fine, and the best of it: oh hell yes, you can annoy people a lot, even those heavy armor wanna-be tanks. :)
Champion Point Tips
Champion Points:
Now, you have a few options here, it's not like there is 1 right way on how to divide your champion points. This is my set-up, feel free to change whatever you like better.
The Mage:
The Apprentice: 73 Elemental Expert / 87 Spell Erosion / 27 Blessed
The Thief:
The Shadow: 20 Tumbling
The Lover: 67 Arcanist
The Tower: 100 Magician
The Warrior:
The Lady: 87 Elemental Defender / 90 Hardy
The Lord: 10 Quick Recovery
--> Here you can, for example, put some points into Shadow Ward/Bastion, whatever you prefer.
Build Rating