The Brownie Eater
Class: TEMPLAR
Race: Altmer (High Elf)
Main Role: Damage
Health, Magicka, Stamina
| | | |
| --- | --- | --- |
| HEALTH | MAGICKA | STAMINA |
| 22804 (0 Points) (With Food) | 27135 (60 Points) (With Food) | 12563 (0 Points) |
Skills
Bar 1
Weapon 1: Dual Wield

Templar Skill
Radiant Glory

Templar Skill
Toppling Charge

Templar Skill
Puncturing Sweep

Mages Guild Skill
Inner Light

Templar Skill
Repentance

Fighters Guild Skill
Dawnbreaker of Smiting
Bar 2
Weapon 2: One Handed And Shield

Templar Skill
Channeled Focus

Templar Skill
Ritual of Retribution

Templar Skill
Honor The Dead

Assault Skill
Retreating Maneuver

Templar Skill
Blazing Spear

Vampire Skill
Devouring Swarm
Armor Types
| | | |
| --- | --- | --- |
| Light Armor | Medium Armor | Heavy Armor |
| 0 | 0 | 7 |
Gear and Item Set Info
Hey! Thanks for checking this build out.
Five Piece Set:
We're using Rattlecage because this build is designed to be well rounded, and with that pure damage began to take a backseat. Rattlecage's added spell damage boosted my spell damage from ___ to ___. Also, because this build plays tank and plays solo, the extra health helps. If you can, get all health or magicka enchantments, along with divines.
Monster Helm: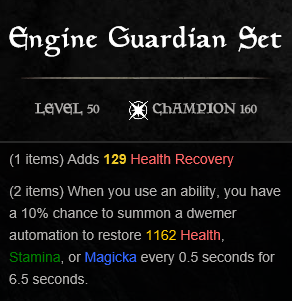 I use Engine Guardian because this builds survivability really centers around making sure that you don't run out of resources. Engine Guardian really helps with sustain. Plus, that health recovery boost can also go a long way.
Jewelry: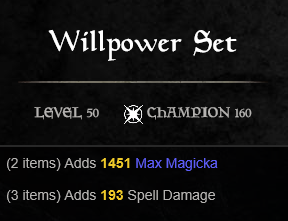 Willpower gives us more magicka which is always nice, along with some bonus spell damage. I have my jewelry enchanted with magicka recovery, just because it's so vital to the build, but if you think that's overkill, I would suggest spell damage.
Weapons:
For this build, the specific weapon doesn't really matter, the biggest thing is that they're one-handed swords for the twin blade and blunt passive.
Heavy Armor, A Note:
I use Heavy Armor in this build for the excellent passives. Constitution, Wrath, and Rapid Mending all provide an excellent addition to this build.
General Info
Skill Rundown:
Radiant Glory
By far, this is the best execute in the game. When the boss gets below 40% health, laser beam them.
Toppling Charge
Our gap closer. The added stun is nice for PvP.
Puncturing Sweep
This is our bread-and-butter skill. Not only is the damage output fantastic, but I get healed from this ability alone more than honor the dead. After running through our rotation on the back bar, (I will explain in more depth later) this is our spam ability.
Inner Light
This build doesn't really focus on critical damage, but the additional 10% increase is always nice, and the 5% magicka boost is always appreciated.
Repentance
This skill is amazing. With this you get an amazing free heal from all the guys on the ground you just killed. Also, when tanking, this provides all the stamina we'll ever need. Between Engine Guardian and this, your stamina should almost always be capped off.
Dawnbreaker of Smiting
A nice, cheap ultimate to dish out damage, and AoE stun.
Channeled Focus
This is the first skill to be played in my rotation. It's Magicka boost is nice, the major mending is fantastic, and it provides the essential Major resolve and Major Ward buffs.
Ritual of Retribution
A nice, well rounded cleanser, AoE heal, and AoE damage. It also provides the major mending buff as well. When playing healer, this skill's cleanse, and synergy are critical.
Honor the Dead
Our classic Templar heal skill. The reason we take Honor the Dead over Breath of Life is the magicka return. Combined with Engine Guardian, Channeled Focus, and our massive magicka recovery, you hopefully will stay maxed out on magicka.
Retreating Maneuver
A nice movement speed buff. You can replace this for purifying light if you want the extra healing, or pierce armor when tanking.
Blazing Spear
After the update, this skill isn't what it quite was, but it's still a powerful AoE damage ability, and its synergy is useful for dungeons.
Devouring Swarm
Our holy grail, self-healing ultimate. I love this for soloing dungeons, but if you're a healer, then you may want to switch this out for practiced incantation.
Rotation Overview
In the right circumstances, I drop channeled focus, ritual of retribution, throw a blazing spear, then bar swap and toppling charge over. After that I spam puncturing sweep. For tanking/healing I usually stay on my back bar. When tanking, I generally pierce armor and just block. With repentance, you can basically block forever if you are repenting corpses. When healing, honor the dead is obviously you bread-and-butter, but ritual of retribution and practiced incantation are also critical. For longer fights, focus on sustain, for burst damage, concentrate on practicing these steps: 1) Throw Blazing Spear 2) Toppling Charge 3) Dawn Breaker 4) Puncturing Sweep 5) Execute with Radiant Glory.
Potions and Food
I usually use a Magicka and Health bistat. For potions, any old Magicka trash pot will do.
Conclusion
Whenever I play this build, I'm always surprised by its ability to dish out a ton of damage, while staying alive. Also, the sustain makes this build ideal for longer fights. I mostly use this for soloing veteran dungeons, but its versatility makes it useful anywhere. Thanks for checking it out!
P.S. Shoutout to Deltia for the inspration!
Champion Point Tips
I don't have a perfectly crafted Champion Point system down yet, so here are some vague guidelines:
1. Sustain is crucial.
2. Thaumaturge
3. Iron Clad
4. Thick Skinned
Build Rating