Thunderbird – StamSorc PvE 2H/Bow (Wolfhunter)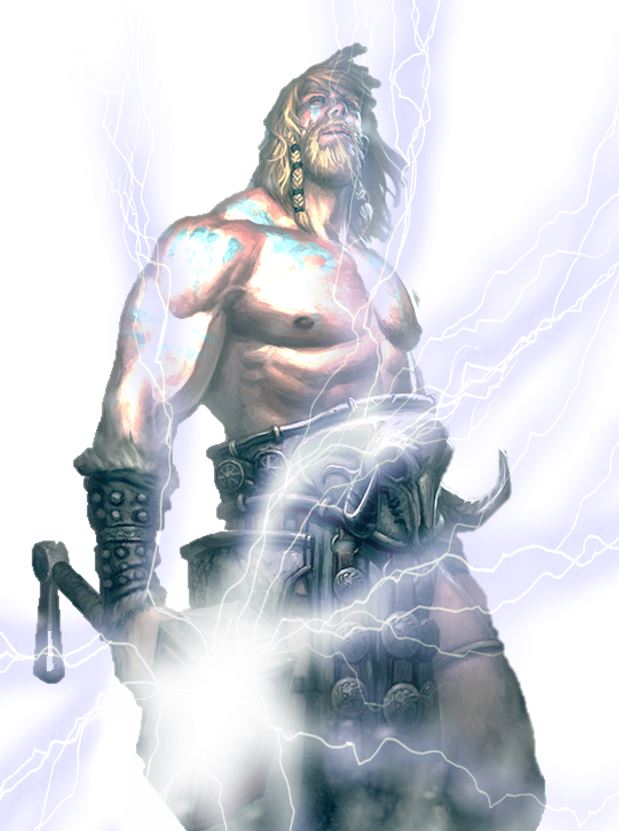 Class: SORCERER
Race: Nord
Main Role: Damage
Health, Magicka, Stamina
| | | |
| --- | --- | --- |
| HEALTH | MAGICKA | STAMINA |
| 0 | 0 | 64 |
Skills
Bar 1
Weapon 1: Two Handed

Two Handed Skill
Wrecking Blow

Fighters Guild Skill
Camouflaged Hunter

Two Handed Skill
Reverse Slice

Sorcerer Skill
Hurricane

Sorcerer Skill
Bound Armaments

Fighters Guild Skill
Flawless Dawnbreaker
Bar 2
Weapon 2: Bow

Bow Skill
Poison Injection

Bow Skill
Endless Hail

Assault Skill
Razor Caltrops

Sorcerer Skill
Critical Surge

Sorcerer Skill
Bound Armaments

Sorcerer Skill
Greater Storm Atronach
Armor Types
| | | |
| --- | --- | --- |
| Light Armor | Medium Armor | Heavy Armor |
| 0 | 6 | 1 |
Gear and Item Set Info
5 Pieces Strength of the Automaton (Dungeon set - Darkshade Caverns I & II)
5 Pieces Unfathomable Darkness (Overland set - Clockwork City / Guild Traders)
2 Pieces Stormfist (Monster set - Tempest Island vet. & Glirion the Redbeard's chest)
Gear

Weight

Trait

Enchantment

Chest

5 x Medium

Divine

Max Stamina

Belt

Divine

Max Stamina

Shoes

Divine

Max Stamina

Pants

Divine

Max Stamina

Hands

Divine

Max Stamina

Head

1 x Heavy

1 x Medium

Divine

Max Stamina

Shoulder

Divine

Max Stamina

Necklace

Jewelry

Bloodthirsty

Physical Damage

Ring

Jewelry

Infused

Physical Damage

Ring

Jewelry

Infused

Physical Damage

Weapon 1

Greatsword

Infused

Berserker (Okori)

Weapon 2

Bow

Infused

Poison Damage Glyph
It doesn't matter if your heavy piece is the helmet or the shoulder piece. They both have the exact same armor value. Only the enchant is stronger on the head.
If you struggle getting enough transmute crystals for all your gear, do the jewelry at last. Robust still performs very good.
If you have it, you can use Arms of Relequen instead of Automaton. It's 3.5k to 4k DPS on its own. But don't think it's the one and only best set for every situation, you have to land a light or heavy attack at least every 5 sec to maintain the stacks. This might not be possible in some fight requiring a lot of dodge/block/positioning. That's why I still have a full set of Automaton gear ready to replace Relequen, depending on the situation.
Concerning what gear to use into which slot, it really depends on what you can loot first. However, jewelry will be much easier to get in Unfathomable Darkness set, because you can buy it from guild traders.
For the weapons :
You have a vMA/Master bow, then you need to get an Unfathomable Darkness melee weapon ; or
You don't have a vMA/Master bow, then it's doesn't matter which set are both melee weapon and bow (but needs to be the same) ; or
Last option would be to use an

Agility

bow and Unfathomable Darkness melee weapon until you can get a vMA/Master bow, but I would only recommand the Agility bow as a temporary placeholder
There's a few other gear combinations you can try if you want to experiment or change :
Arms of Relequen + Ravager + Stormfist : Use a Ravager chest piece, greatsword and 2 jewelry pieces. You'll have to use an Agility or vMA/Master bow. This combination allow you to use Dubious Camoran Throne without an additional health glyph if you're a Nord/Imperial. Ravager will proc on cooldown thanks to Relequen's 5 pieces effect.
Night Mother's Gaze + Vicious Ophidian + Stormfist : Use a Night Mother's Gaze heavy chest piece and precise greatsword. For solo play and Maelstrom arena. Very strong solo setup in combination with Brawler (use it instead of Wrecking Blow).
7th Legion + Vicious Ophidian + Asylum Greatsword + Maelstrom/Master/Agility Bow : Another Maelstrom arena setup. Use it with Brawler and Resolving Vigor. Very forgiving setup.
Arms of Relequen + Storm Master + Stormfist : Use preferably Storm Master weapons. For that all storm/thunder flavour. You have 2 chance to proc Storm Master at the beginning of your frontbar rotation. This is surprisingly effective. This is actually my favorite setup.
Arms of Relequen + Gryphon's Ferocity + Stormfist : Since we're not using Rearming Trap to save money on Weapon Power Potions, this a possible source of Minor Force to benefit more from our decent critical rate. You can use it on both bar, or just on melee weapon bar if you have a vMA/Master bow.
General Info
13 August 2018 update :
Wolfhunter update. Championpoints adjustement. Traits and glyphs adjustement.
10 July 2018 update :
Added an explanation on gear/slot allocation.
5th July 2018 update :
Creation.
Dummy Parse
25k+ DPS with purple gear and non-optimal traits and non-optimal player. Please keep in mind that this score could be much higher if I wasn't so bad at light attack rotations. No Maelstrom/Master bow used.
Skills
You can use Ballista instead of Greater Storm Atronach if playing solo, or if you want more burst damage.
Races
Redguard > Khajiit > Imperial/Bosmer > Any other races
I'm playing as a Nord, because roleplay. And Nords are less squishy.
Buff-food
Blue Max Health+Max Stamina food
Mundus Stone
The Lover (Increased Penetration)
Potions
Stamina Potions
Passives
Dark Magic (Unholy Knowledge, Persistence)
Daedric Summoning (Power Stone, Daedric Protection)
Storm Calling (Energized, Implosion, Expert Mage)
Medium Armor (Dexterity, Wind Walker, Agility, Athletics)
Heavy Armor (Resolve, Constitution, Juggernaut)
Bow (All)
Two Handed (All)
Fighter's Guild (Intimidating Presence, Slayer, Banish the Wicked, Skilled Tracker)
Undaunted (All)
Racial (All)
Alchemy (Medicinal Use)
Rotation
Apply Critical Surge before fight and keep it up
Endless Hail>Light Attack>Razor Caltrops>Light Attack>Poison Injection>Light Attack>Critical Surge (>Light Attack>Greater Storm Atronach)
Swap
Heavy Attack>Hurricane>Heavy Attack>Wrecking Blow>Light Attack>Wrecking Blow>Light Attack>Wrecking Blow>Light Attack>Wrecking Blow>Light Attack
Swap>Restart
During execute phase (<25% HP) use Reverse Slice instead of Wrecking Blow
Evolutions, Improvements
As you progress through the game and get more gold and better performance, you can consider the following.
Potions
If you use weapon power potion made with the following :
| | | |
| --- | --- | --- |
| Blessed Thistle | Dragonthorn | Wormwood / Water Hyacinth |
You can swap out Camouflaged Hunter and Critical Surge for Rearming Trap on both slots. Use the one on the frontbar. Only do this in group content where you have a healer, because you'll be out of self-healing. It will improve your DPS.
Weapons
A Maelstrom bow (or Master bow, in a lesser extend) will of course be a big boost to your damage output. In that case make sur you have it Nirnhoned, and use an Unfathomable Darkness greatsword, to keep the 5 pieces bonus from Automaton or Relequen.
If you don't have a Maestrom bow, you can use an Unfathomable Darkness bow, or an Agility bow.
Champion Point Tips
780CP
The Ritual
56 Mighty
44 Thaumaturge
44 Precise Strikes
29 Piercing
The Atronach
66 Master-At-Arms
21 Physical Weapon Expert

The Lover
49 Tenacity
100 Mooncalf
The Tower
17 Warlord
The Shadow
47 Shadow Ward
47 Tumbling

The Lady
49 Hardy
49 Elemental Defender
48 Thick Skinned
The Steed
81 Ironclad
33 Spell Shield
300CP
The Ritual
27 Mighty
31 Thaumaturge
23 Precise Strikes
19 Piercing

The Lover
49 Tenacity
49 Mooncalf
The Tower
2 Warlord

The Lady
23 Hardy
23 Elemental Defender
23 Thick Skinned
The Steed
31 Ironclad
Build Rating