Warden of the North 2.0
Class: WARDEN
Race: Nord
Main Role: Tank
Health, Magicka, Stamina
| | | |
| --- | --- | --- |
| HEALTH | MAGICKA | STAMINA |
| 38k - 45k | 18k - 20k | 22k - 24k |
Skills
Bar 1
Weapon 1: Destruction Staff

Warden Skill
Arctic Blast

Destruction Staff Skill
Elemental Blockade

Warden Skill
Winters Revenge

Warden Skill
Ice Fortress

Warden Skill
Bull Netch

Warden Skill
Permafrost
Bar 2
Weapon 2: One Handed And Shield

One Hand And Shield Skill
Heroic Slash

One Hand And Shield Skill
Pierce Armor

One Hand And Shield Skill
Power Slam

Warden Skill
Shimmering Shield

Warden Skill
Deceptive Predator

Warden Skill
Enchanted Forest
Armor Types
| | | |
| --- | --- | --- |
| Light Armor | Medium Armor | Heavy Armor |
| 1 | 1 | 5 |
Gear and Item Set Info
Lord Warden
(1 items) Adds 2975 Spell Resistance
(1 items) Adds 2975 Physical Resistance
(2 items) When you take damage, you have a 50% chance to summon a shadow orb for 10seconds that increases the Physical and Spell Resistance of you and your allies within 8 meters by 3870. This effect can occur once every 10 seconds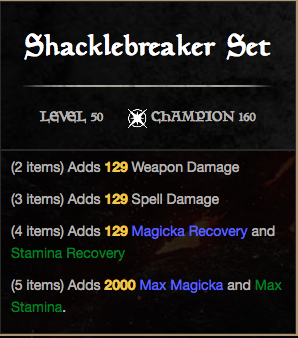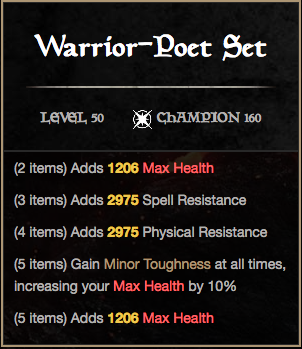 Provisions
General Info
After testing the build, I've changed a few things for the base skill set. The build can practically run a normal group dungeon solo. Swapped front bar to back bar and visa-versa.
Long buffs and AoEs on front bar, direct attacks and short framed buffs on back bar. Keep your short buffs (Shimmering Shield and Deceptive Predator) always up. Timing and rythym.
The combination of Heroic Slash and Shimmering Shield (it works against arrows too and gets pinged constantly in group dungeons, well worth it) are purposefully placed to get your extremely devastating ultimate, Permafrost, up as soon as possible. The Enchanted Forest ultimate is there for emergency use but also gives ult back to help get it up again.
Super balanced! Overland solo, dungeon tank, pvp survivability and kills.
Take time to review passives. You get major boosts to your health and damage mitigation from both Warden and Nord passives and abilities. Use at least one weapon damage and one spell damage glyph on your jewelry. Destructive staff passives allow you to use the ice staff to taunt at range with a heavy attack and also allows you to block with magicka if your stamina is low, but with Bull Netch and the provisions you should be good on stam. I'd suggest reduce cost of spells enchantment for the amulet.
The Lady or The Steed boon depending on your situation. Run at least 5 divines traits, 2 impen, one sturdy on shield.
PvP
This build is best played as a vanguard when taking keeps and close quarter combat. Since there isn't any gap closer, open field skirmshes could get boring. I chose Power Slam instead of Reverb for the extra damage and swap out Arctic Blast with Corrupting Pollen for the enemy healing debuff. It has a wide area and distance, hard for enemy players to get away from. Try to focus on closed in enemies within structures to drop your AoEs. Stay with a group. As the Vanguard you have to be the first to rush in, but make sure they've got your back.
Play around with it, substitute in Frozen Device for gags in PvP. Also, look further into the Warden class passives, such as Flourish, to understand the balance of this build! Good stuff!
Champion Point Tips
75 points into Shadow Ward. All other points destributed evenly across damage mitigation and output (consider frost damage).
Build Rating