Akatosh's Shield
Class: DRAGONKNIGHT
Race: Imperial
Main Role: Tank
Health, Magicka, Stamina
| | | |
| --- | --- | --- |
| HEALTH | MAGICKA | STAMINA |
| 44 | 20 | 0 |
Skills
Bar 1
Weapon 1: One Handed And Shield

Light Armor Skill
Harness Magicka

Dragonknight Skill
Hardened Armor

Dragonknight Skill
Green Dragon Blood

Mages Guild Skill
Structured Entropy

Undaunted Skill
Spiked Bone Shield

Dragonknight Skill
Magma Armor
Bar 2
Weapon 2: Restoration Staff

Light Armor Skill
Harness Magicka

Fighters Guild Skill
Turn Undead

Vampire Skill
Elusive Mist

Restoration Staff Skill
Healing Ward

Restoration Staff Skill
Mutagen

Assault Skill
Sturdy Horn
Armor Types
| | | |
| --- | --- | --- |
| Light Armor | Medium Armor | Heavy Armor |
| 2 | 0 | 5 |
Gear and Item Set Info
Warrior-Poet (Heavy)
(2) Adds 1027 Maximum Health
(3) Adds 2548 Spell Resistance
(4) Adds 2548 Physical Resistance
(5) Gain Minor Toughness at all times, increasing your Max Health by 10%. Adds 1027 Maximum Health.
Warrior Poet: x3 Jewelry (use champ 160 truly superb gold mag regen enchants the cost reduction ones are better if you use skills more frequently but you should NOT be using skills that frequently as shields are quickest things you need to cast consistently and they last 6 seconds)
Warrior Poet: x1 Sword with defending trait!! it has to use defending trait as the goal of this build is to be as tanky as possible yet without losing sustain! I recommend a 4k dmg shield for enchant
Warrior Poet: x1 Shield with health boost enchant and infused trait!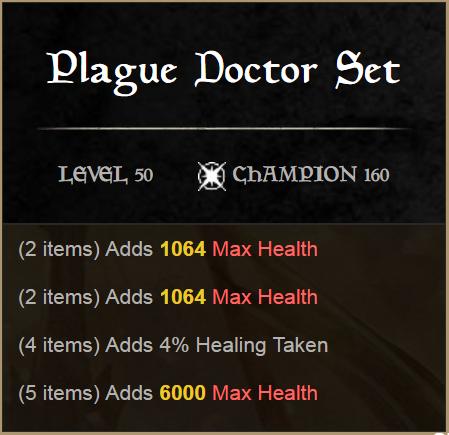 Everything else youll need to go plague doctors with except for shoulders and helm which you will be using light armor version of maw of inferno monster helm which you get from vet banished cells 2 dungeon! If the RNGgod hates your guts then you can always just use a heavy armor pieces for the monster helm then go light on shoulders and feet for the plagues doctor set pieces instead of heavy armor.
For the plagues doctor/maw of inferno sets above use at least 2x infused/2x reinforced (or nirnhoned)/ 1x impenetrable/ 2x mundus then go ALL health max enchants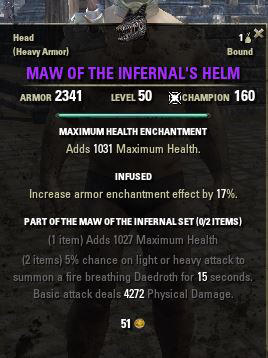 General Info
Hello guys! and thank you for taking the time to look at my build for the wonderful Dragonknight class in ESO! With this build it can be adjusted to your play style but it is intended to be a impossible to kill dueling machine with so much health and shielding along with resistances and heals that it just cant be beat and yet it has more than enough sustain to last for even hour long duels if used correctly. It can also deal decent dmg back for a tank due to spiked bone shields reliance on health and your DOT potential from magma armor and flame talons (if you choose to use it instead of structured entropy) and entropy and the daedroth from Maw of Infernal especially for stage 4 vamps who have 25% weakness to fire and horrible health regen.
having used this build thoroughly and successfully against many even champ 1000+ players as only a champ 305 in duels I can say it is amazing although personally i still prefer my original pvp troll tank build the "Blazing Retribution" tank build for templar. But then again I have used templars for over 3 years so I am only a tiny bit biased on the matter (although I have always enjoyed DK and even Sorc as well).
Ok so I will go over each skill and why I think you should use them for this build and any potential replacements i recommend in its place. After that I will explain a bit of the strategy behind it and also leave you with my username so you can duel me anytime you want to test one of my builds yourself to make sure I can walk the walk and not just speak out of my milk-drinking mouth! :)
1.) HARNESS MAGICKA: having 2 light armor pieces for magicka sustain not only is good for buffing spell damage and adding sustain! it is also good because it increases the effect of harness magicka a morph of the annulment shield in the light armor skill line that offers refund of almost the entirety of your cost back in magicka over the course of 3 attacks received! so this along with around 2k mag regen means you dont have to worry so much about running out of shielding as long as you are as conservative with shields as possible meaning you dont freak out and cast again when there was still like 5k shield left.
2.) HARDENED ARMOR: do i really need to explain why this goes here? its almost a guaranteed thing that any good DK you talk to is running hardened armor unless they have so little health that their shield becomes useless or they just are trying to achieve a high DOT build which I dont recommend as DOT isnt that good alone. this is your main buff it gives you increased resistances and also gives you 15% of your max healths amount in shielding for 2.5 seconds! which if you have even as low as 50k health that is still 7,500 dmg shield (if you have 100 points into bastion in champ point system that becomes near 10k dmg shield!)!! very nice for being a free bonus and big enough that we could use when needing bigger shield for tanking a big blow.
3.) GREEN DRAGON BLOOD: increases health/stam regen by 20%!! plus it offers 8% extra healing all for 20 seconds! and heals 33% of missing health! (thats like 16,666 heal each use if you were at 10k health with 60k max health!)
4.) STRUCTURED ENTROPY: this is OPTIONAL!! i do recommend burning talons in its place if looking to add more dps rather than troll due to its decent DOT and CC. But structured entropy gives you 8% more max health just for having it slotted and using it gives 20% more spell damage which helps our dps and also our heals as heals scale off of spell damage and magicka it is also a decent dot not great but not horrible either.
5.) SPIKED BONE SHIELD: this is essential! it is your biggest shield and biggest source of damage output plus it uses stam so as to put less strain on your magicka sustain which will already be under alot of stress
1st ULTIMATE (MAGMA ARMOR): this can be replaced by replenishing barrier from support skill line if needed but it is preferred here as magma armor prevents you from being 1-2-3 shotted from heavy hitting burst dps players it is your go to emergency button for when you are about to die and need to take a breather and regain some health plus it does a bit of DOT at same time!
6.) HARNESS MAGICKA: here is this wonderful skill again it is needed here because of healing ward which will heal you for while active and for full amount of whatever is left of the shield. If you keep this shield up after using healing ward you got a guaranteed major heal after 6 seconds
7.) TURN UNDEAD: this increases your stam regen and gives you 8% dmg reduction plus lasts 12 seconds affects allies and fears undead,daedra,werewolves need i say more?
8.) ELUSIVE MIST: another "oh crap i need to get out of trouble and breathe" button that can be used anytime that magma armor isnt available
9.) HEALING WARD: this is ESSENTIAL! along with spamming harness magicka this is a guaranteed large heal for when you need it to breathe.
10.) MUTAGEN: free 20 second long HOT plus potential burst heal when needed for a stage 4 vamp with less health regen then a damn mudcrab!? who wouldnt take it?
2nd ULTIMATE (STURDY WAR HORN): you need this to be used consistently throughout battle it will be your main ult until you are about to die then use magma armor instead. for 36 seconds you have 10% more stats in health/magicka/stamina and have increased resistance! making a 60k health tank have 66k health instead which also adds more dps to bone shield!
STRATEGY BASICS: you will 90% of time just be using your main hand not your backbar resto! the backbar resto is simply for heals/emergency situations/buffs so use it before a battle and in middle of battle once needed
Your objective is to stay alive! stay out of red circles! dont sprint or roll dodge too much prserve your stam for only when necessary to use as we will have very little regen for it so use it till low then cast dragon blood and turn undead and power hit until you get it back up which should be really fast if you followed my build so far you will CONSTANTLY MAKE SURE YOUR HARNESS MAGICKA AND BONE SHIELD IS UP!! once it is near 6 seconds or less than 5k in shielding cast another one right away! and CONSTANTLY POWER HIT WITH RESTO AND SWORD TO REGAIN RESOURCES! YOU WILL USE ALL BUFFS FROM BEGINNING LIKE ENTROPY AND DRAGONBLOOD AND HARDENED ARMOR AND TURN UNDEAD AND MUTAGEN
My username: @TheGreatNerevarine94 come duel me if you want to test any build of mine im on NA server PC.
Champion Point Tips
The Warrior:
Bastion: 100
elemental defender: 50
Hardy: 50
The Mage:
blessed: 100
Thaumaturge: 37
Elfborn: 63
The Thief:
Arcanist: 70
Mooncalf: 20
Tenacity: 40
Magician: 55
Warlord: 15
food/drink buffs: Red Frothgar/Witchmothers Potent Brew
Build Rating