"Azote del Diablo"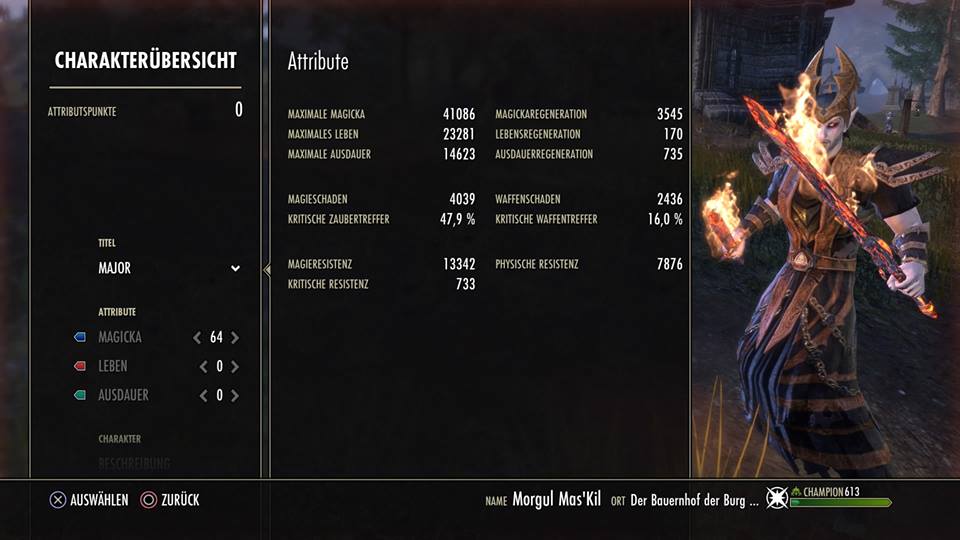 Class: DRAGONKNIGHT
Race:

Dunmer (Dark Elf)
Main Role: Damage
Health, Magicka, Stamina
| | | |
| --- | --- | --- |
| HEALTH | MAGICKA | STAMINA |
| 22000 | 42000 | 14500 |
Skills
Bar 1
Weapon 1: Dual Wield

Dragonknight Skill
Burning Talons

Dragonknight Skill
Burning Embers

Dragonknight Skill
Fossilize

Mages Guild Skill
Inner Light

Dragonknight Skill
Flame Lash

Mages Guild Skill
Shooting Star
Bar 2
Weapon 2: Restoration Staff

Dragonknight Skill
Flames of Oblivion

Dragonknight Skill
Deep Breath

Restoration Staff Skill
Healing Ward

Mages Guild Skill
Structured Entropy

Dragonknight Skill
Dragon Fire Scale

Dragonknight Skill
Standard of Might
Armor Types
| | | |
| --- | --- | --- |
| Light Armor | Medium Armor | Heavy Armor |
| 7 | 0 | 0 |
Gear and Item Set Info
Head: Lich, divines, magickaShoulder: Lich, infused, magickaChest: Lich, infused, magickaGloves: Lich, divines, magickaBelt: Silk of the Sun, divines, magickaLegs: Silks of the Sun, infused, magickaShoes: Silks of the Sun, divines, magickaSword1: Willpower, sharpend, spelldamage glyphSword2: Silks of the Sun, sharpend, poison glyphhealing stuff: Lich, Poison for stamina cost Ring1: Silks of the Sun, spelldamageRing2: WIllpower, spelldamageAmulet: Willpower, spelldamageMundus: The AppretiateLich:- Magicka Reg- Max Magicka- Magicka Reg- Ultimate Magicka RegWillpower:- Max Magicka- SpelldamageSilks of the Sun:- Max Health- Max Magicka- Spelldamage- 400 Spelldamage on fire abilities
General Info
This build is able to deal 12k+ Flame lashs. That's why it is named "Azote del Diablo", what means Whip of the devil.You have to play pretty offensive with this build, but it has still a good substain. You will never run out of Magicka with Shrouds of the Lich and the Healing ward keeps you alive a pretty long time.I usually activate flames of oblivion, use entropy on the enemy and activate dragon scales while running. Switch bar, fosolize the enemy, load a heavy attack while still running with my dualwield swords and hit him. Now you get a huge Damage boost for 5 seconds and the enemy gets decreased healing by 30%. Flame lash him once, normally now the flames of oblivion hit him also and you are able to already finish him with a mighty lash if he didnt escape and heal.If he did, immediately put burning talons and burning embers on him and keep hitting him with your flame lashes.When you take too much damage, you can flip on your backbar and activate your healing ward (the entropy makes you wounds bigger because of the 8% bonus life, so your shiled is stronger), press wings if necessary and do a deep breath and reactivate flames of oblivion. The backbar is also pretty offensive. Deep breath and flames of oblivion can deal a lot of damage. And it is necessary to put damage on the aggresor so that he is in need to go defensive again. If you only heal and block, the enemy will spam attack on you until you are out of stamina / ressources. Also its time to hit the enemy with a light attack of your resto stuff while defending yourself, this will not only trigger your ulti regeneration, also the poison will apply, which will increase his costs by 60% for stamina attacks...and nearly all players are on stamina now.As soon as the enemy has no CC immunity anymore, switch back to offensive bar, put DoTs on him and now you might hit shooting star+fossilize combo or just talons and whips.This build is not easy to play...to be honest, is it very hard to learn, one mistake and you might die. But it is really fun and you can hit some insane amounts of damage.I recommend triple buff food and triple pots.
Build Rating