Blademaster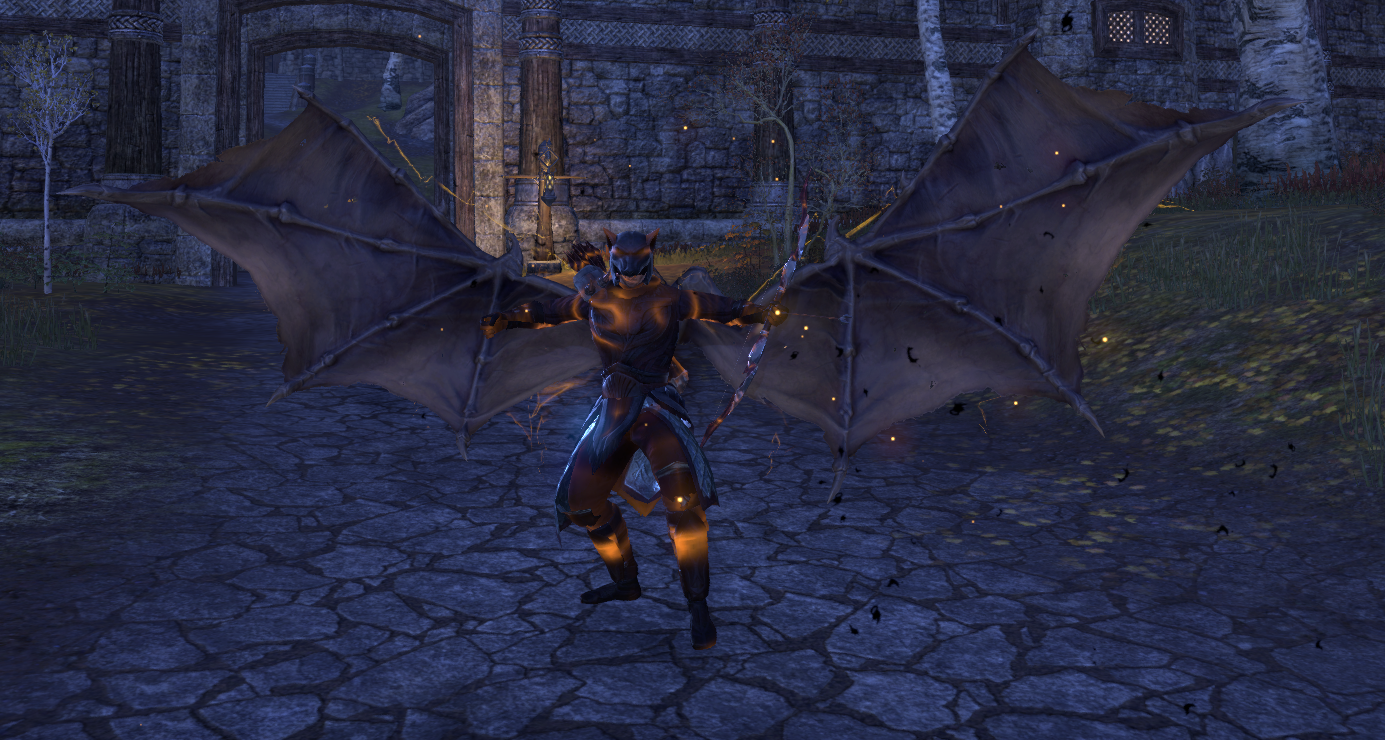 Class: DRAGONKNIGHT
Race: Nord
Main Role: Damage
Health, Magicka, Stamina
| | | |
| --- | --- | --- |
| HEALTH | MAGICKA | STAMINA |
| 20,000 | 10,000 | 32,000 |
Skills
Bar 1
Weapon 1: Two Handed

Two Handed Skill
Wrecking Blow

Two Handed Skill
Reverse Slice

Fighters Guild Skill
Camouflaged Hunter

Fighters Guild Skill
Rearming Trap

Two Handed Skill
Rally

Fighters Guild Skill
Dawnbreaker of Smiting
Bar 2
Weapon 2: Bow

Bow Skill
Poison Injection

Dragonknight Skill
Noxious Breath

Dragonknight Skill
Venomous Claw

Assault Skill
Resolving Vigor

Dragonknight Skill
Igneous Shield

Dragonknight Skill
Standard of Might
Armor Types
| | | |
| --- | --- | --- |
| Light Armor | Medium Armor | Heavy Armor |
| 1 | 5 | 1 |
Gear and Item Set Info
For my setup I used 5 pieces Hunding's Rage (four armor, one weapon), five Night Mother's Embrace (jewelry and two armor), then a light bloodspawn shoulder. An alternative for Night Mother's Embrace can be either Dreugh King Slayer or Oblivion's Edge. I have tested this setup in full heavy and have gotten similar results for shorter fights.
General Info
For this build to work, you have to put a lot of practice and effort into weaving your skills and enhancing your sustain. The foods I use are stamina/health food, but I'm sure that health/regen foods may work just as well. If playing as a nord, your character is going to have benifits over another class because of the passive damage reduction. Now this build isn't perfect, there are a lot of strengths to this build, being the higher sustain and damage output, but it is pretty effective compared to others I've seen. One of the weaknesses to this setup is field of view. Since Dragonknights don't have many direct ranged attacks you have to face your enemy and hope to hit them head on. As for the skill setup, it's completely costumizable to your personal playstyle, but the underlying skills should be similar. The bow bar is mainly for debuff and dots, plus extra heals, but you can use it for other things. (This build is also compatible with dual wield. The skills I used were the same setup, Rending Slashes, Bloodthirst, Rearming Trap, Resolving Vigor, Camouflaged Hunter.)
Champion Point Tips
For the champion points, it's highly recommended you go take a look at the Poison Knight, which is what I built my own character off of.
Warrior: 50 Elemental Defender, 50 Hardy, 20 Thick Skinned, 33 Quick Recovery, 30 Medium Armor Focus
Mage: 30 Melee Weapon Expert, 100 Mighty, 35 Precise Strikes, 27 Thaumaturge
Thief: 80 Mooncalf, 20 Tenacity, 92 Warlord
Build Rating