Blazing Sin (MORROWIND UPDATE 2.0.1)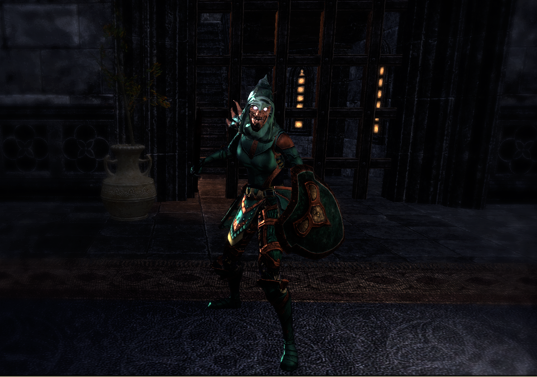 Class: TEMPLAR
Race: Altmer (High Elf)
Main Role: Tank
Health, Magicka, Stamina
| | | |
| --- | --- | --- |
| HEALTH | MAGICKA | STAMINA |
| All Points | --- | --- |
Skills
Bar 1
Weapon 1: One Handed And Shield

Templar Skill
Puncturing Sweep

Templar Skill
Blazing Shield

Templar Skill
Binding Javelin

One Hand And Shield Skill
Absorb Magic

Assault Skill
Resolving Vigor

Fighters Guild Skill
Dawnbreaker of Smiting
Bar 2
Weapon 2: One Handed And Shield

Templar Skill
Puncturing Sweep

Templar Skill
Blazing Shield

Templar Skill
Toppling Charge

One Hand And Shield Skill
Absorb Magic

Templar Skill
Channeled Focus

Mages Guild Skill
Shooting Star
Armor Types
| | | |
| --- | --- | --- |
| Light Armor | Medium Armor | Heavy Armor |
| 0 | 0 | 7 |
Gear and Item Set Info
| | | | |
| --- | --- | --- | --- |
| Head | Burning Spellweave | Devines | Max Health |
| Sholders | Burning Spellweave | Devines | Max Health |
| Chest | Warrior-Poet's | Devines | Max Health |
| Hands | Warrior-Poet's | Devines | Max Health |
| Belt | Warrior-Poet's | Devines | Max Health |
| Paints | Warrior-Poet's | Devines | Max Health |
| Shoes | Warrior-Poet's | Devines | Max Health |
| | | | |
| Nechlace | Plague's Doctor | Health | magicka recovery |
| Ring | Plague's Doctor | Health | magicka recovery |
| ring | Plague's Doctor | Health | magicka recovery |
| | | | |
| Sword 1 | Plague's Doctor | Sharpened | Magicka Regen |
| Shield 1 | Plague's Doctort | Devines | Max Health |
| Sword 2 | Plague's Doctor | Sharpened | Magicka Regen |
| Shield 2 | Plague's Doctor | Devines | Max Health |
General Info
MORROWIND PATCH 2.0.1 - Future updates to come. For now, I have updated the armor and Champ Tree
This is a Blazing Shield focused PvP build. This build can run solo, but it's main design is to be run as support (in groups). NOTE: you can and should run Guard when in groups in place of Puncturing Sweeps.
FOOD/DRINK BUFF: red frothgar or witchmothers potent brew
POTION: any good tri-pot or essence of immovability with health/mag boost
POISON: I use posions that causes their Stamina and Magika to cost 30% more.You get it from these items:Scrip Jelly, Emetic Russula, and Stinkhorn.
Champion Point Tips
| | |
| --- | --- |
| Red | |
| Resistant | 25 |
| Hardy | 20 |
| Bastion | 100 |
| Quick Recovery | 25 |
| Elemental Defender | 40 |
| | |
| | |
| Green | |
| Warlord | 10 |
| Moonclaf | 15 |
| Arcanist | 95 |
| Healthy | 40 |
| Tumbling | 25 |
| Shadow Word | 25 |
| | |
| Blue | |
| Blessed: | 10 |
| Elfborn: | 20 |
| Spell Erosion: | 20 |
| Elemental Expert | 80 |
| Shattering Blows | 80 |
Build Rating