Druid Caster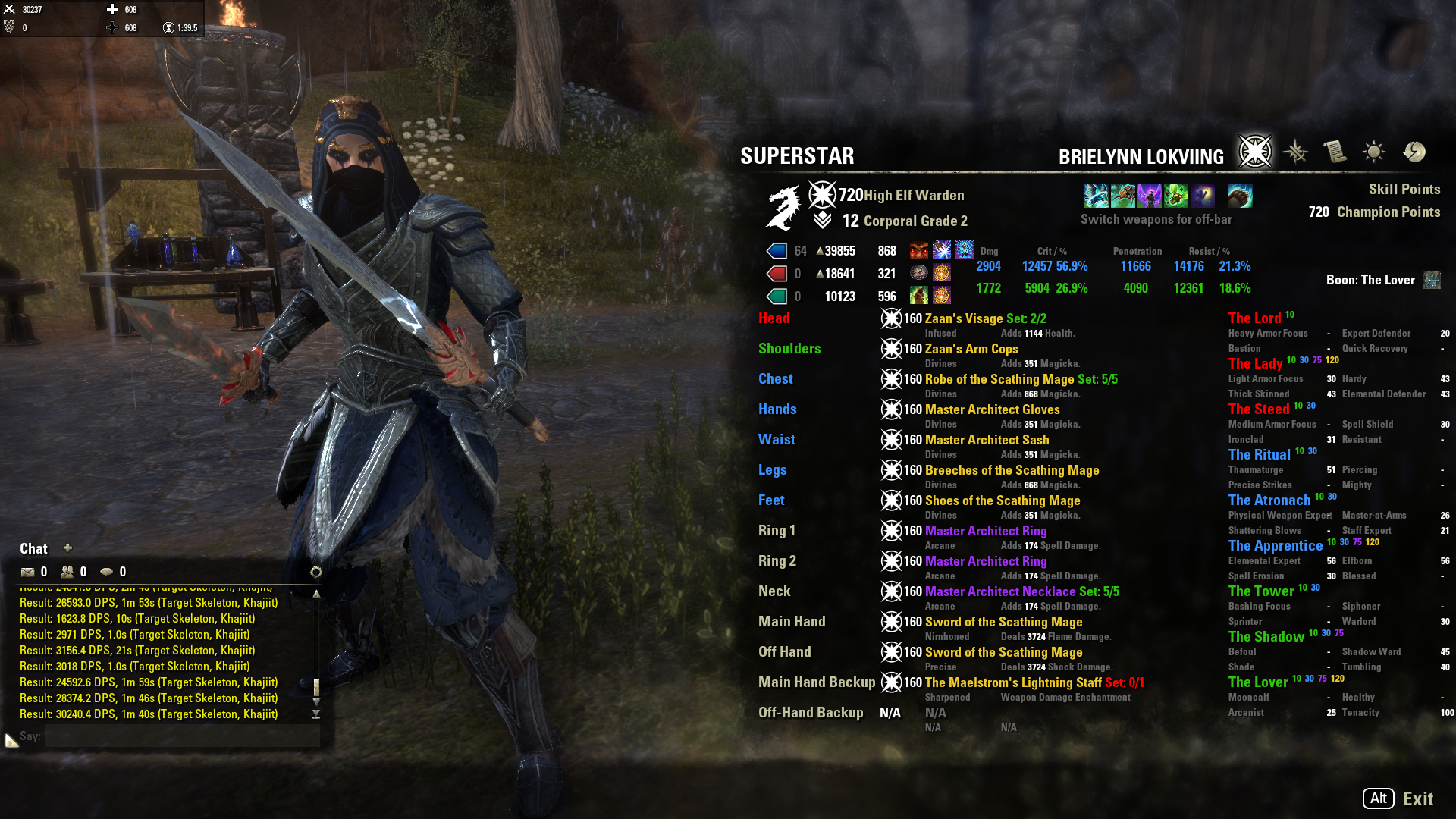 Class: WARDEN
Race: Altmer (High Elf)
Main Role: Damage
Health, Magicka, Stamina
| | | |
| --- | --- | --- |
| HEALTH | MAGICKA | STAMINA |
| 16,000 - 18,000 | 36,000 - 40,000 | 10,000 |
Skills
Bar 1
Weapon 1: Dual Wield

Warden Skill
Deep Fissure

Warden Skill
Screaming Cliff Racer

Warden Skill
Bird of Prey

Warden Skill
Fletcher Infection

Mages Guild Skill
Inner Light

Warden Skill
Eternal Guardian
Bar 2
Weapon 2: Destruction Staff

Destruction Staff Skill
Elemental Blockade

Warden Skill
Arctic Blast

Fighters Guild Skill
Rearming Trap

Destruction Staff Skill
Elemental Drain

Warden Skill
Blue Betty

Warden Skill
Eternal Guardian
Armor Types
| | | |
| --- | --- | --- |
| Light Armor | Medium Armor | Heavy Armor |
| 5 | 1 | 1 |
Gear and Item Set Info
The setup I used to test this is Zaan head and shoulders + Scathing Mage armor and precise/nirnhoned dual swords + Master Architect jewelry and armor with a sharpened Maelstrom lightning staff.
Valkyn Skoria + Julianos + Scathing Mage is an alternate setup I can see working for this if you are not able to get Zaan and Master Architect.
General Info
From what I can see, the playstyle is very similar to that of a magicka templar or magicka dragonknight in terms of how the attacks are put out.
You could use Witchmother's potent brew for the regen at the cost of health and magicka, making you susceptible to being one shot, or go with the Health + Magicka food since Wardens are already adept at sustaining their resources.
Champion Point Tips
Warrior: 43 Hardy, 43 Elemental Defender, 43 Thick-skinned, 30 Light armor focus, 10 Expert Defender, 30 Spell Shield, 31 Ironclad
Thief: 75 Tenacity, 50 Arcanist, 30 Warlord, 45 Shadow Ward, 40 Tumbling
Mage: 56 Elemental Expert, 30 Spell erosion, 56 Elfborn, 21 Staff Expert, 26 Master-At-Arms, 51 Thaumaturge
Build Rating