Glacial Shield Wall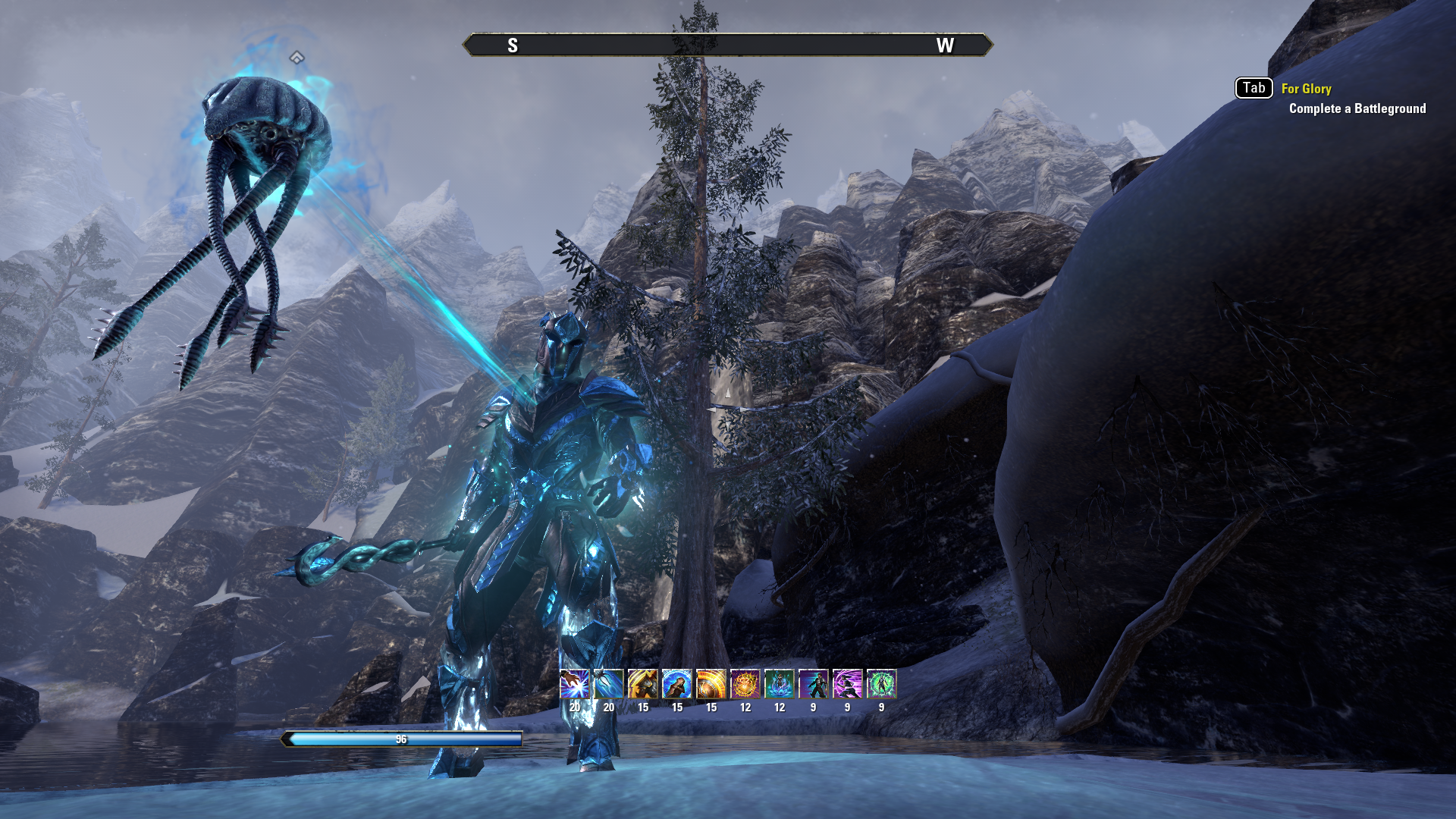 Class: WARDEN
Race: Nord
Main Role: Tank
Health, Magicka, Stamina
| | | |
| --- | --- | --- |
| HEALTH | MAGICKA | STAMINA |
| 35000 | 27000 | 16000 |
Skills
Bar 1
Weapon 1: One Handed And Shield

One Hand And Shield Skill
Pierce Armor

Warden Skill
Polar Wind

Warden Skill
Deceptive Predator

One Hand And Shield Skill
Heroic Slash

Warden Skill
Winters Revenge

Assault Skill
War Horn
Bar 2
Weapon 2: Destruction Staff
Destruction Staff Skill
Wall of Elements

Warden Skill
Shimmering Shield

Warden Skill
Ice Fortress

Warden Skill
Lotus Blossom

Warden Skill
Blue Betty

Warden Skill
Northern Storm
Armor Types
| | | |
| --- | --- | --- |
| Light Armor | Medium Armor | Heavy Armor |
| 1 | 1 | 5 |
Gear and Item Set Info
Green Pact - (or Plague Doctor)
Hist Bark - (or Plague Doctor)
Lord Warden's - Just one item is an entire mundus stone. Great group support.
Helm - Tri-stat infused (HVY) - Lord Warden's
Shoulders - Magica / Divines (HVY) - Lord Warden's
Chest - Tri-stat / Infused (HVY) - Hist Bark
Legs - Tri-stat / Infused (HVY) - Hist Bark
Boots - Magica / divines (HVY) - Hist Bark
Gloves - Magica / divines (MED) - Hist Bark
Belt - Magica / Divines (Light) - Hist Bark
Jewelry - Healthy / Shielding - Green Pact (pre summerset)
Sword - Crusher / Infused - Green Pact
Shield - Health / Divines (or nirnhoned) - Green Pact
Frost Staff - Hardening / Infused (or Defending) - Green Pact
General Info
Tri-Potions or (butterfly wing, torchbug thorax, scrib jelly) = Major Vitality + Sustained Heal over Time
Tri-Food (base stats not recovery)
Attributes: 64 Magica ... or 64 health (for crazy town)
Mundus Stone: The Mage... or The steed (for crazy town)
Crazy Town: If you want to try out this route you can have about 45k health and almost 3k health regen... The reason this is 'viable' is because with this build you are going to be shielding yourself... a lot... and I find regen is only really useful if it's big and if it's got time to do it's thing.
Concept: This build primarily focuses on heavy attacks with the ice staff consistantly granting you health (lotus blossom) and double shields (destro passive + hardening enchant) while also providing a very good amount of passive health regeneration. The concentration into Tenacity and Staff Expert is going to allow you to handle your resources like a champ while still putting out decent damage and controlling the agro from anywhere. You will most likely be swapping weapons like crazy constantly paying attention to which resource is lower and what attack is incomming in regards to blocking. All the skills can be used while blocking.
PRO'S: Blocking (hist bark) + 'Deceptive Predator' will give you Major and Minor Evasion (20% evade)... While also constantly double shielding yourself + healing + mag regen with hvy frost attacks. Between skill use you should be using sword/board light attacks while also animation cancelling with block (to keep your crusher enchant on). Gripping Shards + immediate dodge roll + hvy frost attack is vital for getting it off.
Blue Betty + Deceptive Predator will give a constant flow of resource regen while also providing evasion... AND a spamable cleanse in 'Blue Betty'
Gripping Shards AND Arctic Blast both do damage based on your max health. Instead of going for the ally heal morph I go with Arctic Blast. With elemental blockade + gripping shards + Arctic Blast you will consistantly be chilling enemies or rooting them. This combined with Deceptive Predator (and steed speed if you live in crazy town) you can literally run circles around your enemies while getting those sweet sweet heavy frost staff attacks off.
Ultimate Builder = Shimmering Shield (major heroism) + Heroic Slash (minor heroism) stack... Which means more War Horn or more ... Northern Storm? yes... 8% more magica... It's nice... and you'll have it on your Ice staff and Elemental Blockade + Heavy Attacks benefit nicely.
Blue Betty + Lotus Blossom = Spell Crit and Spell Power bonus, which is an extremely nice because the reason we are going to use them is not even for those buffs... But we'll take it right?
CON's: Stun Locked leading into not being able to get off a heavy attack... This is why you have break free and why you put points into tumbling and warlord. But it can and will happen. Spamming 'Arctic Blast' can get you out of a jam but usually if you are trying to get a heavy frost attack off you aren't going to have the magica to cast anything anyways. If you find yourself being stunned too often you can use immovable potions for 'o poo' situations or forgo ice fortress for the HVY armor skill... (I don't recommend this)
Champion Point Tips
From most to least importance:
RED - Quick Recovery, Bastion, Elemental Defender, Hardy, Heavy Armor Focus, Spell Shield
GREEN - Healthy (w/ green pact), Tenacity, Shadow Ward, Tumbling, Warlord, Bashing Focus
BLUE - Staff Expert, Blessed, Elemental Expert, Elfborn, Spell Erosion, Shattering Blows
Build Rating