Ice Queen Build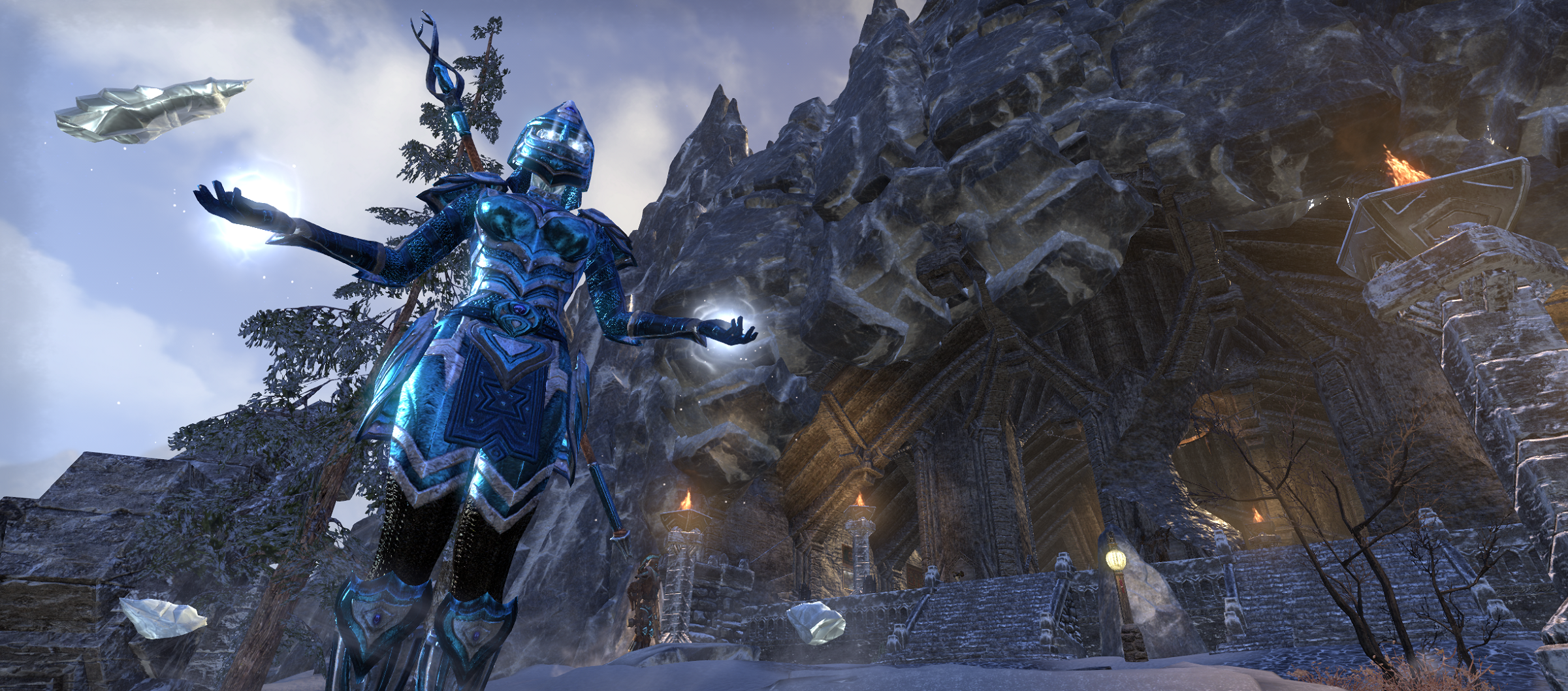 Class: WARDEN
Race: Breton
Main Role: Damage
Health, Magicka, Stamina
| | | |
| --- | --- | --- |
| HEALTH | MAGICKA | STAMINA |
| 11000-18000 | 30000-40000 | 10000-13000 |
Skills
Bar 1
Weapon 1: Destruction Staff

Destruction Staff Skill
Elemental Ring

Warden Skill
Lotus Blossom

Warden Skill
Arctic Blast

Destruction Staff Skill
Elemental Blockade

Warden Skill
Blue Betty

Warden Skill
Northern Storm
Bar 2
Weapon 2: Destruction Staff

Warden Skill
Frozen Device

Warden Skill
Leeching Vines

Warden Skill
Ice Fortress

Warden Skill
Crystallized Slab

Vampire Skill
Mist Form

Warden Skill
Northern Storm
Armor Types
| | | |
| --- | --- | --- |
| Light Armor | Medium Armor | Heavy Armor |
| 6 | 0 | 1 |
Gear and Item Set Info
Winterborn Set and Seducers Set, are used to turn your Breton Ice Wielder into a Ice Cannon on the battlefield. Winterborn Set is there to provide the damage spikes and as it has no cooldown the more people you hit with your attacks and ground dots the better.
Your Seducer's set is obvious. Especially with Breton passives, this makes you able to chain frost attack after frost attack through out the entirety of the fight. Letting you have health or stamina potions for emergencies rather then relying on magicka potions to get you through battle. Desctruction Staffs should be Ice as well, for the added defense and magicka blocking.
Finally the Iceheart Monster Set answers the squishy problem of this build while still providing damage to those enemies that get immobolized for being so close to you. When fighting in small to large groups this set will be going off almost constantly every 6 seconds.
General Info
This build was not meant to fight alone with in PVP. Originally I created this build just to have some fun with a pure icebuild because cyromancers don't get enough love. It turned out to me my most successful build as it works great in PVE and in PVP. It's no meta to be sure, but it's unexpected by most people and constantly rains freezing death at a distance and creates an immobalizing chill up close for those pesky stamina builds.
Although the focus is on constant stamina draining damage with all the immobilization that will occur. It is not without it's support ellements as well. Leeching Vines are the only reactive heal of this default build, but they prove to be especially effective at helping your allies and yourself outlast your opponents and it's often enough to tip the scales in an even fight. And of course Frozen Device will ruin your opponent's day when you yank them out of place or back from their retreat and trap them next to you with their damage maimed by 30% for 4 seconds. Cystallized Slab makes fighting you at range too difficult, and when things get really hairy you can always myst out of harms way.
All in all, this build was made purely for fun, but ends up working pretty well in most group situations. Soloing alone or one on one is not ideal.
Champion Point Tips
I'll leave this to you. It's pretty basic really. Just pump points into recovery and damage while keeping in mind defense.
Build Rating