Just Chill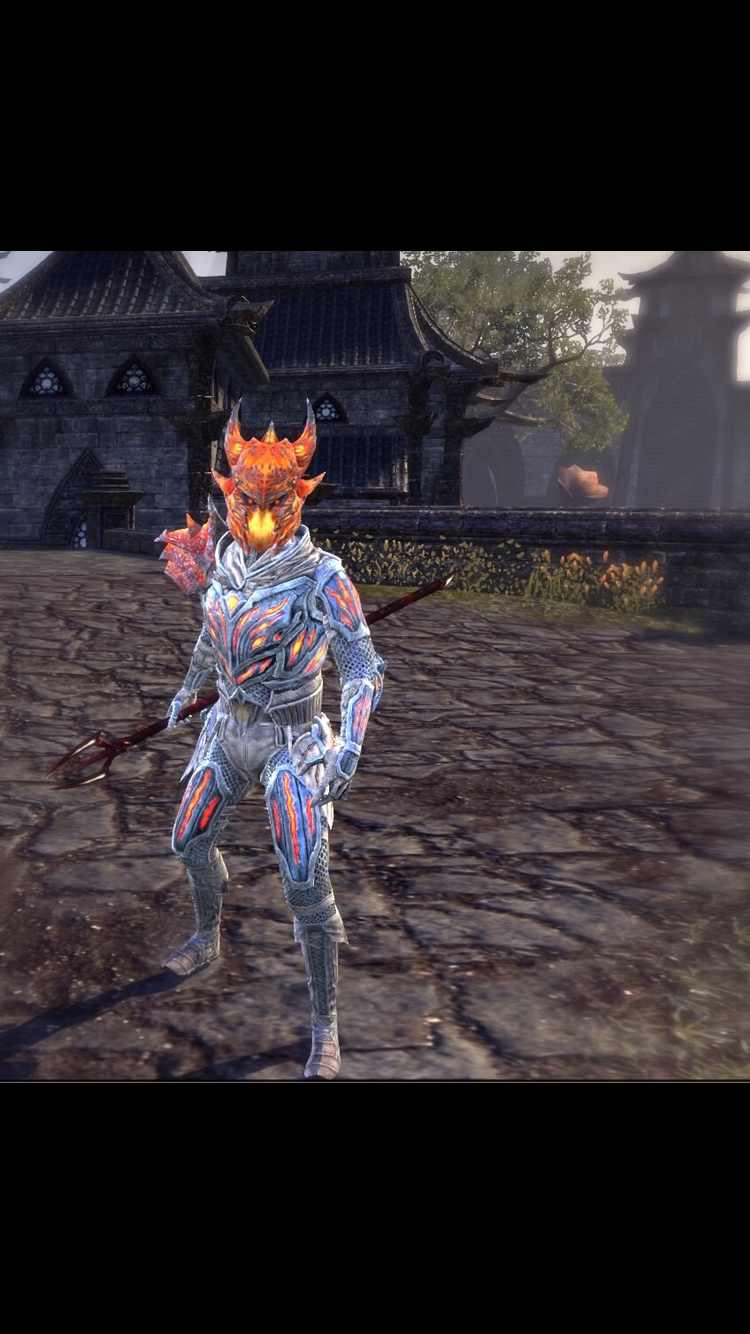 Class: WARDEN
Race: Breton
Main Role: Tank
Health, Magicka, Stamina
| | | |
| --- | --- | --- |
| HEALTH | MAGICKA | STAMINA |
| 35k (buffed) | 27k | 9k |
Skills
Bar 1
Weapon 1: Destruction Staff

Warden Skill
Ice Fortress

Destruction Staff Skill
Elemental Blockade

Warden Skill
Winters Revenge

Warden Skill
Polar Wind

Heavy Armor Skill
Immovable

Warden Skill
Northern Storm
Bar 2
Weapon 2: Destruction Staff

Destruction Staff Skill
Elemental Drain

Undaunted Skill
Inner Rage

Warden Skill
Blue Betty

Warden Skill
Leeching Vines

Warden Skill
Enchanted Growth

Warden Skill
Enchanted Forest
Armor Types
| | | |
| --- | --- | --- |
| Light Armor | Medium Armor | Heavy Armor |
| 2 | 0 | 5 |
Gear and Item Set Info
The 3 sets I'm running are 2-piece Valkyn Skoria (City of Ash 2 monster set), Kragenac's Hope (8-trait crafted set), and the Shroud of the Lich (Crypt of Hearts farmed). I run 2-piece light, 5-piece heavy, and I have the Kragenac's hope completed by an ice staff on the front bar, and the Lich set completed by an ice staff on the backbar.
All my armor is in divines, and my staves are one sharpened, one precise. Two jewelry pieces are enchanted for spell damage, one for magicka recovery. My front bar weapon is enchanted with bezerker (increased spell damage), and the backbar staff is absorb magicka.
It is possible to switch out Valkyn Skoria for another set, such as a tankier monster set, but I enjoy it for the amount of times it procs from ice damage over time.
General Info
This is an off-tank/main tank player. My method of running it is to ice-fortress up and then to aggro EVERYTHING by using blockade, arctic blast, and gripping shards. In groups of adds, this rotation works like a charm, because, by applying affects to the adds, they usually do aggro to you, and then because they are also immobilized and set in the target of Valkyn Skoria. Then, when I am low on resources, I will switch to the backbar and buff up with the blue betty, elemental drain, and leeching vines (as well as the Lich, when my magicka is low). Once buffed, I will throw out inner fire to harder ads and/or a boss, and then swap back to the damage bar, where, after a light or heavy attack, I will go down the list of DoTs again.
For food, I run basic max health/max magicka food. Witchmother's brew is an option here (and it would buff up the magicka recovery to a crazy number), but I prefer to increase my max stats as much as possible.
My mundas is the Lady, giving me any resistance I might be lacking from the two pieces of light armor.
An option for an alternative skill to leeching vines is lotus blossom, which will give major prophesy when activated. However, I have settled on living vines just because I can place in on either team members or myself, and that I do not throw out enough light and heavy attacks to make lotus blossom compete with health return.
Champion Point Tips
Priority goes on champion buffs that 1. heal me, 2. increase my magicka recovery/return from heavy attacks, 3. reduce cost of block/reduce physical and spell damage taken, 4. Increase my healing and damage done by criticals, 5. Increase my spell damage done, 6. reduce my damage taken from area effects/direct damage taken.
Build Rating