Melting Mania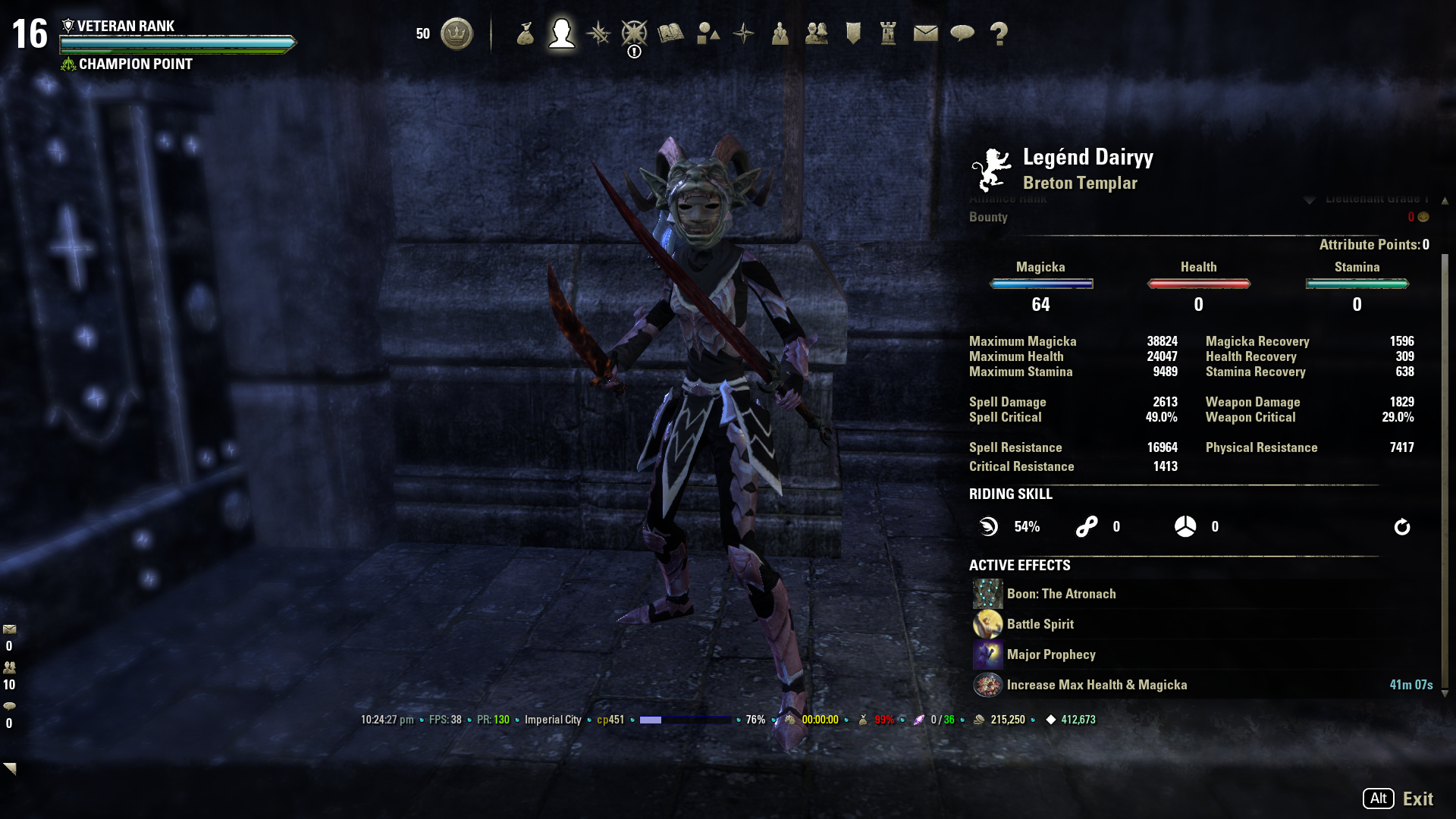 Class: TEMPLAR
Race:

Breton
Main Role: Damage
Health, Magicka, Stamina
| | | |
| --- | --- | --- |
| HEALTH | MAGICKA | STAMINA |
| - | -64 | - |
Skills
Bar 1
Weapon 1: Dual Wield

Templar Skill
Puncturing Sweep

Templar Skill
Toppling Charge
Mages Guild Skill
Degeneration

Templar Skill
Radiant Oppression

Mages Guild Skill
Inner Light

Mages Guild Skill
Ice Comet
Bar 2
Weapon 2: Restoration Staff

Templar Skill
Honor The Dead

Templar Skill
Cleansing Ritual

Restoration Staff Skill
Healing Ward

Assault Skill
Proximity Detonation

Templar Skill
Channeled Focus

Support Skill
Replenishing Barrier
Armor Types
| | | |
| --- | --- | --- |
| Light Armor | Medium Armor | Heavy Armor |
| 5 | 1 | 1 |
Gear and Item Set Info
1 Blood Spawn: Yes, this may sound a little crazy but you need that 129 Stamina regen. It helps soo much with breaking free and roll dodging. Ideally this is my heavy piece.(found in spindleclutch or undaunted chests)
1 Molag Kena: 129 Spell Damage. Too good not to have it :) (can be found in undaunted chests or White Gold Tower)
** It's totally up to you if you wanna run head or shoulder for blood spawn/kena w/e has better trait :)**
5 Kagrenacs: Health, magicka regen, faster res speed, spell damage!! This set has it all! This is a crafted set that can be done in "The Earth Forge" (you must have fighters guild quests completed). For PvP, you want all these pieces to be Impenetrable. (crafted item) (all impenetrable, crit resist and stackable)
Tip- Make sure a Big piece such as Chest is heeacy armor for undaunted passive. :)
3 Willpower: Jewelry for this setup. Gives magicka and spell damage. Make sure all 3 pieces are Arcane giving you an extra 2.5k magicka on top of the 1400 magicka from passive (3,920 magicka this gives you) Enchant 2 with spell damage and keep 1 magicka regen. You can find these from Bone Shards(rings) and Ethers (neck). These pieces can be found in Imperial Sewers/City or Guild Stores.
Weapons:
Main Hand- 2 Torugs Pact: This is an AMAZING set for dual wield magicka users. Given the 2 piece bonus is 129 spell damage-the swords itself grant spell damage too!! I'm not precisely sure how much, sorry. (craftable) (Nirnhoned) <-- if you cant afford Nirn, use precise.
TIP no. 2** GOLD THE SWORDS FIRST, THEN ARMOR. :)
Off Hand- Torugs Restoration or Maelstrom Restoration
Torug Resto-Same deal. Use this if you dont have a Maelstrom resto
Maelstrom: THIS set is soo amazing for resto using. First, it gives 481 magicka when your critically heal a target with Regeneration, on top of that, it grants 688 spell crit. <-- so helpful. (found in Vet Maelstrom Arena) IMPORTANT!: If you have this resto, switch out cleansing ritual for Rapid Regeneration. :)
General Info
For food, I use Soolitude Salmon Millet-Soup giving me 38.4k magicka. Or you can use Longin Melon w/ Pasty Sauce for some stam and 37k magicka.
Strengths: Good magicka, decent damage, good resist, solo/group play friendly
Weaknesses: Magicka regen (kind of), dungeons .__..
Mundus: The Atronach giving you magicka regen :)
General Rotation: Channeled Focus (magicka recovery), Degeneration (buff), Proximity Detonation (8 second bomb), Toppling Charge (charge), Puncturing Sweep (main dps) ** Proxy should go off now**, Radiant Oppression (Execute A.K.A Jesus Beam). ** If things are going bad, pop in healing ward and a Honor the Dead or 2!
Altenatives: You can take out resto ult (barrier) for anything. I just find it conveinent in group play :).
You can take out the 1 Kena and Bloodspawn and use 2 Engine Guardian if you feel like your resources are constantly low.
You can use Torugs shield if you want less spell damage but more sustain.
Instead of 5 Kagrenacs you can use 5 Julianos but you will lose health and regen and res speed but gain more spell damage. If you feel like you're good with resource management you can definetely do this.
If you're dueling/1v1 a magicka build, you can use Harness Magicka instead of inner light on main bar. You will lose 1k magicka but it helps gain magicka helping your resource management
Champion Point Tips
For CP I would do... ( I have 451 CP but I will give the main trees to level)
Green Tree:Arcanist Tumbling Magician
Red Tree: Elemental Defender Hardy Resistant and Light Armor Focus
Build Rating