PVE DoT vampire mageblade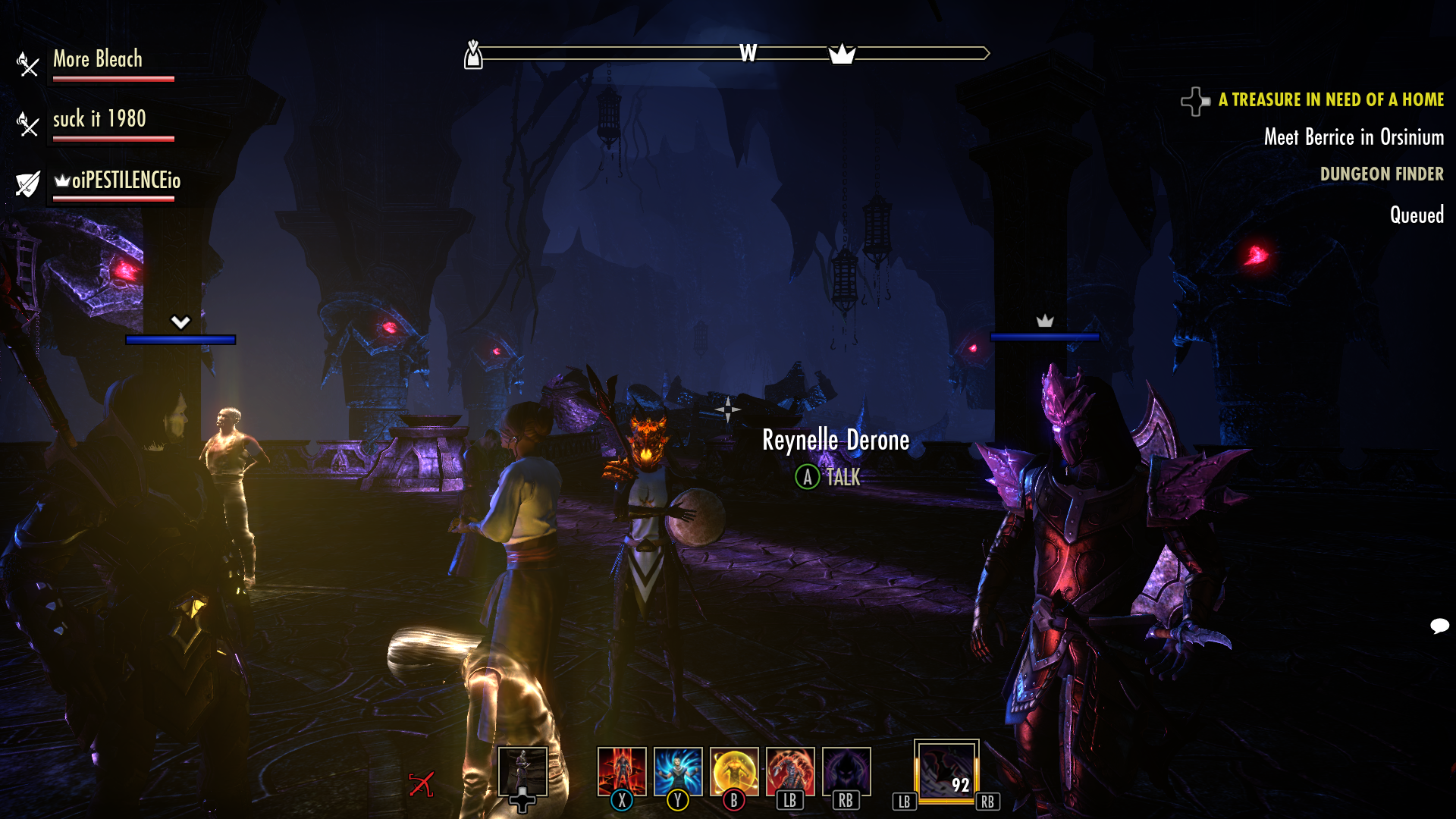 Class: NIGHTBLADE
Race: Dunmer (Dark Elf)
Main Role: Damage
Health, Magicka, Stamina
| | | |
| --- | --- | --- |
| HEALTH | MAGICKA | STAMINA |
| 0 (should hover around 17k with food) | 64 (should hover around 0k with food) | 0 (should be aroung 9-10k) |
Skills
Bar 1
Weapon 1: Destruction Staff

Destruction Staff Skill
Elemental Blockade

Destruction Staff Skill
Elemental Ring

Nightblade Skill
Debilitate

Destruction Staff Skill
Destructive Reach

Vampire Skill
Invigorating Drain

Destruction Staff Skill
Elemental Rage
Bar 2
Weapon 2: Restoration Staff

Nightblade Skill
Twisting Path

Light Armor Skill
Harness Magicka

Restoration Staff Skill
Healing Ward

Nightblade Skill
Mirage

Nightblade Skill
Shadow Image

Vampire Skill
Devouring Swarm
Armor Types
| | | |
| --- | --- | --- |
| Light Armor | Medium Armor | Heavy Armor |
| 7 | 0 | 0 |
Gear and Item Set Info
there are currently two good armor setups i've found to be effective:
- my armor set up isnt entirely done but the basics are 2 peices valkyn skoria; 5 peice burning spellweave; and either 3 peice infallible with maelstrom staves, or 4 peice infallible. because its burning spellweave you have to use a fire staff for your destro.
- the other option is to use 2 illambris, and 5 scathing mage over valkyn and spellweave. then you would use a lightning staff over a fire staff because DoTs arent you're primary focus and lightning will deal more damage overall (lighting heavy attacks can stun increasing your teams damage something resto doesnt do). this is going to be better for resource management as you wont have to switch to resto staff for quick regen on magicka, however the illambris is stationary so it will do more damage than valkyn but only on targets who cant move out of it
General Info
the rotation isnt too hard to get used, i usually start with mirage and harness then put down the 3 ground dots debillitate blackade and path then the rest in what ever you need, emergency healing cast ward not drain, ult building cast drain, magicka building use resto heavy attack, etc.
Champion Point Tips
warrior:
a LOT into elemental defender, and then a modest amount into ironclad, bastion, & quick recovery
Theif:
a lot into healthy and magician, then a decent amount into tumbling and a few in sprinter and arcanist.
Mage:
max out thaumaturge, then put points in blessed and elemental expert
Build Rating