Stalwart Dragon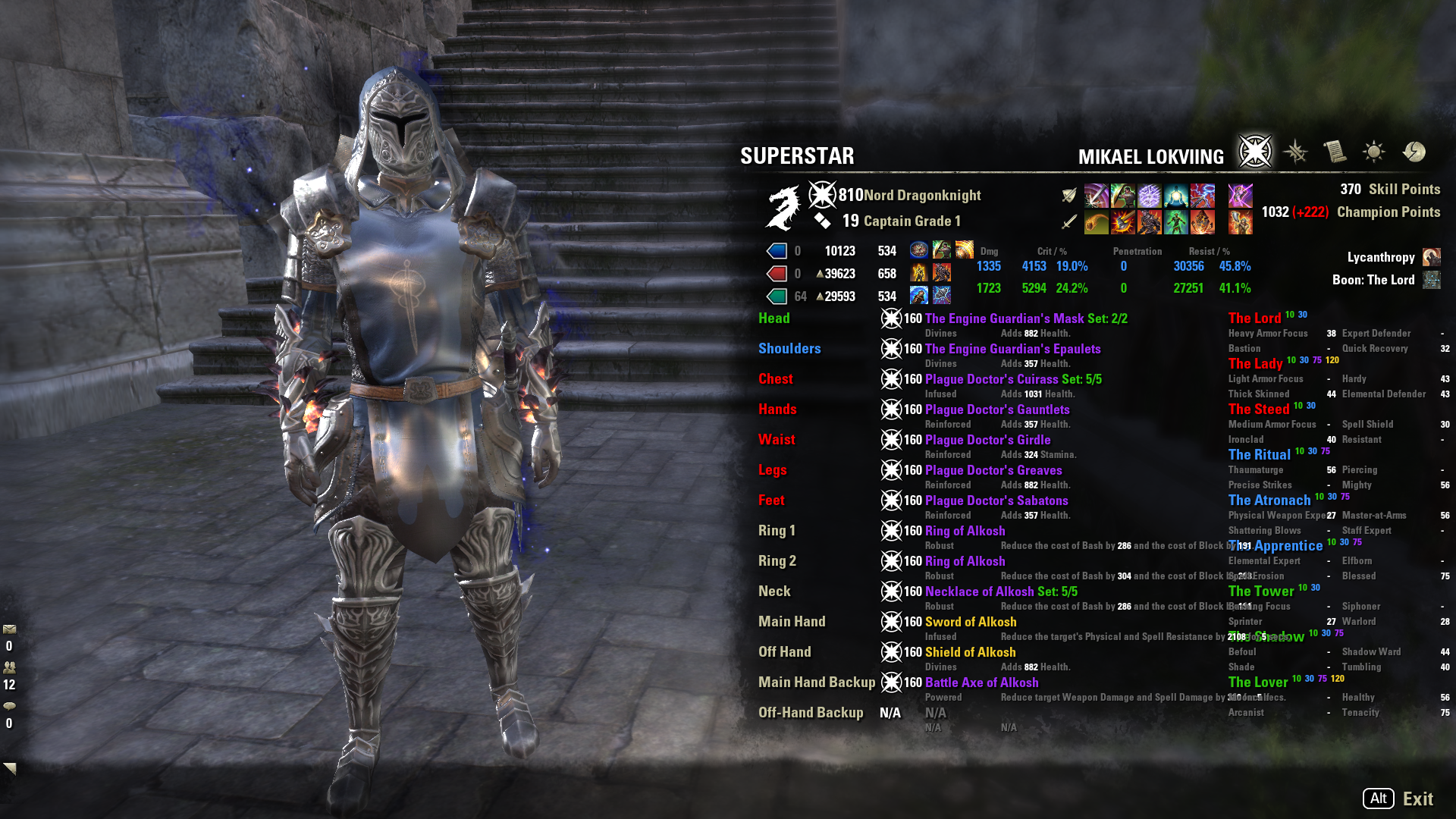 Class: DRAGONKNIGHT
Race: Nord
Main Role: Tank
Health, Magicka, Stamina
| | | |
| --- | --- | --- |
| HEALTH | MAGICKA | STAMINA |
| 35,000 - 50,000 (0 points in) | 10,000 - 15,000 (0 points in) | 20,000 - 30,000 (64 points in) |
Skills
Bar 1
Weapon 1: One Handed And Shield

One Hand And Shield Skill
Pierce Armor

One Hand And Shield Skill
Absorb Magic

Undaunted Skill
Spiked Bone Shield

Psijic Order Skill
Deep Thoughts

Fighters Guild Skill
Silver Leash

One Hand And Shield Skill
Spell Wall
Bar 2
Weapon 2: Two Handed
Undaunted Skill
Inner Beast

Two Handed Skill
Carve

Dragonknight Skill
Hardened Armor

Assault Skill
Resolving Vigor

Dragonknight Skill
Igneous Shield

Assault Skill
Aggressive Horn
Armor Types
| | | |
| --- | --- | --- |
| Light Armor | Medium Armor | Heavy Armor |
| 1 | 1 | 5 |
Gear and Item Set Info
Monster helmets:
Engine Guardian
Troll King
Earthgore
Nightflame
Main sets:
Ebon Armory
Plague Doctor
Green Pact
Torug's Pact
Offsets (jewelry+2):
Roar of Alkosh
Beekeeper
Resilient Yokeda
Black Rose
Akaviri Dragonguard
Misc (2 pc/3 pc):
Potentates
Puncturing Remedy (Master)
Defensive Position (Asylum)
Endurance
General Info
This is a full stamina tank build, for sustain and resource management as well as overall effectiveness versus what you'd normally see from people who usually make builds. For potions I suggest either going the basic Tripots, or using Immoveable/Health/Stamina potions. You could also use trash potions as well, though they're not as effective. The only weakness is one shots and not being able to put up your shields in time to absorb some hits, otherwise your sustain is going to outlast your enemies.
I chose this skill setup specifically to work with stamina since stamina is easier to sustain than magicka in terms of tanking, looking at you potion spamming argonians. ;P
You're more than welcome to use the Heavy armor skill to provide your resistances or Mighty Chudan, but that takes a bit away from your self healing intake from Dragonknight passives, as well as another damage shield.
Champion Point Tips
Red:
Steed: 40 Ironclad, 30 Spell Shield
Lady: 44 Thick Skin, 43 Hardy, 43 Elemental Defender
Lord: 38 Heavy Armor Focus, 32 Quick Recovery
Blue:
Apprentice: 75 Blessed
Atronach: 56 Master-At-Arms, 27 Physical Weapons Expert
Ritual: 56 Precise strikes, 56 Mighty
Green:
Tower: 28 Warlord, 27 Sprinter
Lover: 56 Healthy, 75 Tenacity
Shadow: 40 Tumbling, 44 Shadow Ward
Build Rating