The Ice Queen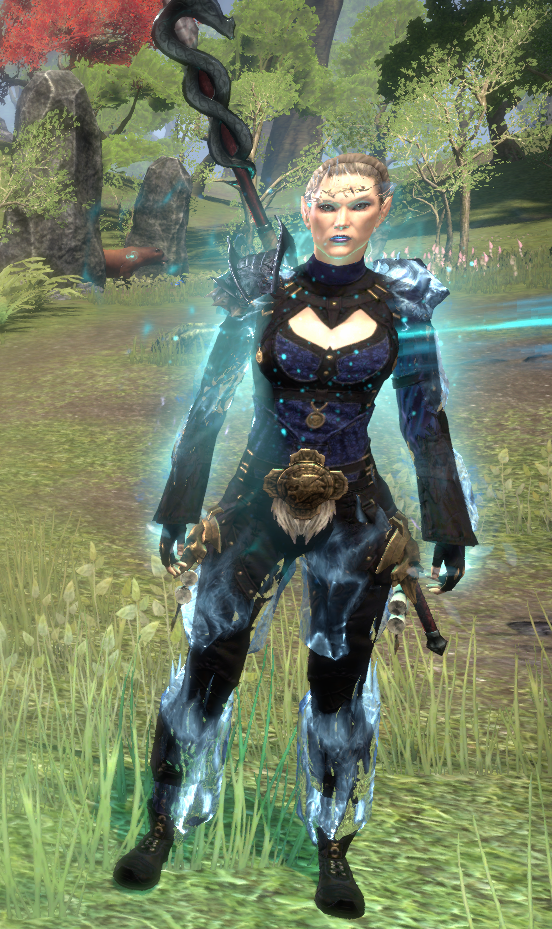 Class: WARDEN
Race: Altmer (High Elf)
Main Role: Damage
Health, Magicka, Stamina
| | | |
| --- | --- | --- |
| HEALTH | MAGICKA | STAMINA |
| 12K-15K | 30K-33K | 9K |
Skills
Bar 1
Weapon 1: Destruction Staff

Destruction Staff Skill
Force Shock

Destruction Staff Skill
Elemental Drain

Destruction Staff Skill
Elemental Blockade

Warden Skill
Arctic Blast

Warden Skill
Deep Fissure

Destruction Staff Skill
Elemental Rage
Bar 2
Weapon 2: Restoration Staff

Warden Skill
Crystallized Shield

Warden Skill
Ice Fortress

Warden Skill
Lotus Blossom

Light Armor Skill
Harness Magicka

Warden Skill
Blue Betty

Warden Skill
Enchanted Forest
Armor Types
| | | |
| --- | --- | --- |
| Light Armor | Medium Armor | Heavy Armor |
| 6 | 0 | 1 |
Gear and Item Set Info
5 pc Law of Julianos
5 pc Ysgrammor's Birthright
1 pc Molag Kena
General Info
This is a PvE mob burner setup. I use a Frost staff on my primary damage bar. I start out by preparing, using Lotus Blossom, Blue Betty,and then my other shields. I switch to my damage bar and use Deep Fissure, then place Winter's Revenge and Blockade then weave medium attacks and Force Shock. the only difference is when going to fight bosses I'll place Elemental Drain on the boss before the fight and I use my ultimate, Elemental Rage.
I run Witchmother's Potent Brew for the extra recovery as well as tri-stat potions
VERY IMPORTANT: FOR THIS BUILD TO WORK, YOU CANNOT HAVE THE TRI FOCUS PASSIVE UNDER THE DESTRUCTION STAFF SKILL LINE. IF YOU HAVE THIS PASSIVE, YOU WILL DRAW AGRO FROM EVERY ENEMY YOU HEAVY ATTACK.
Champion Point Tips
MAGE:
Apprentice:
Elfborn - 64
Elemental Expert - 75
Ritual:
Thaumaturge - 81
WARRIOR:
Lady:
Thick-Skinned - 61
Hardy: 100
Elemental Defender - 59
THIEF:
Tower:
Warlord - 16
Lover:
Arcanist - 100
Tenacity - 64
Shadow:
Tumbling - 40

Build Rating