ESO News From QuakeCon 2015
Zenimax Online Studios was at QuakeCon 2015 with a panel titled The Elder Scrolls Online Tamriel Unlimited: Imperial City And Beyond. On the panel was Matt Frior (Game Director), Brian Wheeler (Lead PVP), Eric Wrobel (Lead Combat) and Rich Lamber (Creative Director). They discussed the coming launch of the Imperial City, some of the new items sets and the future of ESO in general.
Imperial City Is Coming
As we know the Imperial City is coming on 31 August for PC/Mac and 15/16 September for consoles. It is built for PVP but there is also a ton of PVE content involved too. All of the panel spoke of how the Imperial City will provide a new and unique PVP combat experience with tight alleyways and rooms with players and daedra.
The new Group Dungeons were mentioned here as well and it was noted that these will have the same rules as the current Group Dungeons. There will be two new 4 player Group Dungeons – The Imperial City Prison and The White-Gold Tower. They will both scale to VR16 and have Vet and non-Vet versions to play. You can travel to these as soon as you purchase the Imperial City DLC so you won't have to worry about Cyrodiil if you don't want to.
We found out that – despite data mining saying otherwise – the districts of the Imperial City cannot be controlled by an Alliance or by the daedra.
New Items
We were not told a whole lot, however a couple of new item sets were mentioned.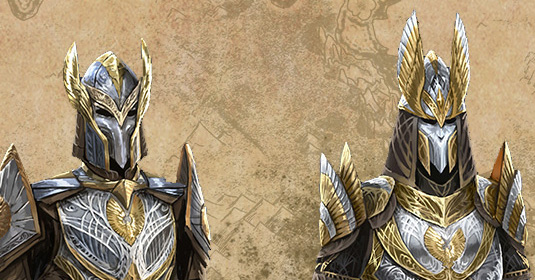 There will be 12 new Group Dungeon item sets – 6 in the Imperial City Prison and 6 in the White-Gold Tower.
There is also 2 new Monster Masks – 1 from each Group Dungeon.
There will be 6 Tel Var Stones item sets.
There will be 3 new crafted sets.
There will be 11 new PVP sets.
The Rewards for the Worthy are being updated to include better items and more gold. The 11 new PVP sets will only arrive in the Rewards for the Worthy so you will have to actually PVP to get these. The Rewards themselves will be more sparse and you will get less of them but each Reward will have better stuff inside and more gold.
More information about the Item Sets will be found on the Imperial City Item Sets page when we get more details from the PTS.
There was also some information about other new items like the new Prismatic Enchantment for armor.
The new enchantment will grant Health, Magicka and Stamina for that armor piece and is designed with hybrid builds in mind.
Beyond Imperial City
Matt Frior spoke about the future – and it looks great!
There will be quarterly DLC updates from here on.
Orsinium is coming next, some time later this year!
Orsinium is a PVE, quest, story zone.
In the first half of 2016 you can expect the Dark Brotherhood and the Thieves Guild!
Both of those will be paid DLC like the Imperial City.
Quality of Life
LFG Tool updates and improvements are in the works.
They are planning to make it so that the LFG Tool looks for all players in all of the Alliances. This means that you will be able to run Group Dungeons with players from the other Alliances.
They want to expand the LFG Tool a lot in the future.
Veteran Ranks are still being removed. This is after Orsinium at the earliest.
The Vet Ranks will just be replaced with the Champion System.
Controller Support for PC is coming! In fact they mentioned that the UI will switch to the console UI when you use a controller – which is pretty cool!