The Huntress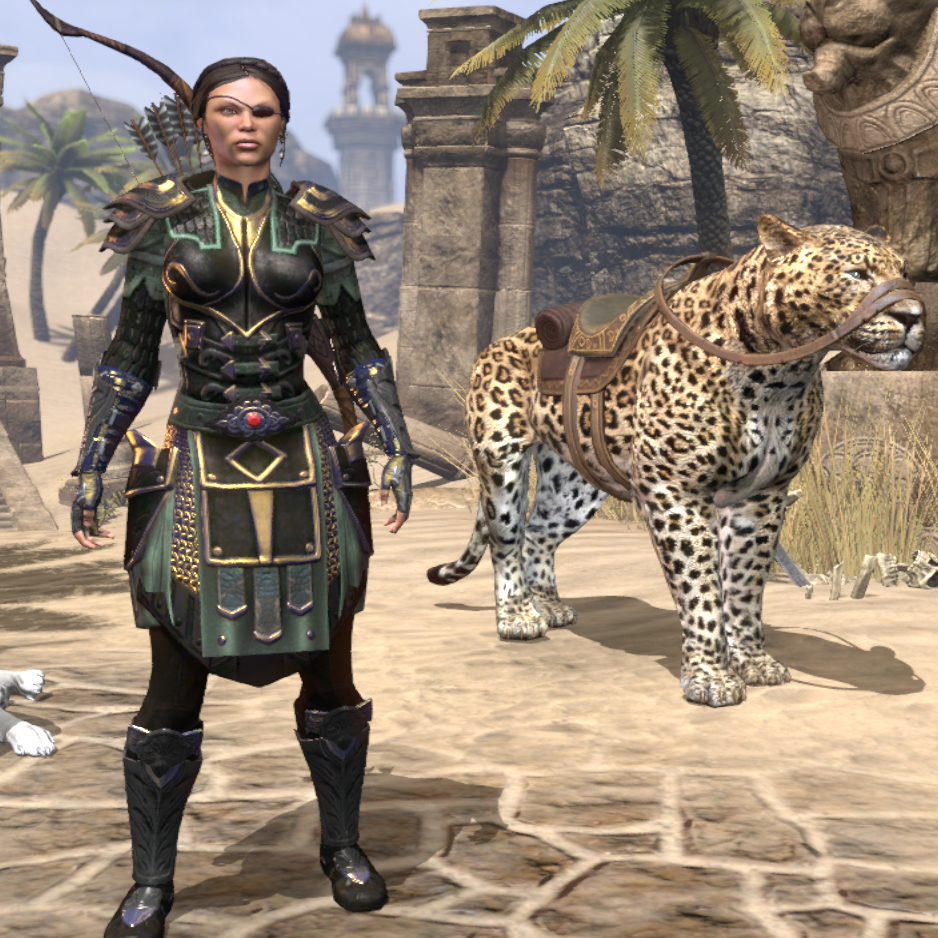 Class: WARDEN
Race: Orc
Main Role: Damage
Health, Magicka, Stamina
| | | |
| --- | --- | --- |
| HEALTH | MAGICKA | STAMINA |
| 32 | 0 | 32 |
Skills
Bar 1
Weapon 1: Bow

Bow Skill
Poison Injection

Bow Skill
Focused Aim

Warden Skill
Enchanted Growth

Warden Skill
Bird of Prey

Warden Skill
Bull Netch

Bow Skill
Ballista
Bar 2
Weapon 2: Dual Wield

Dual Wield Skill
Shrouded Daggers

Fighters Guild Skill
Silver Shards

Fighters Guild Skill
Evil Hunter

Warden Skill
Bird of Prey

Warden Skill
Bull Netch

Fighters Guild Skill
Flawless Dawnbreaker
Armor Types
| | | |
| --- | --- | --- |
| Light Armor | Medium Armor | Heavy Armor |
| 0 | 7 | 0 |
Gear and Item Set Info
Hunding' Rage
Helm, Chest, Shoulders, Legs and Feet - All Medium, Stamina enchantments and Divines Trait
Two daggers - All Nirnhoned, 1x dagger and 1x Bow with damage increase 1x Dagger with Crusher Enchant.
For the two handed build go weapon damage increase on the sword just like the bow.
Hundings is a mad damage set with the added bonus of being craftable in any weight and style.
Spiggan's Thorn's
Waist, Hands, Necklace, x2 Rings and 1x Bow (can be any set actually, good place to put the Master Bow if you have it)
Enchant all Armour with Stamina Enchants and the Jewels with Weapon Damage.
I picked Spriggan's Thorns as this build is all about base damage, making every shot count and all skills amplify this.
General Info
Alt Skills for Bow.
Bombard, and Magnum Shot, when hanging out with the trial crowd this is a good switch out for the other two bow abilities.
Alt Ulimate
Eternal GuardianThis BearPlay Style
on a solid hit can crit for 48k! But he is good for companionship on those lonely moore trecks.
Play Style
The Huntress Hits with the Bow for base of 12k and can crit for up to 32k, in what I think of as 'single target mode can bring down most pve enemies in one hit, just start with the Focused Aim and finish up if they need the nudge with one more of anything.
The Huntress with the Daggers is a damage resistant 2000 watt blender, just keep your buffs up and let your arctic abilities eat the enemies that try to take a lick.
Because the crafted set is made however you like you should be able to convert this build to PvP just with a switch of armor to Impenatrible.
It's a low cost build in skill points so you could make it a crafter as well.
You can make it a Vampire, it will gain resource management bonuses.
You can make it a Werewolf but I would drop the Health points and move them to Stamina.
Champion Point Tips
Tenacity 84, Moon Calf 60, Healthy 76
Bastion 56, Hardy 29, Elemental Defender 30, Spell Shield 35, Medium Armor Focus 70
Mighty 45, Piercing 45, Precise Strikes 45, Physical Weapons Expert 42, Master at Arms 43
Keep in mind the Law of Diminishing Returns.
Build Rating