Bow Bow Baggins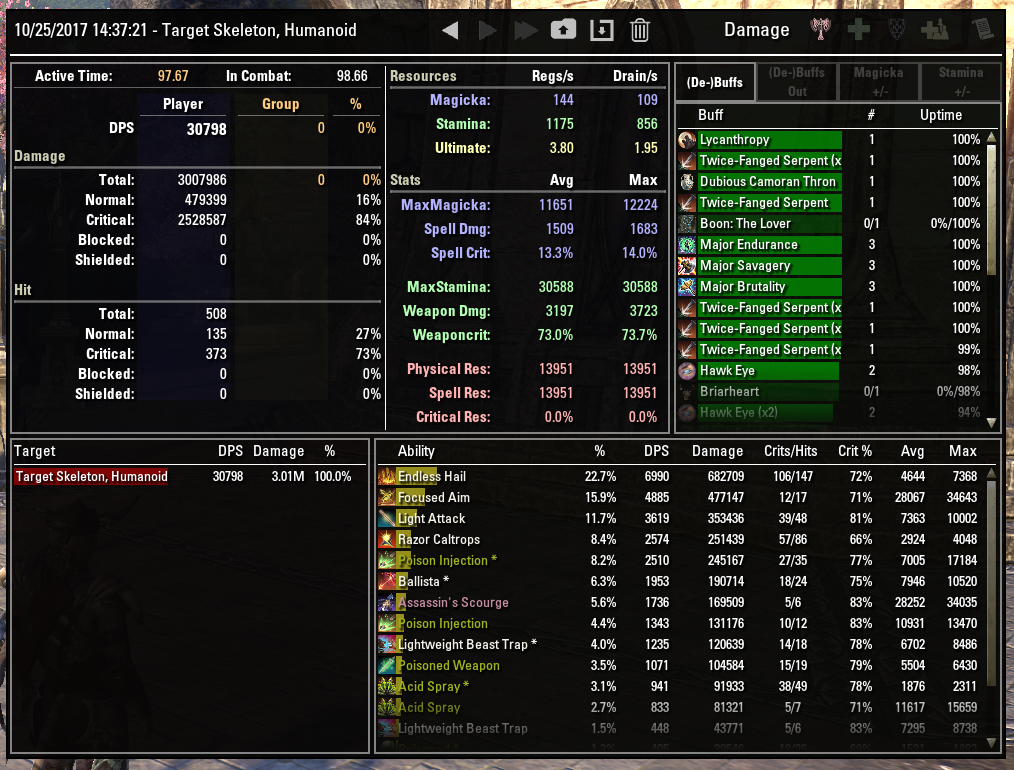 Class: NIGHTBLADE
Race: Khajiit
Main Role: Damage
Health, Magicka, Stamina
| | | |
| --- | --- | --- |
| HEALTH | MAGICKA | STAMINA |
| 17k | 12k | 30k |
Skills
Bar 1
Weapon 1: Bow

Bow Skill
Focused Aim

Bow Skill
Poison Injection

Fighters Guild Skill
Lightweight Beast Trap

Nightblade Skill
Relentless Focus

Assault Skill
Resolving Vigor

Fighters Guild Skill
Flawless Dawnbreaker
Bar 2
Weapon 2: Bow

Bow Skill
Endless Hail

Bow Skill
Acid Spray

Assault Skill
Razor Caltrops

Nightblade Skill
Leeching Strikes

Nightblade Skill
Piercing Mark

Bow Skill
Ballista
Armor Types
| | | |
| --- | --- | --- |
| Light Armor | Medium Armor | Heavy Armor |
| 0 | 7 | 0 |
Gear and Item Set Info
5 peices two fang snake (or spriggan)

5 peices briarheart (or hundings)

I've got 2 weapon damage enchants and 1 stam regen

Master bow on the front bar (poison enchant)
Maelstrom bow on the back bar (weapon damage)
General Info
this build leans heavily on both master and maelstrom bow.
it's basically keep up e-hail, caltrops, acid spray with relentless focus, leeching strikes and mark for dots and buffs then hit them with pinject, LW trap and then focused aim spam until e-hail needs refreshing. there should be at least 2 procs of focus in the rotation if you're hitting your light attacks properly, which matter a LOT since they are your sustain, heals and increase your dps. Balista for ultimate, You don't want to get locked into a channel.
Dubious Camoran Throne

Stam, weapon crit, weapon power pots

Lover mundas
Champion Point Tips
use constealltions add on.


Build Rating