Cursing Stam sorc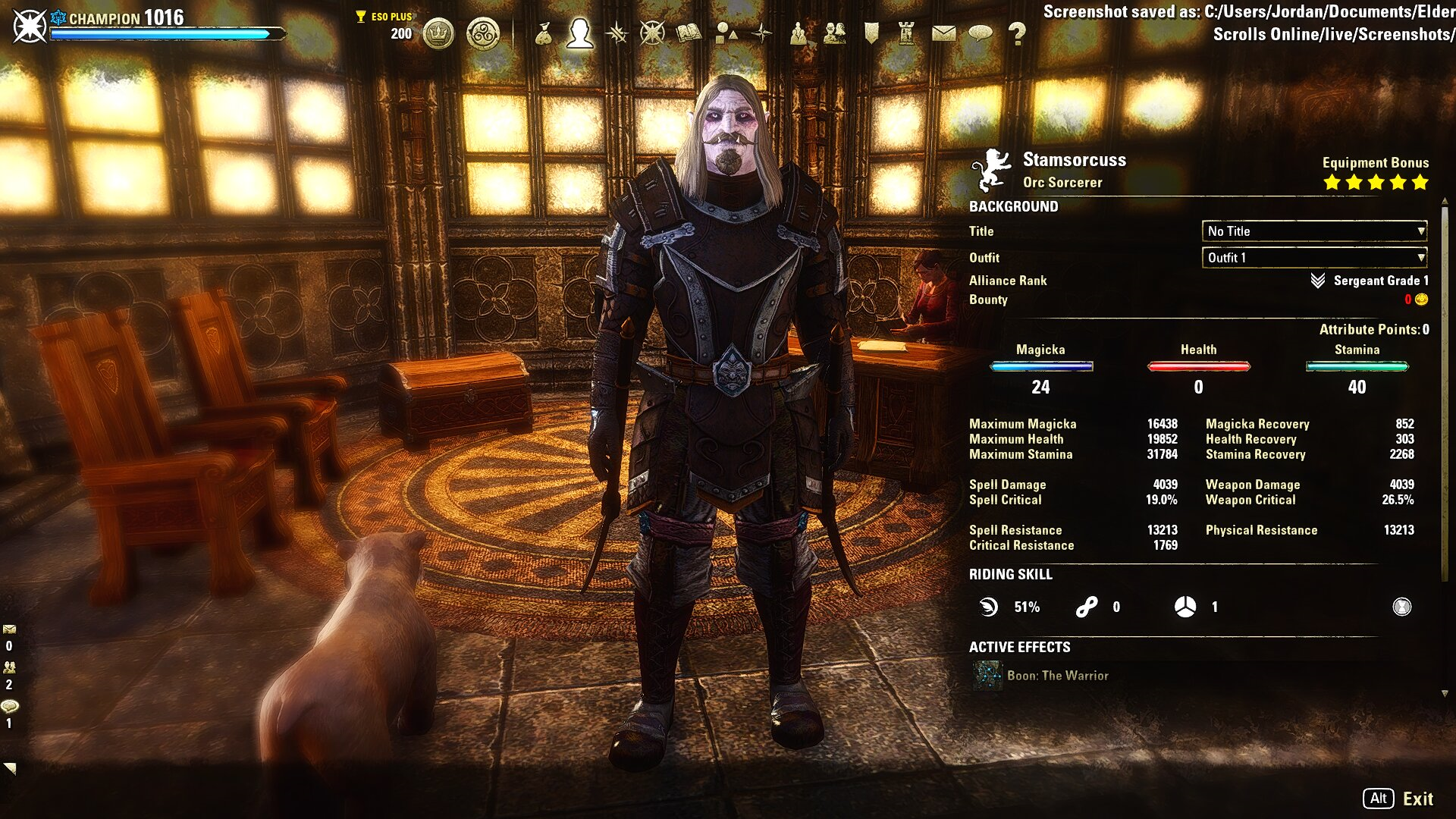 Class: SORCERER
Race: Orc
Main Role: Damage
Health, Magicka, Stamina
| | | |
| --- | --- | --- |
| HEALTH | MAGICKA | STAMINA |
| 19652 (0) | 16438 (24) | 31784 (40) |
Skills
Bar 1
Weapon 1: Dual Wield

Dual Wield Skill
Steel Tornado
Sorcerer Skill
Endless Fury

Sorcerer Skill
Daedric Curse

Sorcerer Skill
Critical Surge

Sorcerer Skill
Hurricane

Soul Magic Skill
Soul Assault
Bar 2
Weapon 2: One Handed And Shield

One Hand And Shield Skill
Ransack

One Hand And Shield Skill
Defensive Stance

Assault Skill
Vigor

Sorcerer Skill
Dark Deal

Sorcerer Skill
Bound Armaments

One Hand And Shield Skill
Spell Wall
Armor Types
| | | |
| --- | --- | --- |
| Light Armor | Medium Armor | Heavy Armor |
| 0 | 5 | 2 |
Gear and Item Set Info
5 Bone Pirate
5 Pelinals aptitude
1 Domihaus 1 Molag Lena - alt 2 Dom
General Info
Basically a spell sword because ESO does not offer that class.
A few skills are interchangeable Flawless Dawnbreaker for Soul assault to stack WD/SD higher or even Rend as it's a wonderful DoT. Also overload (not as good as it used to be) but gives you genuine range with curse and fury.
You can sub skill 5 on SnB Bound out for hurricane and run Shrouded daggers on your DW bar.
You can use either of the two purple drinks pending on how you lean.
The SnB bar offers more than enough protection to stay alive 1 v 1/2/3"with LoS.
Apply your ransack, curse light and heavy between your shrouds and tornados endless with a timed curse and tornado spin to finish it off.
This spec is an offensive AoE nightmare pop your spell reflect while buffed and it's usually you left standing in the melee zone.
I've had reasonable success with all weapon variants, if 2H use streak as your gap closing stun, Bow pushes you back to pure range with Curse, Poison injection ,lethal arrow and fury you're in for a bad time.
Double damage poisons, 1 X axe and vampire are all mandatory to making this build successful.
Champion Point Tips
Lean towards physical damage on a 2:1 ratio every 2 Stam/physical 1 mag/spell damage point.
Build Rating