PvP Stamina Nightblade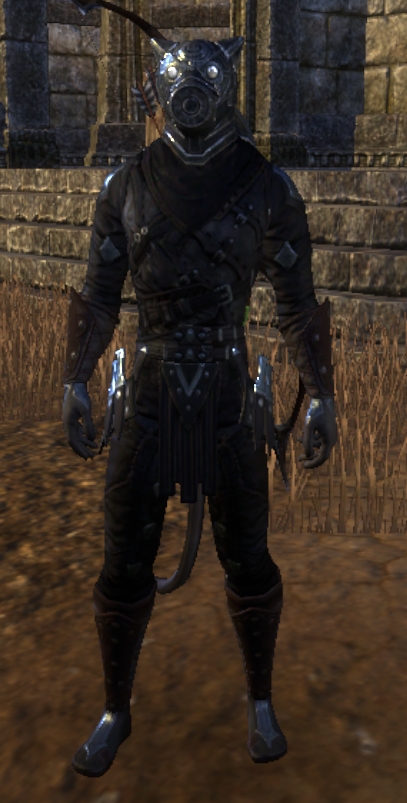 Class: NIGHTBLADE
Race: Khajiit
Main Role: Damage
Health, Magicka, Stamina
| | | |
| --- | --- | --- |
| HEALTH | MAGICKA | STAMINA |
| 0 | 0 | 64 |
Skills
Bar 1
Weapon 1: Two Handed

Nightblade Skill
Surprise Attack

Two Handed Skill
Critical Rush

Two Handed Skill
Executioner

Two Handed Skill
Rally

Nightblade Skill
Mass Hysteria

Nightblade Skill
Incapacitating Strike
Bar 2
Weapon 2: Bow

Nightblade Skill
Summon Shade

Bow Skill
Poison Injection

Medium Armor Skill
Shuffle

Nightblade Skill
Shadowy Disguise

Assault Skill
Resolving Vigor

Nightblade Skill
Soul Tether
Armor Types
| | | |
| --- | --- | --- |
| Light Armor | Medium Armor | Heavy Armor |
| 0 | 6 | 0 |
Gear and Item Set Info
Head - Bloodspawn/Selene's - Medium - Impenetrable - Max Stamina Enchant
Shoulders - Bloodspawn/Selene's - Heavy - Impenetrable - Max Stamina Enchant
Chest - Shacklebreaker - Medium - Impenetrable - Tri-Stat Enchant
Hands - Shacklebreaker - Medium - Impenetrable - Max Stamina Enchant
Waist - Shacklebreaker - Medium - Impenetrable - Max Stamina Enchant
Legs - Shacklebreaker - Medium - Impenetrable - Tri-Stat Enchant
Feet - Shacklebreaker - Medium - Impenetrable - Max Stamina Enchant
-----------------------------------------------------------------------------------------------------------------------------------------------------
Ring - Ring of Agility x2 - Robust - Weapon Damage Enchant
Necklace - Necklace of Agility - Robust - Weapon Damage Enchant
-----------------------------------------------------------------------------------------------------------------------------------------------------
Main Hand - The Asylum's Greatsword - Nirnhoned - Damage Health Poison IX
Back Bar - The Master's Bow - Infused - Berserker Enchant
General Info
For this build, you want to use Tri-Resto Pots (Restore Magicka, Restore Stamina, Restore Health). Food-wise, you will want to run Orzorga's Smoked Bear Haunch. You can also use Jewels of Misrule, but the gold food is BiS. We are running The Serpent mundus stone.
This is more of a gank build, but it can also be used to kill multiple enemies because of your high Magicka and Stamina sustain, as well as damage. In terms of play style, you need to focus the squishy targets such as healers and those pesky bow builds that sit in the back of zergs and snipe people down. This build is running Surprise Attack, so you already have Major Fracture, which makes a maul almost completely useless.
If you really want to, you can run Vampire for the extra recovery, which will allow you to cloak more. We will also be sneaking a lot and the passive that removes the sneak movement penalty is completely useless. The downside to this is you will be getting hit a lot harder by Dawnbreakers, which are already bad because Nightblades are generally squishy.
When you engage somebody, you want to buff up with Shuffle and Rally. Go into cloak and fire a Poison Injection as well as a Light Attack to proc your Berserker Enchant. Go back into cloak and Critical Rush them on your 2H bar. From there hit them with a Surprise Attack to inflict them with Major Fracture and then Incapacitating Strike them for a big burst. After this, just spam your Executioner until they are dead.
Champion Point Tips
Green Tree
- Focus on Warlord, Mooncalf, Archanist, and Tumbling.
Red Tree
- Focus on Ironclad, Hardy, Elemental Defender, Thick Skinned, and Resistant.
Blue Tree
- Focus on Master-at-Arms, Piercing, Precise Strikes, and Mighty.
Build Rating