Revenant (Stamblade Brawler)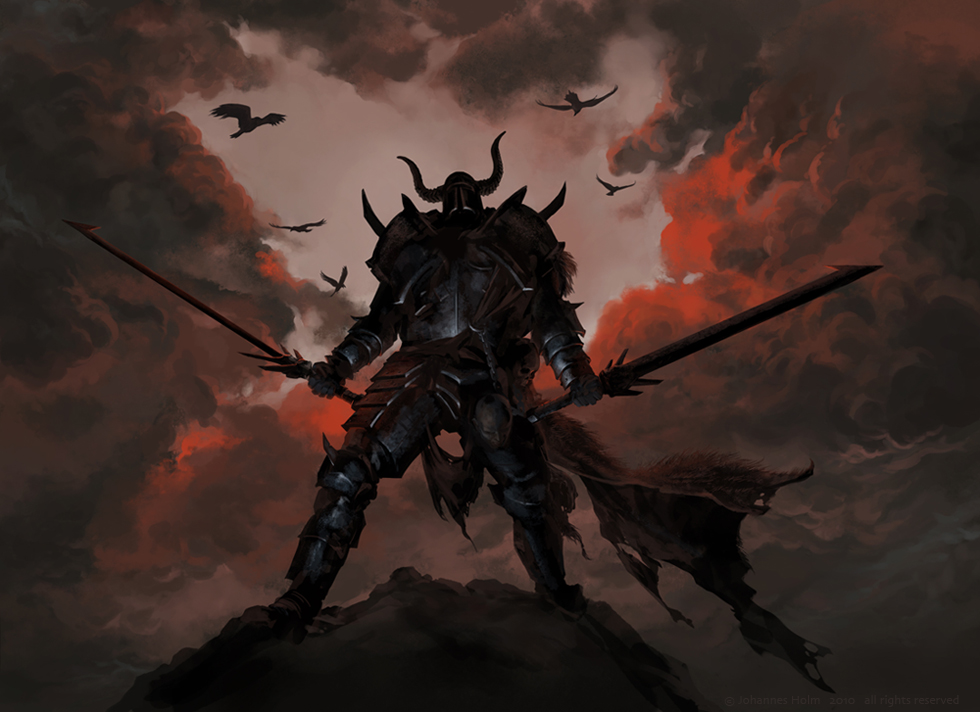 Class: NIGHTBLADE
Race: Khajiit
Main Role: Damage
Health, Magicka, Stamina
| | | |
| --- | --- | --- |
| HEALTH | MAGICKA | STAMINA |
| 24k | 11k | 31k |
Skills
Bar 1
Weapon 1: Dual Wield

Assault Skill
Resolving Vigor

Dual Wield Skill
Rending Slashes

Nightblade Skill
Surprise Attack

Nightblade Skill
Manifestation of Terror

Nightblade Skill
Killer's Blade

Nightblade Skill
Incapacitating Strike
Bar 2
Weapon 2: Two Handed

Two Handed Skill
Rally

Nightblade Skill
Leeching Strikes

Medium Armor Skill
Shuffle

Nightblade Skill
Shadowy Disguise

Two Handed Skill
Carve

Fighters Guild Skill
Dawnbreaker of Smiting
Armor Types
| | | |
| --- | --- | --- |
| Light Armor | Medium Armor | Heavy Armor |
| 0 | 7 | 0 |
Gear and Item Set Info
NOTE: *This build requires endgame veteran gear!*
5pc Fortified Brass
5pc Impregnable Armor
2pc Master's DW
1pc Master's 2H
1 Stam Recovery Glyph
2 Wep Dmg Glyphs
Serpent Mundus Stone
Dubious Camoran Throne Drink
General Info
STRENGTHS:
Very strong team play
Tanky and mobile
Good DoT+Snap Dmg pressure+Defile to lock up HoT on enemies
Above average ult gen speed
All the benefits of Medium Armor and equal/more resistance than non-brass Heavy Armor.
WEAKNESSES:
*NO GAP CLOSER*
Low recovery>requires good timing on pot rotation and leeching strikes refresh
PLAYSTYLE:
Put the typical Stamblade playstyle on the bench as this build plays on the opposite side of kiting and stealth mobility. Majority of gameplay on Revenant is played outside of stealth as Shadowy Disguise is only used as an offensive weapon unless heavily outnumbered. Cloak will be used in a specific rotation: Vigor>Cloak Rally like most nightblades as burst heal, but used to run back into the fight to face tank immediately to use the 4 seconds of critical damage and healing to push the fight.
CCs:
We drop Mass Hysteria CC in favor for Manifestation of Terror! This lets us use two different fears with 3x the stun on enemy players for the cost of ONE Hysteria. The catch is that you must use this as a strategic trap on chokepoints or stack them properly on your team to help them CC passively as you fight.
Sustained DPS:
MASTER CLEAVE+MASTER BLEED must be kept up at all times on single target enemies! With the passives on Master DW, it will help you keep pressure and lock up HoT on enemies. Cleave is used in group situations involving tight ball groups of 3 or more players. Cleave will take priority over Surprise attack as it will generate ultimate for you as well as pull MORE damage than Surprise attack in a wide AoE range to cleave down a group of people+add bleeds to them. Cleave is also a good counter to cloaking nightblades!
Additional Info:
YOU DO NOT HAVE A GAP CLOSER! Immov, Stam, Speed potions are a big plus but not required. You will have trouble against high mobility classes unless you have proper line of sight to lure in players for burst. Open fields are not good for solo play in this build, but stil viable in group play.
Optional Loadout:
In favor of more damage, you can drop Impregnable Armor for a 5pc Automaton. 5pc Impreg is a flex set within the build that is interchangeable.
Bonus:
THIS BUILD WORKS FOR ANY CLASS ANY RACE.
Revenant is NOT locked down to Nightblades-Only. All NB abilities in build can be swapped for other class ability counterparts.
Champion Point Tips
Tower
Warlord:30
Sprinter:30
Lover
Mooncalf:80
Tenacity:40
Shadow
Tumbling:30
Shadow Ward:20
Apprentice
Blessed:5
Atronach
Master-At-Arms:58
Ritual
Thaumaturge:37
Precise Strikes:37
Piercing:33
Mighty:60
Steed
Ironclad:37
Resistant:20
Lady
Thick Skinned:30
Elemental Defender:50
Hardy:50
Lord
Quick Recovery:23
Expert Defender:20
Build Rating