The Sub
Class: NIGHTBLADE
Race: Khajiit
Main Role: Healer
Health, Magicka, Stamina
| | | |
| --- | --- | --- |
| HEALTH | MAGICKA | STAMINA |
| in progress | in progress | in progress |
Skills
Bar 1
Weapon 1: Restoration Staff

Nightblade Skill
Funnel Health

Nightblade Skill
Sap Essence

Restoration Staff Skill
Mutagen

Restoration Staff Skill
Siphon Spirit

Restoration Staff Skill
Healing Ward

Nightblade Skill
Soul Siphon
Bar 2
Weapon 2: Bow

Bow Skill
Draining Shot

Light Armor Skill
Harness Magicka

Nightblade Skill
Mass Hysteria

Nightblade Skill
Shadowy Disguise

Nightblade Skill
Shadow Image

Nightblade Skill
Soul Siphon
Armor Types
| | | |
| --- | --- | --- |
| Light Armor | Medium Armor | Heavy Armor |
| 7 | 0 | 0 |
Gear and Item Set Info
Spell Power Cure: 5 pieces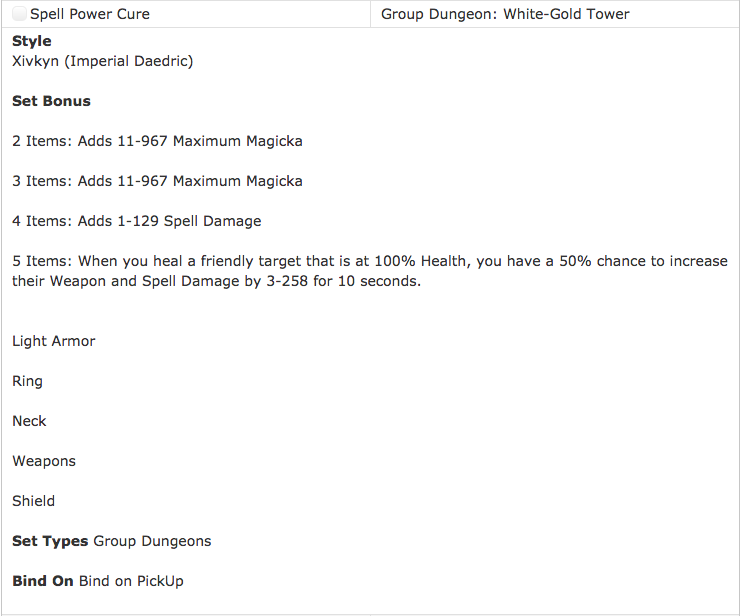 Combat Physician: 5 pieces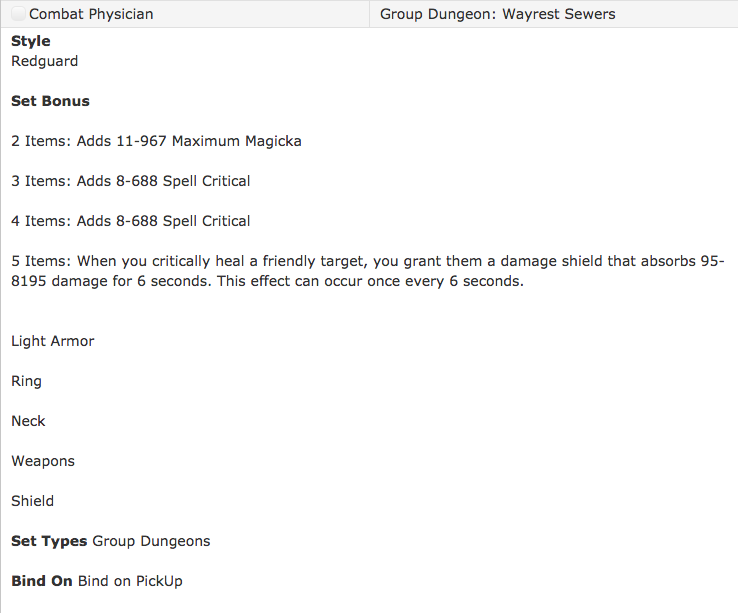 Optional Bonus Piece:
Maelstrom Restoration Staff
General Info
Disclaimer: This is a test build, intended for already existing NBs, created to sub in when a needed healer cannot be found. It is done by swapping out gear, food buffs and abilities as well as having enough skill points available (find those skyshards). Even if your existing NB has stamina based allocated CPs, with enough skill points acquired and applied to the proper passives, it should work well as a decent sub with the right team who is already proficient at damage mitigation/avoidance.
The main healing tool is in your ultimate. The Catalyst passive under your NBs siphoning skill tree will assist in getting there more quickly and light attacking after each Funnel Health attack will also generate ultimate.
The rest is constant sustained healing. Casting Sap Essence, Mutagen then Siphon Spirit and combos with Funnel Health, light attack, Healing Ward and heavy attacks for magicka regen plus extra healing with the Essence Drain restoration staff passive.
The back bar, bow, is also your escape bar. You may need to enter mobs to cast Sap Essence, so before doing so casting your Shadow Image then cloak in for the attack and teleport back to your previous location. Draining Shot, Mass Hysteria, Shadowy Disguise and Harness Magicka are there to get you out of trouble quickly.
All passives associated with the relative skills should be applied for maximum benefit.
Bonus: If the Maelstrom Restoration Staff is obtained, a combo with Shadowy Disguise and Mutagen would work nicely due to the gauranteed crit.
Champion Point Tips
N/A
Build Rating