Cauterize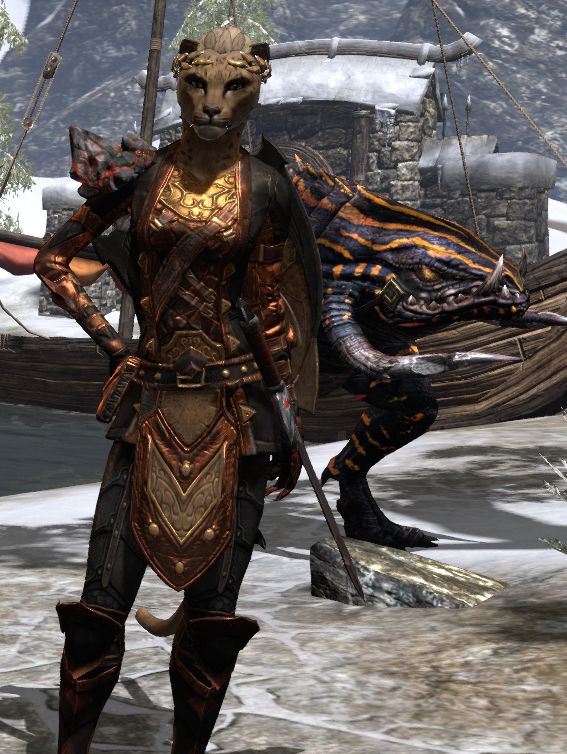 Class: DRAGONKNIGHT
Race: Khajiit
Main Role: Healer
Health, Magicka, Stamina
| | | |
| --- | --- | --- |
| HEALTH | MAGICKA | STAMINA |
| 14K-19K | 29K-33K | 9K-13K |
Skills
Bar 1
Weapon 1: One Handed And Shield

Dragonknight Skill
Hardened Armor

Dragonknight Skill
Igneous Weapons

Dragonknight Skill
Igneous Shield

Dragonknight Skill
Green Dragon Blood

Dragonknight Skill
Cauterize

Dragonknight Skill
Magma Shell
Bar 2
Weapon 2: Restoration Staff

Restoration Staff Skill
Healing Springs

Undaunted Skill
Energy Orb

Support Skill
Siege Weapon Shield

Support Skill
Cleanse

Restoration Staff Skill
Mutagen

Support Skill
Replenishing Barrier
Armor Types
| | | |
| --- | --- | --- |
| Light Armor | Medium Armor | Heavy Armor |
| 2 | 0 | 5 |
Gear and Item Set Info
5 pc Kagrenac's Hope
5pc Spell Power Cure
2pc Earthgore
Because this is a Dragonknight healer, I wear Kagrenac's Hope for the faster rez time and spell power cure for the extra damage bonus. Earthgore, I feel, is the best monster set for PvP for healers.
General Info
This is a PvP healer, made to run with a group. The one handed and shield is the buff bar with all the buffs such as igenious weapons and shield and hardened armor. The resto bar is where the main healing is. I use tri-stat food for a little extra stamina to break free and roll dodge and use the Lady mundus stone to give this healer a little extra kick to her resistances against the other players.
SIDE NOTE: Argonians or a magic based race would be better, but I wanted her to be a khajiit and depsite the race choice, this build still works very well for her.
Champion Point Tips
Theif:
Warlord - 45
Arcanist - 100
Tumbling - 75
Mage
Blessed - 100
Elfborn - 100
Precise Strikes - 20 (in case I ever want to slot vigor for extra heals)
Warrior
Resistant - 70
Hardy - 64
Elemental Defender - 49
Thick Skinned - 37
Build Rating